Disturbing video footage shows police officers doused in petrol and crowd shouting "light them up"
Distressing scene captured on camera: UK police officers soaked in petrol after a high-speed chase.
Warning: This article includes graphic content some may find disturbing.
Police officers were doused in petrol while people were shouting: "Light them up!"
Recalling the incident, one of the officers says it will haunt them for a long time.
Eight Essex police officers were doused in petrol by a 28-year-old man after a high-speed chase in Basildon, LADbible reveals.
The disturbing scene occurred in May 2019. Two of the officers were taken to a hospital after swallowing the fuel.
Prior to the incident, the policemen received reports of a motorbike being driven dangerously. The officers then engaged in an eight-mile chase. Onlookers gathered to see the outcome of the pursuit. The crowd got extremely violent, as one of the witnesses threatened the policemen with a hammer, and another one threw petrol all over them.
In a recent episode of the BBC's Critical Incident, one of the officers, PC Andrew Bird, recalled the horrific incident. He explained to the media that while on duty, he and his colleagues are often forced to deal with abusive criminals. However, they have never experienced anything like this. Initially, they thought the container was filled with acid. Officer Bird said:
"It was as I was trying to control this gentleman who had run out of the middle of nowhere that this other chap has appeared with a watering can. I could smell petrol, so I sort of fumbled around to get my baton out, but once I've got it I've put it behind my head and just struck him in line with my training."
The officers heard people from the crowd shouting 'Who's got matches?' and 'Light them up'.
A total of eight officers were splashed with petrol at the time. One of them, Chief Inspector Jonathan Baldwin, said:
"One match, one lighter, one spark could result in us going up in flames and being disfigured for life or possibly even dead. I don't know how we didn't just cut and run but then that's not the way we're wired – we all stuck together."
Justin Jackson, the 28-year-old man who poured the fuel all over the policemen, got three years and nine months of jail time. He was charged for eight counts of administering a noxious substance with intent to injury, aggrieve or annoy.
Janine Justin, 47, the woman who threatened the officers with a hammer, was sentenced to nine months behind bars, suspended for 18 months, for possession of an offensive weapon.
Two other people involved in the incident received charges: Shannon Jackson, 20, was charged with obstructing a constable in the execution of duty. A 17-year-old was disqualified from driving for a year and fined for recklessly driving a motor vehicle. Jackson's charges were later dismissed.
Chief Inspector Jonathan Baldwin: "The events of that day will always remain with me."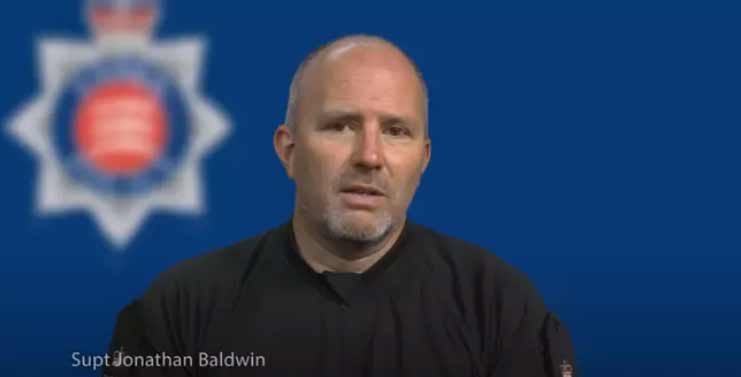 In a statement regarding the incident, Baldwin admitted that he and his colleagues, who were soaked in petrol that day, will struggle with the emotional trauma for a long time. Admiring his fellow police officers' courage, he said:
"What makes me most proud is that none of the officers covered in petrol and taken to hospital took any time off sick. They came back to work with fortitude, conviction and dedication because they don't just do the job for themselves, they do the job for the public."