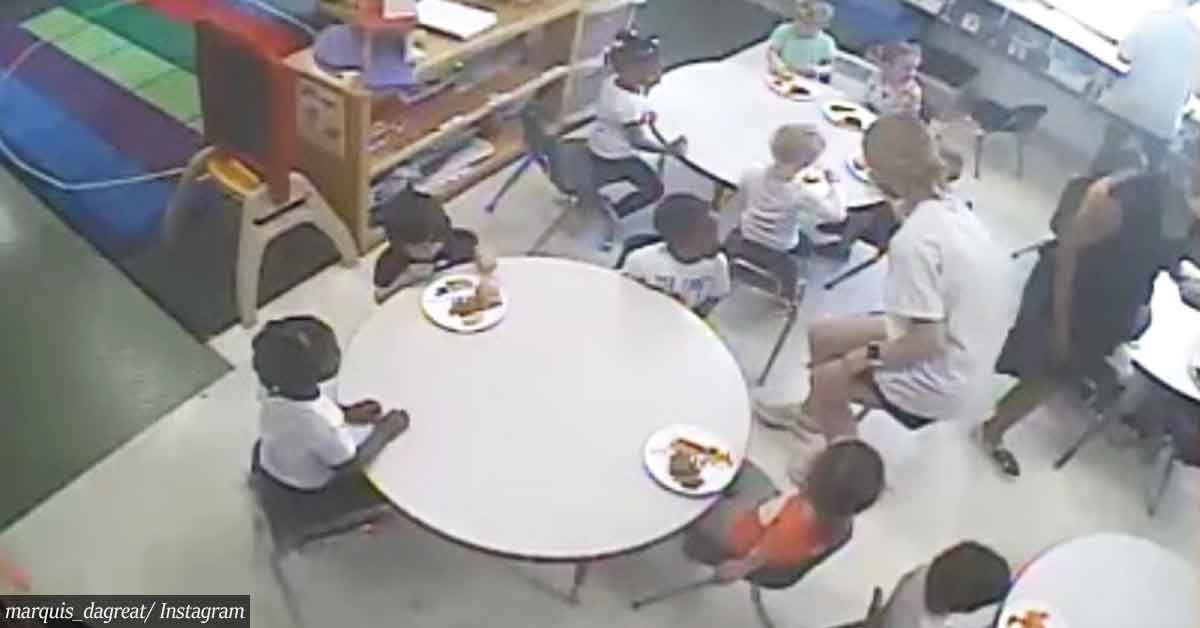 Disturbing daycare footage shows white kids being served their food before their black classmates
Parents outraged as daycare footage reveals white kids being served food before their black classmates.
Footage from a Georgia daycare shows white children being served their meals before their black classmates.
The scene was spotted by a father checking up on his toddler via a live stream of the child care center. 
The owner of the kindergarten claims the situation was misinterpreted. 
A Georgia daycare center has faced harsh criticism over a snap from the security cameras showing black children waiting for their food while their white classmates are already being served.
According to Indy100, the disturbing scene was spotted while Roswell's Kids 'R' Kids was broadcasting a live stream for the parents to check up on their children. As one father was watching the stream to see how his toddler was doing, he noticed something incredibly distressing. The footage revealed how white kids are already enjoying their meals while their black friends were still waiting for their food.
Speaking to CBS46, the outraged father, Adryan McCauley, said:
"They were skipping all of the black kids it seemed like. All the white kids got their lunch, and all the black kids had to wait. From the videos and pictures that we saw today, we are just completely disturbed."
Mr. McCauley's partner immediately rushed to pick up their two-year-old son after seeing the alarming scene. 
When the angered parents confronted the kindergarten's director, their concerns were allegedly treated with nothing but ignorance. Reportedly, he responded:
"I'm not really sure because I'm not in the classroom. Maybe it's a dietary thing."
After realizing that the director has no intention to take action regarding the way his staff treats the toddlers, the family decided to take the matter into their own hands. In an Instagram post, addressing the official profile of Kids 'R' Kids, the father wrote:
"This is truly unbelievable… Why does every white kid have their food? Not one black child has food in front of them!

Thank God for cameras in classrooms because there is no way to hide this racism! In the year 2021 this is truly unbelievable… This is not a black or white issue this is simply wrong!"
View this post on Instagram
After the father's post went viral, the daycare center responded. 
Following Mr. McCauley's public complaint, Kids 'R' Kids faced a wave of criticism related to the distressing snapshot from their live stream. The corporation's president David Vinson later released a statement saying that the scene captured on the video is "not in accordance with the inclusive culture" that the center promotes.
To solve the issue, the president has decided to "terminate the franchise's Kids 'R' Kids contract and branding." 
The statement continues:
"We apologize to the family, the community, and all of those impacted by this situation."
View this post on Instagram
However, the director and owner of the Rosewell daycare center defended her staff, saying:
"We know the act was random, and the photo doesn't show the entire room. We believe if the parents viewed the videos they would understand. I wish they could see the compassion we have."