Shelter pit bull kept getting rejected, so he learned how to make his own bed to show he's a 'good boy'
When rescuers took Rush the pit bull, he was just a scared little pupper. No one wanted to take him and give him a loving home. But one day, everything changed!
The poor pup got rejected too many times, so he learned an awesome trick to show everyone he's a good boy.
Rescuers at SICSA Pet Adoption Center in Ohio, where Rush was taken care of, couldn't believe how this loving, gentle dog could get rejected so many times. Sadly, as per PawBuzz, every potential adopter who visited Rush would shy away after realizing that he was a pit bull.
Poor little Rush couldn't understand why every other dog in the shelter was finding a forever home, but no one wanted to pick him.
Surprisingly, one day the carers witnessed how Ruch carefully made his own bed before the visiting hours. They caught the touching moment on camera. The gentle pit bull held the sheets in his mouth and tucked them neatly on all corners. It was clear that all the pupper wanted was to finally find loving owners who would see his precious soul, even though he was a pit bull.
Eventually, Rush turned making his bed into a daily ritual. It was his form of a cry for help. The workers at the care center knew they had to do something to help him get noticed.
They shared the video of the young pit bull neatly making his bed on their Facebook page. As the touching video was going viral, countless animal lovers expressed they would be happy to take care of him.
Thankfully, the center quickly found the perfect candidates to become Rush's permanent owners. They chose a sweet couple who had just lost their dog. As they took the pupper into their arms, all the sadness in his heart disappeared. It was replaced with unconditional love!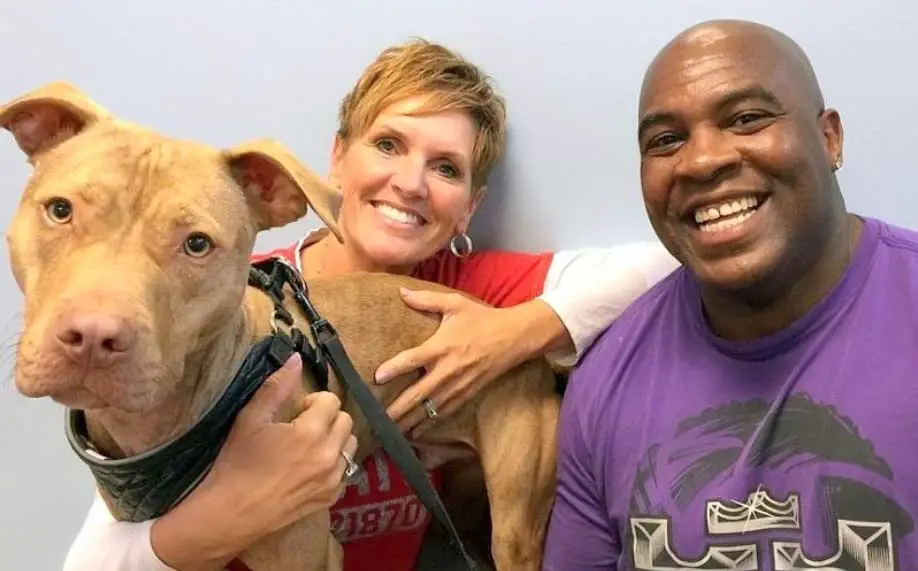 Here's how Rush the pit bull gently makes his own bed: