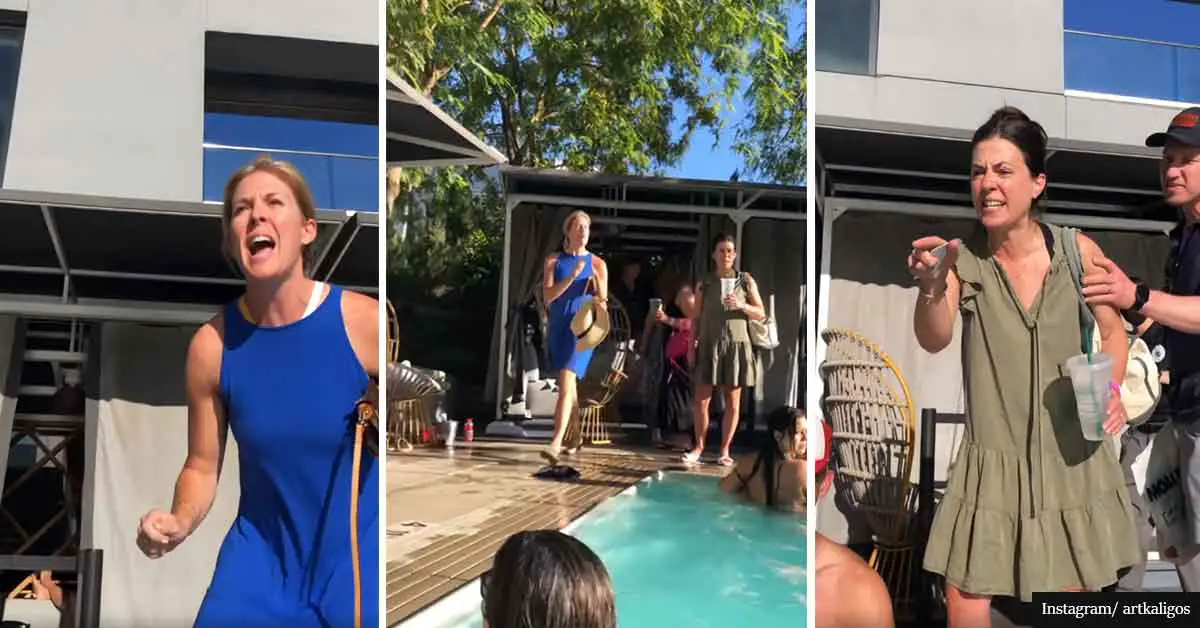 "SHAME!" An outraged crowd shamed a group of women who allegedly tried to stop a Black lesbian couple from kissing at a hotel pool. 
A group of white women called security on a Black lesbian couple for kissing by a hotel pool.
The rest of the people at the pool shamed the homophobic women chanting: "Shame!" as they were leaving. 
The couple believes the incident wouldn't have occurred if they were straight. 
After a group of white women saw a Black lesbian couple kissing beside a hotel pool, they tried to stop them, claiming there were children at the spot. As the crowd got outraged following the women's burst of anger infused with homophobia, they gave them "the Cersei Lannister treatment." As they were escorted by security, the rest of the people beside the pool began repeatedly chanting: "Shame! Shame! Shame!"
As Unilad reports, the incident occurred at the Kimpton Sawyer Hotel in Sacramento, California.
Art Kaligos, who posted the video on Instagram, explains:
"This woman asked a female couple to stop kissing in a public pool because her kids were present. So we gave her the Cersei Lannister treatment while they were escorted out by security. SHAME!!"
Pride month begins with this from @Theblackbayarea IG. The White women at this Sacramento hotel pool were pissed that a Queer Black woman was kissing her gf in public because there were children present. They were shamed out. This is a #280charactersaintenough moment! Just damn! pic.twitter.com/OVDmVkWhMz

— Daryle Lamont Jenkins (@DLamontJenkins) June 1, 2021
Instead of being ashamed by their behavior, some of the women can be heard calling the people by the pool "f***ing losers" and "f***ing a**holes."
Despite claiming there were children at the pool, the women began swearing and flipping the camera off to defend themselves.
Talking to Daily Dot, Kaligos claimed the lesbian couple had been "singled out" by the irate women. Apparently, they had called security to remove the Black women from the pool.
Dominique Veasley, one of the women targeted by the angry "Karens," believes the incident wouldn't have happened if she was straight. In an interview with CBS 13, she said:
"This is not okay anymore, it's 2021… It would've been a beautiful moment for her to teach about love to her kids but instead, she decided to sexualize two women."
Georgy Avakov, one of the onlookers at the incident commented:
"The white women specifically targeted [Veasley] and her friend, despite at least a dozen straighter, non-black couples and parents also in the pool and at the bar at the time, who were being just as affectionate. It is impossible not to be inspired by her courage, or disturbed by the unprovoked harassment she faced, all while just trying to enjoy a fun afternoon swim with a girlfriend at a hotel pool bar."
Although she was deeply offended by the women's homophobic behavior, Veasley said she "felt very supportive from the other people at the pool."
Furthermore, in an official statement, a spokesperson for the hotel said:
"The Sawyer does not condone discrimination or verbal assault of any kind. An unfortunate disagreement between guests occurred at our pool over the holiday weekend and the matter has since been resolved."