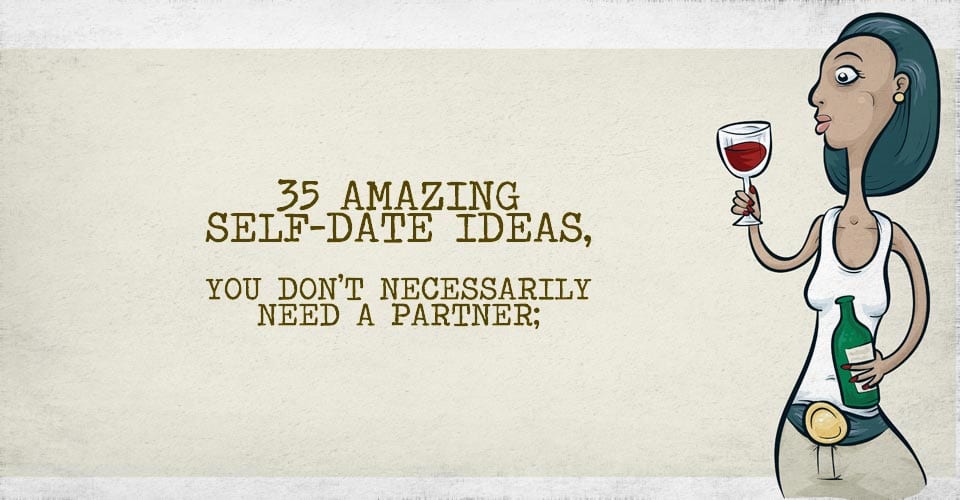 35 Amazing Self-Date Ideas, You Don't Necessarily Need a Partner
Whether you're happily coupled or flying solo, choosing to cultivate self-love is always a viable option. Often, we feel enormous social pressure to spend as little time by ourselves as possible. We are trained to fear loneliness, albeit being alone and being lonely are two entirely different states. We feel that getting to know ourselves better is a waste of time and makes us appear selfish in others' eyes.
I now tell you this has to change. In addition, the above reasons seem kind of silly, don't they?
Treat yourself as you would a treasured loved one. Why don't you take yourself out on a date and spend some time enjoying your own company?
Here are 35 great solo date ideas:
1. Check out the local theater scene.
High school and college level plays are usually fantastic and inexpensive. As far as I know, the rehearsals are absolutely free and this is where the greatest fun is!
2. Why don't you take up gardening?
Growing your own food has always been fun, and it is also incredibly healthy. Do not forget to include some flower beds as well. Tulips are my favorites, but roses are also fantastic!
3. Take a tour a local vineyard or brewery and have a first-hand look at the process of beer or winemaking.
Check out a candy factory if you've got a sweet tooth! Whichever you choose, the experience will be awesome, and the cost – more than affordable!
4. Lay a blanket in the grass and watch the clouds go by.
The experience is surreal! This is relaxation at its finest!
5. Go to a local dog shelter.
Offer to walk the dogs to give them some love and exercise. If you are afraid of dogs, you can volunteer for some other community service. The experience is very rewarding and boosts one's self-esteem like nothing else in the world.
6. Audit a college course.
See what you can learn when you aren't worried about getting a good grade. Anyway, mixing up with young people is always preferable to spending the day on the couch in front of the TV.
7. Go apple-picking.
Go strawberry-picking. Remind yourself that food is one of Mother Nature's greatest gifts to man. Then, go home and bake something wonderful! If baking is not your passion, make your favorite dish. At least you can try to fix an omelette.
8. Attend services for a religion you don't practice.
See how it feels to be a spiritual tourist. This works even better if you aren't religious in general.
9. Build a blanket fort and hide from the world.
Deep down you've always wanted to do this! You can use four massive chairs, or the table in the dining room.
10. Check out a local high school or college football game.
Paint your face. Get loud. Be a fan and let the team out!
11. Try go-kart racing to indulge your competitive streak.
If you need more adrenaline, try whitewater rafting.
12. Declare a "naked day."
Do all your regular household chores in the nude. Some friendly advice – do pull the curtains tight. This is not necessary if you live in a house with a tall fence.
13. Go to a concert none of your friends would agree to attend.
Dance. Sing along. Get lost in the music. Give yourself the special night out you've always craved!
14. Treat yourself to a picnic in the park.
Bring along a good book, or just soak in the peaceful feeling of spending time in nature. Do not forget the picnic basket though!
15. Dress up super fancy with no place to go.
Who said you have to save your best outfit for others to enjoy? Wear it around the house, or go grocery shopping looking like you're on your way to the opera – or a rave.
16. Take a guided tour of your hometown.
You'll be surprised at what you learn. Discover the hidden gems whose existence you never suspected!
17. Book a pin-up photo shoot. Celebrate your sex appeal!
18. Take yourself zip-lining somewhere both thrilling and beautiful.
I hope it's safer than paragliding. In any case, the instructor must be a real pro. Take no chances with the equipment as well!
19. Look up a recipe for a dish you've always wanted to try.
Cook it for yourself and eat by candlelight. If you can think of a finer form of self-indulgence, please share it with us!
20. Try out a million different scents.
Find a signature fragrance that feels like the best version of you.
21. Go out to dinner somewhere fancy.
Bring a good book, or make the servers nervous with a clipboard and a checklist.
22. Take a class nobody would want to do with you – pottery, improv comedy, or woodworking. Immerse yourself in it.
Master this skills you've always wanted to have!
23. Hike through the mountains.
Touch base with yourself and with the universe. Feel the force of nature and test your survival skills against the elements! Researchers confirm that spending time in the woods is great for the brain too.
24. Take a bubble bath.
Light candles, use bath oils, and add flowers to the water. This will relax your muscles and wash away all of your worries!
25. Go stargazing.
Make a wish on the brightest one. Alternatively, you can go trainspotting. Did you know that it is an actual hobby started by Londoner Ian Allan in 1942?
26. Make something you would normally buy.
Candles, soap, cheese, and pickles are surprisingly easy! On second thought, cheesemaking requires some previous experience…
27. Get in touch with your inner child.
Jump rope, color, or build something with Legos. Do whatever your favorite activity was back in the day.
28. Check out your local farmer's market.
Cook with fresh food all week long! You will not only eat healthily, but also support the local community.
29. Buy yourself flowers.
Every time you see them, remember to indulge yourself once in a while. Black tulips are a fine choice, if you can find them in the local flower shop.
30. Take yourself on a road trip.
Find a small town you've never been to. Discover the local restaurants, shops, and history.
31. Declare an "art day."
Paint, sculpt, and draw whatever is in your heart. The results will surely inspire you to go for more!
32. Throw a solo dance party.
Get wild with it! You can leave your hat on, though!
33. Rent an outrageously impractical car for a day.
Go where you please. Feel like a movie star. You can even hire a Rolls or a Lambo, as long as your credit card allows it!
34. Immerse yourself in another culture.
Research stories, music, and art from a nation that interests you. Then, cook yourself an authentic recipe from their cuisine. Go around the world without leaving the comfort of your home!
35. Do absolutely nothing.
Just relax with yourself for a moment. Some of the best ideas come to us in moments of full relaxation!
"Being alone scares a lot of people. It means they have to be themselves, and more often than not they haven't the slightest clue who they've been all this time. That's why people stay the same, because it's a frightening choice to step away from the crowd," explained Nikki Rowe.
Do not be afraid to unfollow the crowd. Take the chance to discover yourself. You may fall in love with who you'll find.