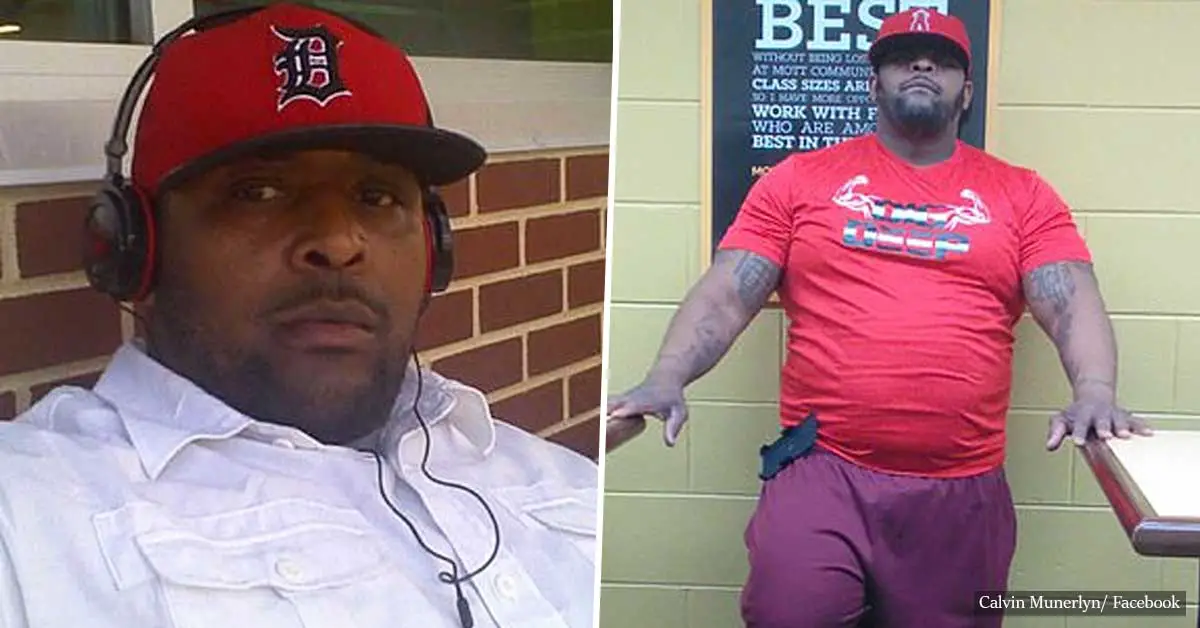 Security Guard Killed Over Face Mask Dispute; Police Looking For Father And Son Suspects
Michigan, US: A family is devastated after their loved one was murdered by gunshot while at work after asking a person to wear a face mask.
The family of Calvin Munerlyn, 43, nickname Super Duper, say he had been doing his job at the Family Dollar shop in Flint as a security guard for a number of months before his passing.
"There's just no excuse for someone to take this kind of an action over this kind of an issue," Genesee County Prosecutor Dave Leyton told the press last Monday.

"This was totally uncalled for. He didn't bother a soul," his friend Bryant Nolden said.

"It's so devastating that he shouldn't have lost his life by trying to save lives," his uncle Ramon Munerlyn told Fox2Detroit.
According to the Flint Police Department and the Genessee County prosecutors office, on Friday afternoon, May 1, Sharmel Teague, 45, entered the shop. Munerlyn told her to put a face mask on and that is when police say Teague started shouting and spitting on him.
Munerlyn then told the cashier to not serve her and Teague exited the store, but called her husband Larry Teague Jr., 44.
"The video shows the same vehicle returning approximately 20 minutes later," Leyton said.
According to witnesses as well as proof from the CCTV footage, Sharmel's husband and her son Ramon Bishop, 23, then quickly entered the shop wearing dark clothes.
"One of the Black males [seen in the surveillance video] started yelling at Munerlyn about disrespecting his wife, the other Black male then walks up to Munerlyn and shoots Munerlyn," Leyton said.
Do you have any information on the whereabouts of Larry Teague Jr. and/or Ramonyea Bishop? Both suspects at large in regards to the #Flint Family Dollar homicide that took place on Friday, May 1, 2020. Submit tips on the P3 mobile app, https://t.co/X6nybx8PT9 or 1-800-422-JAIL. pic.twitter.com/vbExO33GNz

— Crime Stoppers Flint (@FlintCrimeStop) May 4, 2020
Munerlyn was gunned down in the back of the head and later passed away at the hospital. According to his family, he was a loving father of six and also had 3 stepchildren. He put his family above everything else.
"His main focus on anything 24/7 was his mama, his kids and his wife," his uncle said. "All he did was rip and run and try to help everybody. He put everybody before him."
His mother gave him the nickname Super Duper because he was always ready to give a helping hand. Last Monday, prosecutors announced a number of charges against Sharmel Tague, her husband, and her son, including first-degree murder, felony firearm, and violation of the executive order.
"They are armed and dangerous but we will bring them to justice," Leyton said.
With Sharmel Teague behind bars, a reward of $1000 is being given to anyone who offers to help find her husband and son.
"I got something to say to these individuals," his uncle said. "They took him away from his mama and his wife and his kids for something so stupid."
A GoFundMe page has been set in support of the family. It has so far raised $151,921.
What are your thoughts on this devastating case? Let us know by joining the conversation in the comments and please share this article if you've found it of value.