Second Former Aide Accuses New York Governor Andrew Cuomo Of Sexual Harassment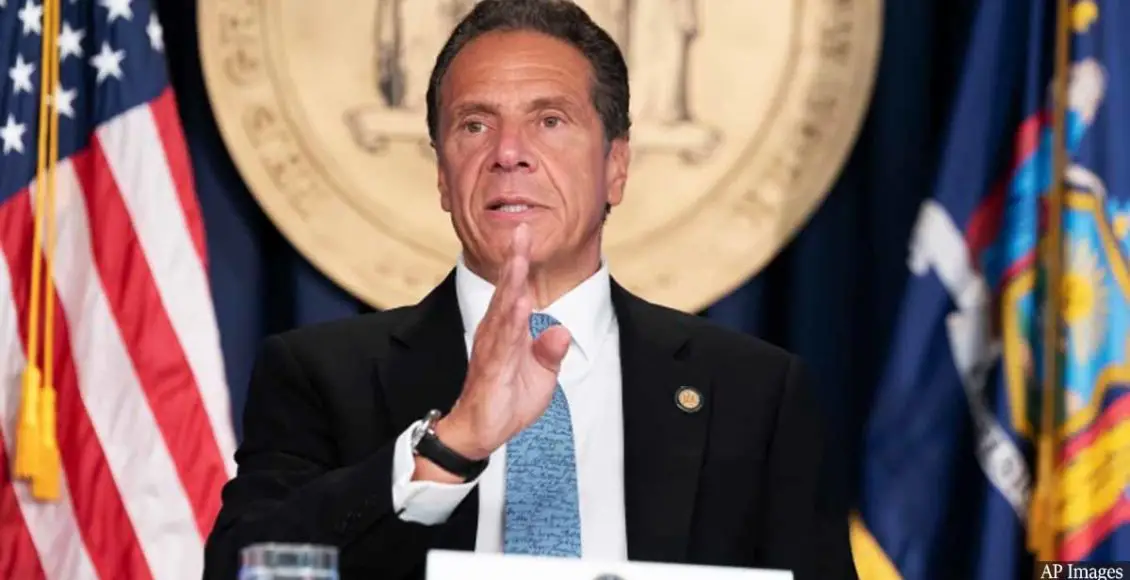 New York Governor Andrew Cuomo has yet again found himself in deep trouble and has now agreed to allow an investigation on sexual harassment allegations by two of his former aides.
Cuomo, 63, was hit by criticism from all sides over the weekend after former aide Charlotte Bennett, 25, told The New York Times that he sexually harassed her last year. This comes just a few days after Lindsey Boylan, 36, another one of his former aides, complained about unwanted physical contact from him.
The governor's special counsel Beth Garvey made a statement saying that "to avoid even the perception of a lack of independence or inference of politics," Cuomo had asked state attorney general Letitia James and New York's chief judge Janet DiFiore to "jointly select an independent and qualified lawyer in private practice without political affiliation to conduct a thorough review of the matter and issue a public report."
Andrew Cuomo denies former aide's sexual harassment allegations – CNNPolitics https://t.co/Rco2HnRGO3

— Jake Tapper (@jaketapper) February 25, 2021
Cuomo, who has denied the allegations, had previously chosen former federal judge Barbara Jones to lead a probe.
However high-ranking Democratic leaders said that was not enough, and James said over the weekend that she was set to open an inquiry to ensure a "truly independent investigation."
Eventually, James made clear that state law gave her office, not Judge DiFiore, full rights to lead an inquiry of this kind, adding that the governor has to provide a formal referral in order to proceed with subpoena power.
Sickened by this. Solidarity and love to all survivors. Sexual harrasment and abuse can no longer go unaddressed in our halls of power. https://t.co/9Pi1LyvdhR

— Gael Black (@_GaelEB) February 28, 2021
On Sunday, Hawaiian Democrat Senator Mazie Hirono had joined in calls for a fully independent inquiry.
"Not the investigation that he announced himself?" an interviewer for ABC asked.

"I wouldn't consider that to be independent," Hirono answered.
Representative Alexandria Ocasio-Cortez made a tweet saying that the "detailed accounts" of Cuomo's accusers "are extremely serious and painful to read."
She also called for an independent inquiry led by the attorney general's office.
Lindsey Boylan and Charlotte Bennett's detailed accounts of sexual harassment by Gov. Cuomo are extremely serious and painful to read.

There must be an independent investigation – not one led by an individual selected by the Governor, but by the office of the Attorney General.

— Alexandria Ocasio-Cortez (@AOC) February 28, 2021
"Every woman should be heard, should be treated with respect and with dignity," White House spokeswoman, Jen Psaki said on CNN. "There should be an independent review of these allegations."
Bennett says that Cuomo was open to dating women in their 20s, and asked her if she thought age made a difference in romantic relationships, according to the Times.
And while he never actually tried to touch her,
"I understood that the governor wanted to sleep with me, and felt horribly uncomfortable and scared," she said.
In a recent statement, Cuomo said that he
"never made advances toward Ms. Bennett nor did I ever intend to act in any way that was inappropriate."
He said that in fact, he wanted only to support and mentor Bennett.
Reps. @RepJerryNadler @NydiaVelazquez and @Grace4NY have also called for an independent investigation into allegations of sexual harrasment by @NYGovCuomo: pic.twitter.com/FZLllwiD7f

— Gloria Pazmino (@GloriaPazmino) February 28, 2021
In a blog post made on Wednesday, Lindsey Boylan, 36, said that the governor had harassed her when she was a part of his administration, from 2015 to 2018.
She claims that Cuomo had given her an unwanted kiss on the lips, suggested the two of them play strip poker, and went "out of his way to touch me on my lower back, arms, and legs."
The governor's office brushed off those claims as "simply false."
In a Sunday press release, Governor Cuomo tried to defend some of his actions from the past by saying that he was "just being playful".
"Questions have been raised about some of my past interactions with people in the office," he said. "I never intended to offend anyone or cause any harm. I spend most of my life at work and colleagues are often also personal friends."

"At work sometimes I think I am being playful and make jokes that I think are funny. I do, on occasion, tease people in what I think is a good-natured way," Cuomo explained. "I do it in public and in private. You have seen me do it at briefings hundreds of times. I have teased people about their personal lives, their relationships, about getting married or not getting married. I mean no offense and only attempt to add some levity and banter to what is a very serious business."
A new statement from Gov. Andrew Cuomo.

"Questions have been raised about some of my past interactions with people in the office …" pic.twitter.com/uLdHx2TR3F

— Robert Harding (@RobertHarding) February 28, 2021
We are yet to see how this investigation will unfold and whether justice will be served accordingly.
What are your thoughts on this story? Let us know by joining the conversation in the comments and please share this article if you've found it informative.