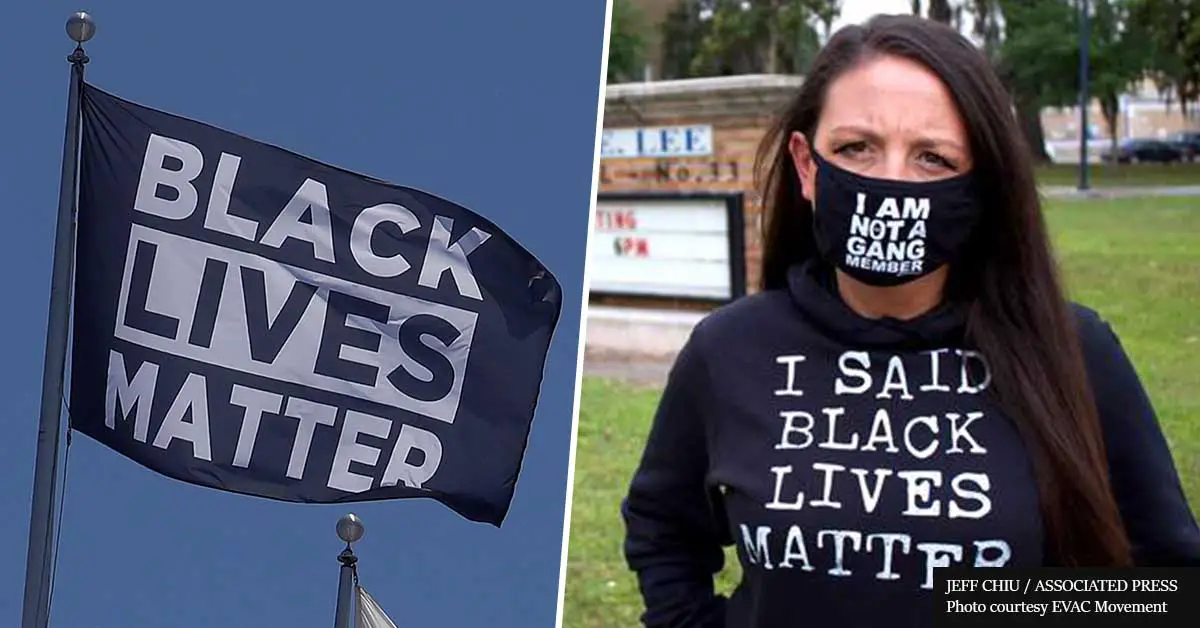 School Forced To Pay $300,000 To Teacher Who Was Removed For Hanging A Black Lives Matter Flag In Class
Jacksonville, Florida: A teacher who was removed from her classroom for having a BLM flag has won $300,000 in a lawsuit.
Amy Donofrio, a teacher at Riverside High School was reassigned after attaching a Black Lives Matter flag to the door of her classroom, which triggered her to file a lawsuit against the school.
When asked to remove the flag, she refused, which led to her reassignment.
Teacher Amy Donofrio hung a Black Lives Matter flag outside her classroom. When she refused to take it down, administrators reassigned her to non-teaching duties.

Now, she's taking them to court — arguing it was a violation of her First Amendment rights.https://t.co/xeCNN3gisp

— NPR (@NPR) April 30, 2021
According to Donofrio, the district has violated her freedom of speech.
After the incident took place last March, she was moved from the teaching department to warehouse work.
Donofrio is the co-founder of a group called the EVAC Movement that reclassifies Black youth in Jacksonville from 'at risk' to 'at hope'.
According to the Duval County Public Schools, the teacher was under investigation for a number of things following its decision to reassign her, but they did not go into detail about these allegations, as per USA Today.
After the lawsuit, the district voted to reach a settlement with Donorfio, as the case may have stretched out for many years costing them millions. 
Warren Jones, a board member at the school district said at the time:
"Though we know we haven't done anything wrong, these are taxpayer dollars."
It was later revealed that the total compensation Donorfio received was $300,000, $60,000 of which will go to her lawyers.
Before the settlement was reached, Florida State Education Commissioner Richard Corcoran spoke out about the case but did not mention Donorfio by name.
"I'm getting sued right now in Duval County, which is Jacksonville, because it was an entire classroom memorialized to Black Lives Matter. We made sure she was terminated, and now we're being sued by every one of the liberal left groups for freedom of speech issues."
After I was removed from Robert E. Lee High School, students started a petition. https://t.co/iMSKhOR2ne pic.twitter.com/WzKUKyMwES

— Amy Donofrio (@amyedonofrio) April 17, 2021
Although a petition was started to allow Donorfio to return to the classroom, Duval County Public Schools have not renewed her contract and, as part of the agreement, denied her the option to apply for reemployment within Duval Schools.
Donofrio has said she is "devastated" for not being able to return to teaching as she has worked as a teacher for 10 years.
What are your thoughts on this story? Let us know by joining the conversation in the comments and please share this article if you've found it informative.