Support poured in for Scarlett Johansson from all over the world as she won the Generation Award at the MTV Movie & TV Awards.
But she received the funniest appreciation from her husband, Colin Jost, who pranked her right in the middle of her acceptance speech.
While giving a warming virtual acceptance speech, Johansson thanked all the people who helped her rise to the top and said:
"Thank you so much for this honor. Watching that reel it reminds me of all the incredibly inspiring collaborators that I've been fortunate enough to work with for over three decades. I never would've been able to continue to evolve as an actor for the last 30 years without the support and dedication of so many cast and crew members that make up the nomadic traveling circus family, and the dedication and hard work of so many people that goes into making any movie continues to inspire me as a performer. So this award really belongs to many hundreds of creative people all over the world."

"Thank you so much to my fans for riding the way with me and supporting my career so I can continue to have the good fortune to pursue the job that is my passion, and I realize what an absolute gift it is to have the opportunity to do what I love. I couldn't do it without your continued support," Johansson went on to say. She added, "This award is made possible by all of you. And it's because of that that it's so meaningful to me."
And when she was about to give viewers a sneak peek from her latest film, Black Widow, her husband walked up to her and poured a bowl of slime on her head, thus giving audiences a hilarious moment from this year's MTV Movie and TV Awards.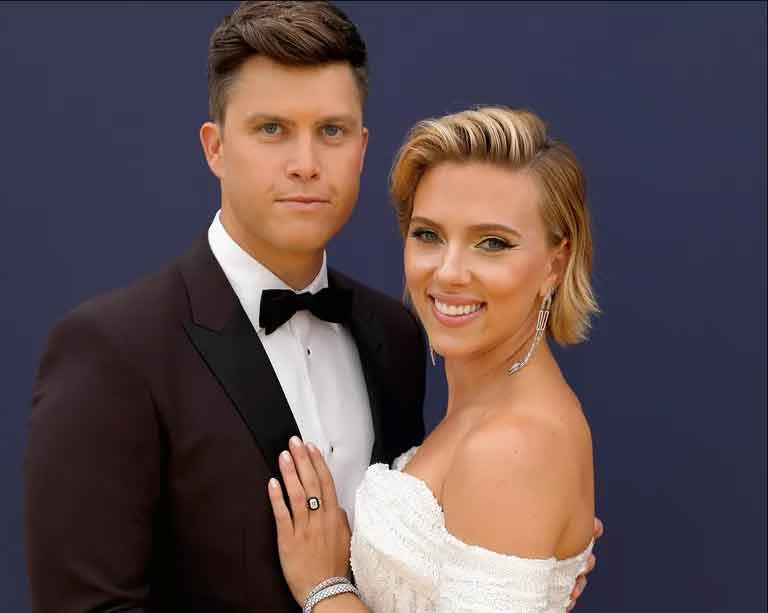 The couple got married last October, and they admitted it was a challenge to exchange wedding vows in the middle of the pandemic.
Johansson said:
"I think just keeping it intimate and small made it feel intentional. We wanted it to feel like it had an intentional intimacy as opposed to being something that felt like we were restricted by all these things."

"There was a lot to take into consideration because of all of the CDC guidelines and making sure everybody was comfortable and safe, following all the COVID protocol."
But even though it was a hard time for all, Johansson said about their wedding:
"We were just so happy to be able to celebrate with our family. Some people we hadn't been able to really see so much over this past year. So that was really special… We felt really fortunate that we were able to do it."
Check out the hilarious video by clicking below.
What are your thoughts on this story? Let us know by joining the conversation in the comments and please share this article if you've enjoyed the read.