A 'ripped' squirrel caught people's attention by shamelessly showing off his pecks… and his nuts. 
Sarah Lenzenhuber, from Missouri, caught a bizarre scene on camera. One peaceful day, while she was walking her dog, Sarah spotted the most ripped squirrel she has ever seen. But that's not the only thing she saw.
The unsuspected woman had to take a double-take, as she witnessed something quite unusual and absolutely hilarious. As per Daily Mail, Sarah describes:
"I saw him while out walking my dog, did a double-take, and then doubled over laughing."
The woman decided to share the images with her Facebook friends. She was later surprised to see that her post went viral, gaining thousands of likes and comments.
"I wasn't sure if I should post it anywhere, but then my grade school sense of humor got the best of me."
Apparently, the unapologetic squirrel was in the mood for showing off. However, his six-pack was not the only thing he wanted the world to see. No wonder why the comical scene of this overconfident rodent provoked comments like "His nuts are bigger than his head."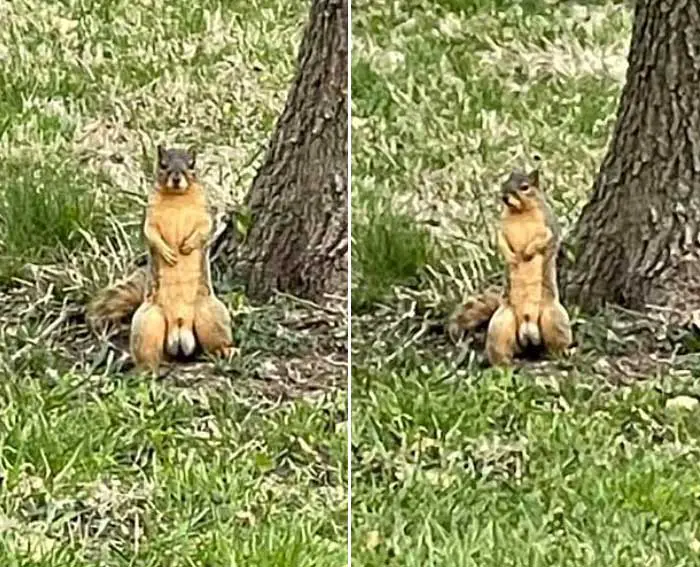 With a sight like this one, jokes just had to be made. One social media user said: "Wow, he's got quite the stockpile of nuts for the winter!" Another assumed: "I'll bet he has to be careful climbing trees and jumping from branch to branch."
Of course, netizens didn't miss the chance to comment on the squirrel's abs. Sarah's post was filled with comments like: "Look at those pecks," "Wow, those abs," and "Does he have a six-pack too?"
If you have stumbled upon a similar ludicrous scene, don't hesitate to let us know in the comment section!