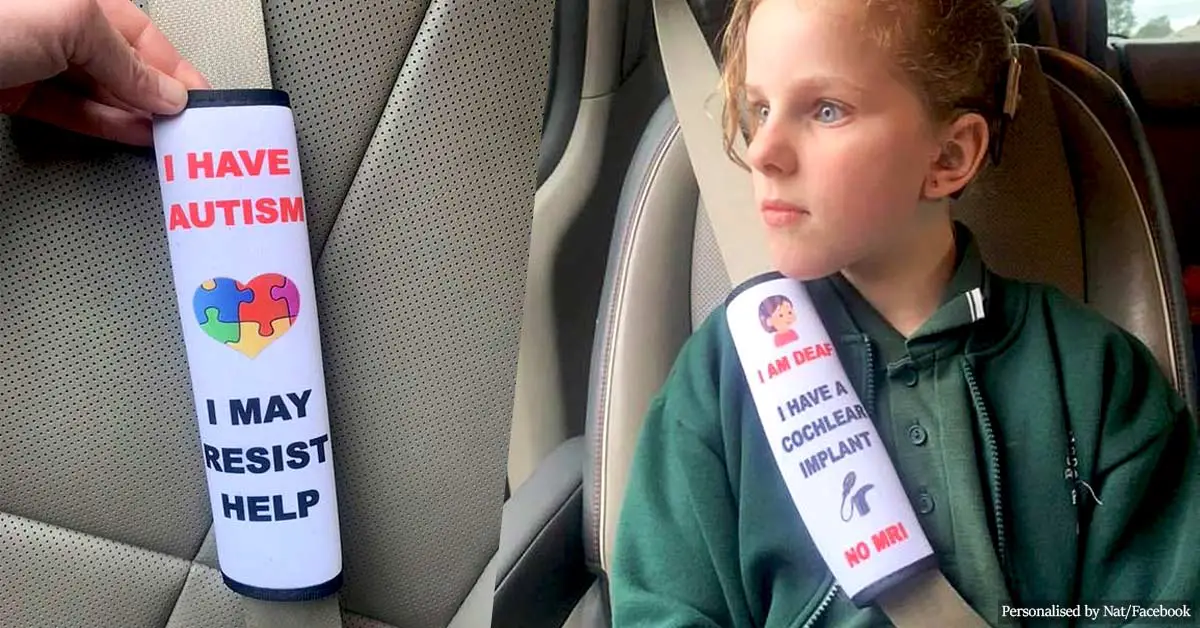 For many parents, car safety is one of the top concerns. But the worry of one mother about making sure her daughter received the best help in case of an accident has swiftly turned into a viral success story.
Natalie Bell, a mother of five, from Victoria, Australia, was concerned about her daughter, Shae, finding herself in an accident and first responders not being aware of her medical condition. So she came up with an idea for a seat belt cover for her child which could inform whoever was helping her about her condition if nobody else could pass on the information.
In June, the mother, who runs Personalised By Nat, where she crafts personalized items, shared her design on the company's Facebook page and stated her reason for creating it.
"I always wonder what would happen if I was in a car accident with my daughter in the car and I was unable to let the doctors know that my daughter could not have a MRI due to having a cochlear implant, now I don't need to worry about that with these seat belt covers," she wrote.

"These can be made for any special needs that the medical team will need to know if you are unable to tell them."
Natalie's idea quickly went viral and she received thousands of comments from people praising the idea as well as requests for such seat belt covers from all over the world.
"My husband is part of Fire and Rescue and said that this is a brilliant idea," one person wrote.

"Such a valuable piece that provides a lot of information clearly so that personal involved can approach situations with knowledge and care."

"This is a phenomenal idea," another said. "Both as a first responder and father of a deaf child whoever came up with this simple idea needs cudos."

"That is absolutely brilliant, I applaud whomever came up with that idea," another commented.

"I've known people with special needs children and the kids can often times have difficulty with strangers, even if it's someone trying to help. This certainly can help put a parents mind at ease."
The covers are priced at around $16 and can be effortlessly attached to backpack straps, seatbelts, and other places.
Even though Shae is deaf and her cover states that, covers can be created for various health problems including Down syndrome, autism, diabetes, and other covers stating that a child cannot speak or may resist being helped.
Ever since the story went viral, Natalie has shared that she has been "overwhelmed" by people's interest in her product:
"These children might have a medical bracelet but those are quite small. So I thought this is something emergency services would notice straight away," she told Daily Mail.
Check out Yahoo's interview with Natalie and Shae in the video below: