This Robot Planter Keeps Your Plants Alive
Did you know that there is a robot that can take care of your plants while you're away?
If you are a houseplant lover, you know how necessary this can be. You will no longer have to worry if your flowers are getting enough sunlight. The HEXA robot is here for you!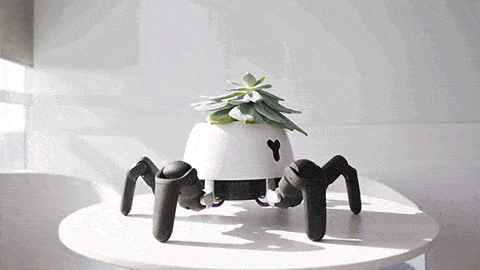 Nowadays, more and more people prefer to look after plants instead of pets. In fact, millennials are the ones who are making house gardening trendy again. From herbs to succulents, having a mini garden at home is in style right now. However, with our busy lifestyles, we can't always take all the care our plants require. That's why we need HEXA!
HEXA is a multi-functional robot which can be easily accessed through your smartphone.
It looks like a sweet artificial spider. The main purpose of this robot is to carry a plant on its back and to move it according to the sunlight. If the plant needs more sunshine, HEXA moves it to the sun. When it needs to cool off, the robot moves it back to a more shady place. Other than that, this little spider can walk, climb and take photos and videos. That way you can control your houseplants from every place in the world.
The inspiration behind the creation of HEXA comes from a sunflower exhibition.
The creator, Sun Tianqi, went to the exhibition in 2014 and saw a dead sunflower. The poor flower was planted in a place without any access to sunlight. If it were only 30-feet closer to the sun, it would have stayed alive. This picture made Tianqi think about the faith of plants and how they are the only living creatures that can't move by themselves. So, he gave life to his idea in the shape of this six-legged home assistant.
In a blog post explaining the idea of the creation of HEXA, Tianqi says:
"If human beings always try to break the settings with technology, how about plants? I do not know the answer, but I would love to try to share some of this human tendency and technology with plants."
Apart from its other functionalities, the HEXA robot also spins around when it enjoys the sunlight so the sun can hit all the sides of the plant it's caring on its back.
What is more, it can interact with humans as well. The robot gets playful when you touch one of its base sensors and it also does a little dance when it's happy. And when the plant needs watering, HEXA plays grumpy to signalize you.
Having houseplants at home can be beneficial for you in many ways. It can increase your productivity and your creative thinking, it can reduce stress and anxiety levels and it just looks so neat and lovely. Plants do so much for us, so we have to make sure we take good care of them as well. With the innovative HEXA robot this can happen almost effortlessly and pretty enjoyable.