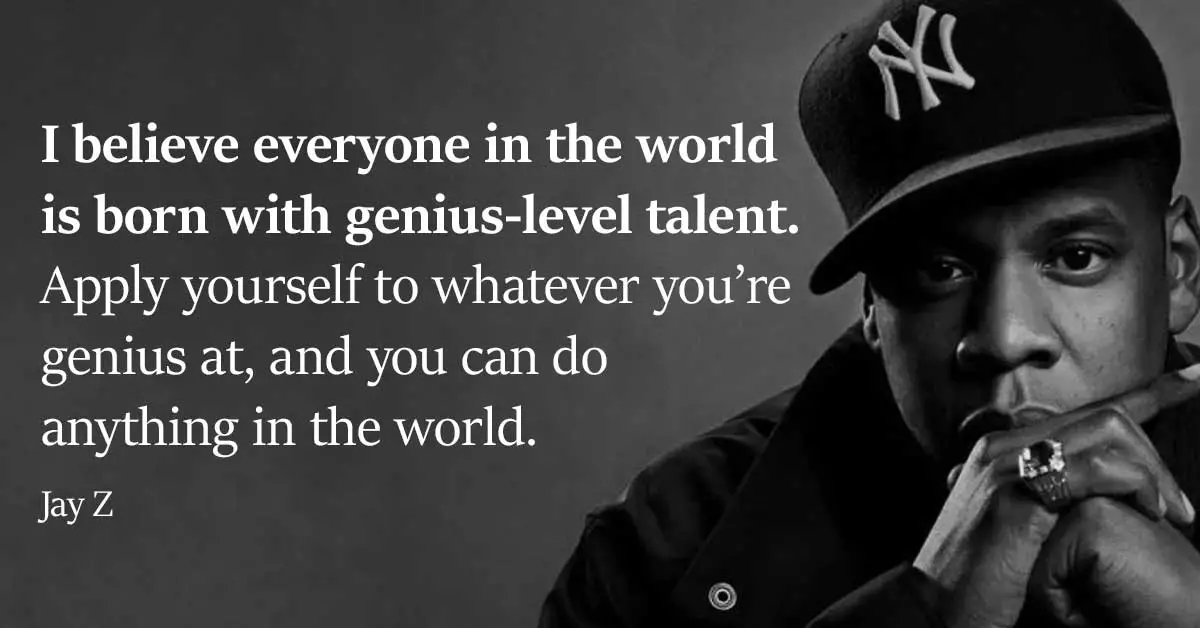 15 Quotes By Jay Z That Will Inspire You To Hustle More
What makes the quotes of Jay Z, born Shawn Corey Carter, even remotely comparable to that of titans of philosophical thought such as Ralph Waldo Emerson, Henry David Thoreau and, why not, Joseph Campbell?

That 's a really good question, isn't it? The wisdom of this self-made man does not come from the books, that for sure. Growing up without a father, he learned from an early age that "a closed mouth don't get fed" and his practical knowledge guided him to become one of the most successful rappers, music entrepreneurs and celebrities of all time.

Compared with the consistent and systematic schooling of the three titans of philosophical thought mentioned above, Shawn Carter's academic background appears to be modest, to put it mildly.
Education and early life
Carter's alma mater was the Eli Whitney High School in Brooklyn, which he attended together with future rapper AZ until the educational institution was closed down.

Shawn Carter's education continued at the George Westinghouse Career and Technical Education High School, where he met future rap stars The Notorious B.I.G. and Busta Rhymes. Later, he spent some time at the Trenton Central High School in Trenton, New Jersey, but never finished it. During that time he earned his pocket money selling crack cocaine and literally dodged a bullet on three occasions.

Born on December 4, 1969, Jay-Z grew up in Brooklyn's Marcy Projects – a quarter notorious for drugs and rampant criminality. According to his mother, Gloria Carter, little Shawn used the family's kitchen table as a set of drums, and these apparently were his first attempts at music making.
Problems with the law
Unlike his classmates mentioned above, the man who'd later become world famous as Jay-Z managed to stay out of trouble. Well, most of the time, at least. If we are to trust his lyrics, Shawn was a very "naughty" kid. In one of his songs he raps that back in 1982 when he was just twelve years old, he shot his brother in the shoulder for having stolen his jewelry.

His most serious trouble with the law was In October 2001, when Jay-Z pleaded guilty to stabbing record producer Lance Rivera at the Kit Kat Klub in New York City in 1999. The two men got to fight over Rivera's alleged bootlegging of Jay-Z's album, Vol. 3… Life and Times of S. Carter, before its official release on December 28, 1999. For this second-degree felony, Jay-Z was sentenced to three years probation.
Stage name and first steps in Rap music
Jay-Z's earliest rhymes can be heard on several of Jaz-O's recordings like "The Originators" and "Hawaiian Sophie" that were released in the late 1980s and early 1990s. The young rapper's breakthrough came in 1989, when he appeared on Yo! MTV Raps, featuring a song he'd made together with Jaz-O, who was a kind of mentor for Shawn.

Around that time Carter started calling himself Jay-Z. The stage name appears to be a tribute to Jaz-O and a nod to his school nickname, Jazzy. At the same time, the nearest metro station to Carter's home in Brooklyn was called J/Z subway station near his Brooklyn home.
Setting up Roc-A-Fella Records and first claim to fame
Shawn Carter got a stage name and made his first appearance on MTV, but he still had no label, which meant he had to sell his music from the trunk of his secondhand car. Then, with the financial support of his fellows Damon Dash and Kareem Biggs, he set up Roc-A-Fella Records as an indie label in 1995.

Jay-Z's first claim to fame was Vol. 2… Hard Knock Life (1998). The album became five times platinum in the United States and has sold more than five million copies since it was released.

Jay-Z's also connected with the biggest terrorist attack ever carried out on American soil. On September 11, 2001, just a few hours before the September 11 attacks, Jay-Z released his sixth studio album, The Blueprint.
Jay-Z's exit from Rap
Two years later, the rapper shocked the hip-hop world by releasing The Black Album and announcing that it would be his farewell solo record. When asked to comment on his surprising decision to put an end to his music career, Jay-Z just said: "I love when someone makes a hot album and then you've got to make a hot album. I love that. But it ain't hot."

The Black Album was followed by a concert called "a retirement party", which took place at New York's Madison Square Garden. The spectacular show featured guest performers like Missy Elliott, Mary J. Blige, and the rapper's future wife Beyoncé among others.

The concert will also be remembered for the special appearances of Voletta Wallace and Afeni Shakur, the mothers of The Notorious B.I.G. and Tupac Shakur respectively.
Unexpected comeback
As it often happens, some celebs announce their retirement and make money from all the ensuing farewell events, only to announce their comeback a few years later and make even more money.

Jay-Z case was no different and what was initially announced as his exit from Rap music turned out to be just a hiatus. He made his unexpected return with the single Show Me What You Got, which was leaked online in October 2006. The song was part of the Kingdom Come which was officially released on November 21st the same year.
Relationship with Beyonce
In April 2008, Jay-Z married his long-time girlfriend, American singer, songwriter and actress Beyoncé. It was a small wedding at which only about forty guests were invited. The wedding party took place in the rapper's penthouse apartment and was attended by close friends like actress Gwyneth Paltrow, Kelly Rowland, and Michelle Williams.

The one thing that both Jay-Z and Beyonce hate doing is showing off. They've always been keeping a low profile and this is one of the reasons for their healthy and long-lasting relationship.

On January 7, 2012, Jay-Z and Beyoncé had their first child. It was a girl and they named their daughter Blue Ivy Carter.

It took the couple five years to decide if they wanted more children but when they finally made up their mind, God sent them twins – a boy, and a girl. Sir and Rumi came to this world in June 2017.

Jay-Z and Beyonce's relationship has had its ups and downs, of course. In an interview with T: The New York Times Style Magazine in November 2017, the rapper opened up about having been unfaithful to his wife and that they've overcome it through family counseling.

So, in the end, it appears as if Jay-Z's quotes have actually deserved their place among those of Ralph Waldo Emerson, Henry David Thoreau and, Joseph Campbell.
His words of wisdom teach us how to get what we want from life and stay out of trouble. Their power lies in their simplicity. Enjoy!     
1. I'm not afraid of dying, I'm afraid of not trying. – Jay Z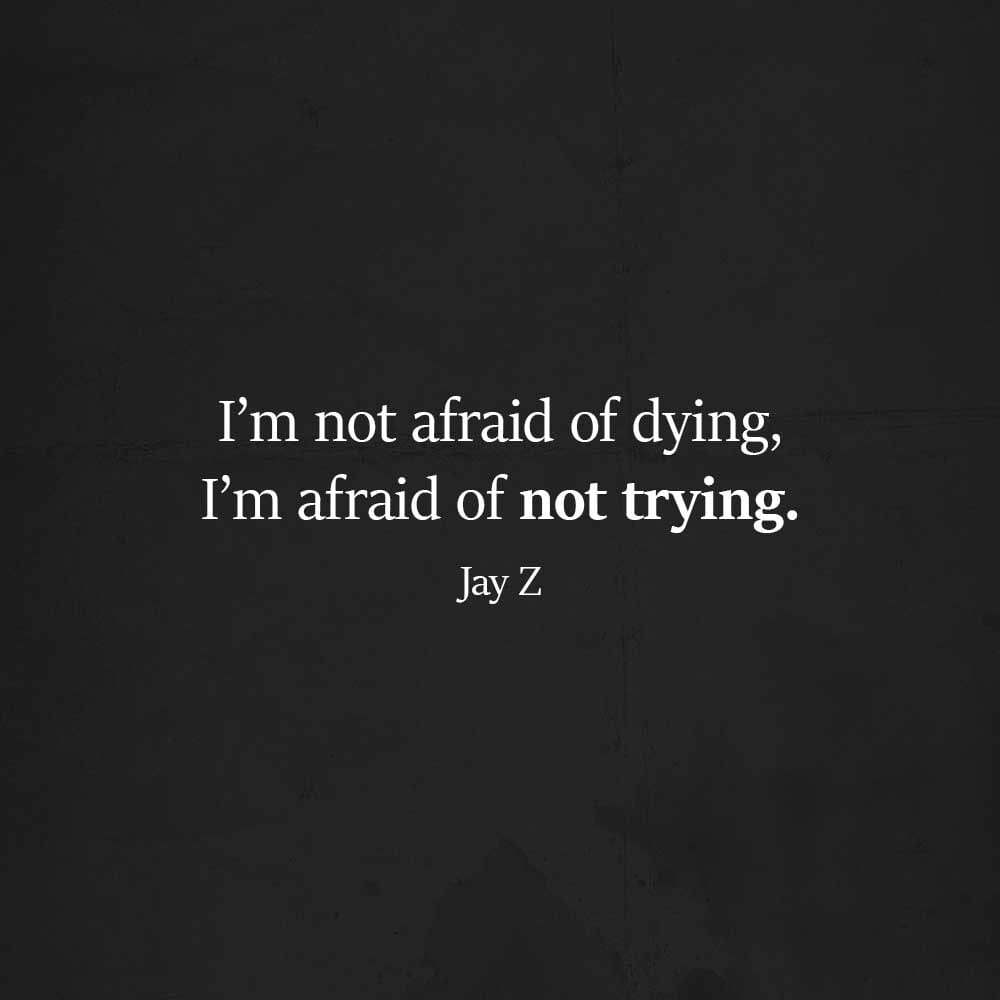 2. We change people through conversation, not through censorship. – Jay Z
3. Life is all there is. And if that's true, then we have to really live it — we have to take it for everything it has and "die enormous" instead of "living dormant." – Jay Z
4. I will not lose, for even in defeat, there's a valuable lesson learned, so it evens up for me. – Jay Z
5. All I got is dreams.

Nobody else believes. Nobody else can see. Nobody else but me. – Jay Z
6. I believe everyone in the world is born with genius-level talent. Apply yourself to whatever you're genius at, and you can do anything in the world. – Jay Z
7. A wise man told me don't argue with fools. Cause people from a distance can't tell who is who. – Jay Z
8. Truth is you don't need some external demon to take control of you to turn you into a raging, money-obsessed sociopath, you only need to let loose the demons you already have inside of you. – Jay Z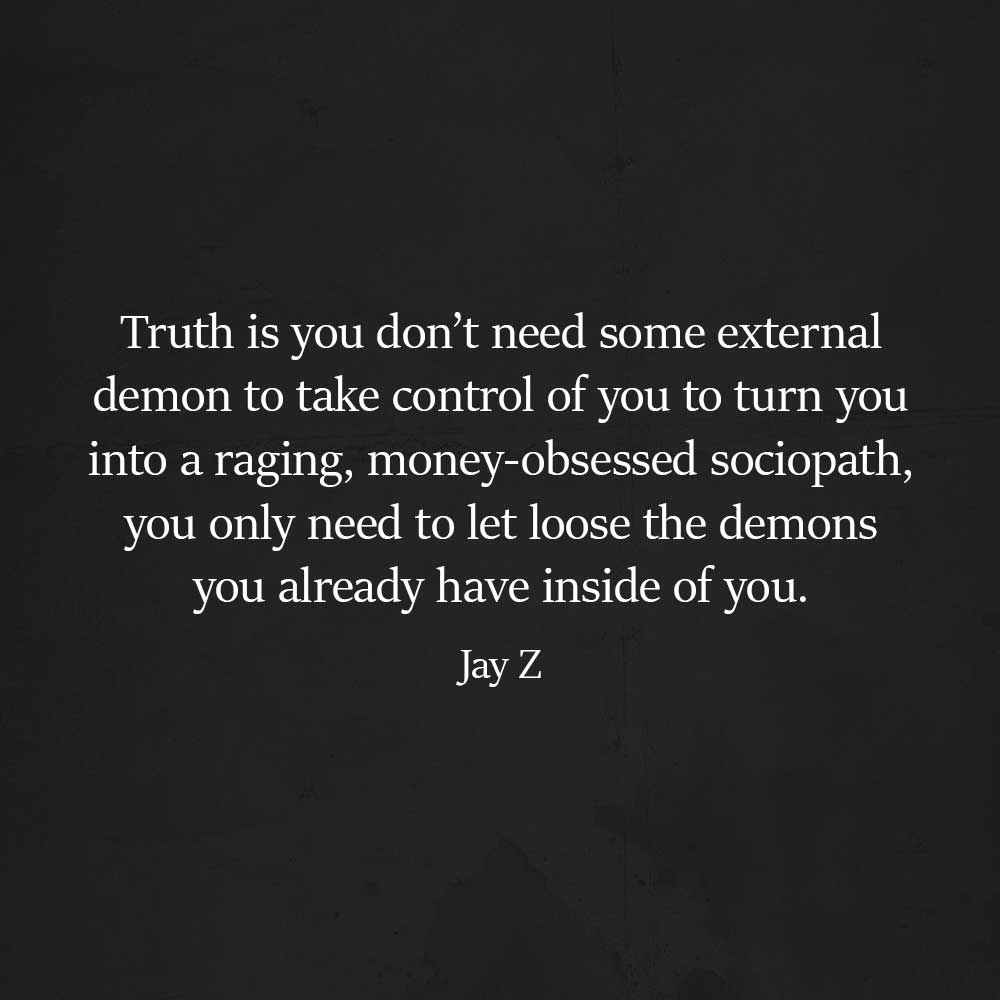 9. Identity is a prison you can never escape, but the way to redeem your past is not to run from it, but to try to understand it, and use it as a foundation to grow. – Jay Z
10. I believe you can speak things into existence. – Jay Z
11. Everyone needs a chance to evolve. – Jay Z
12. May the best of your todays be the worst of your tomorrows. – Jay Z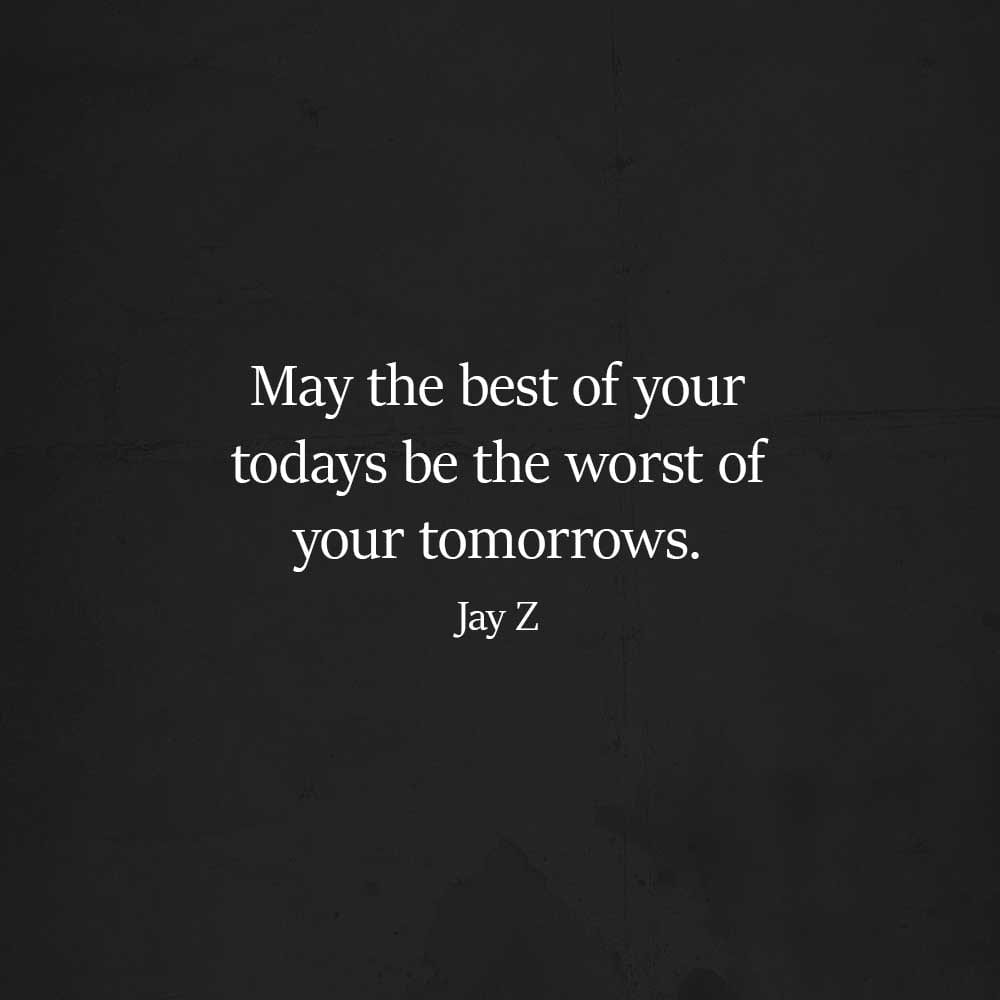 13. They talk. We live. Who cares what they say? – Jay Z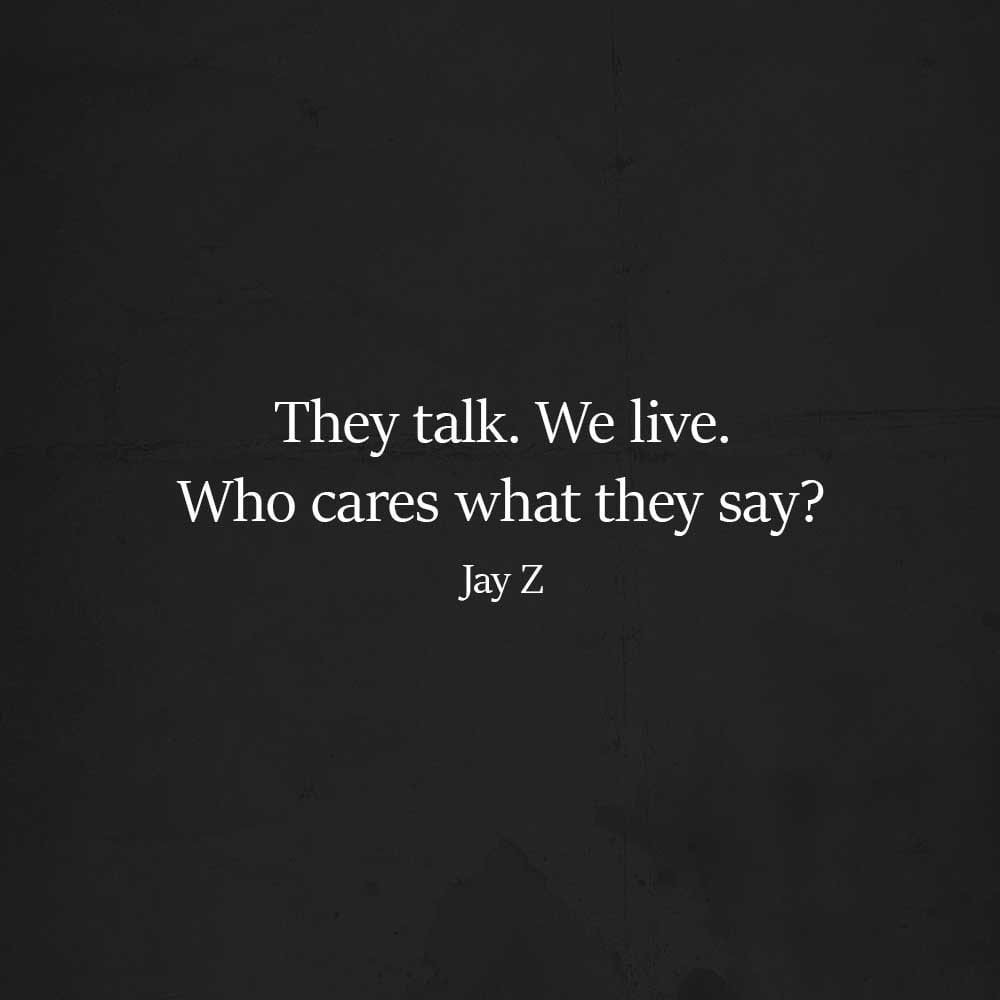 14. Money and power don't change you, they just further expose your true self. – Jay Z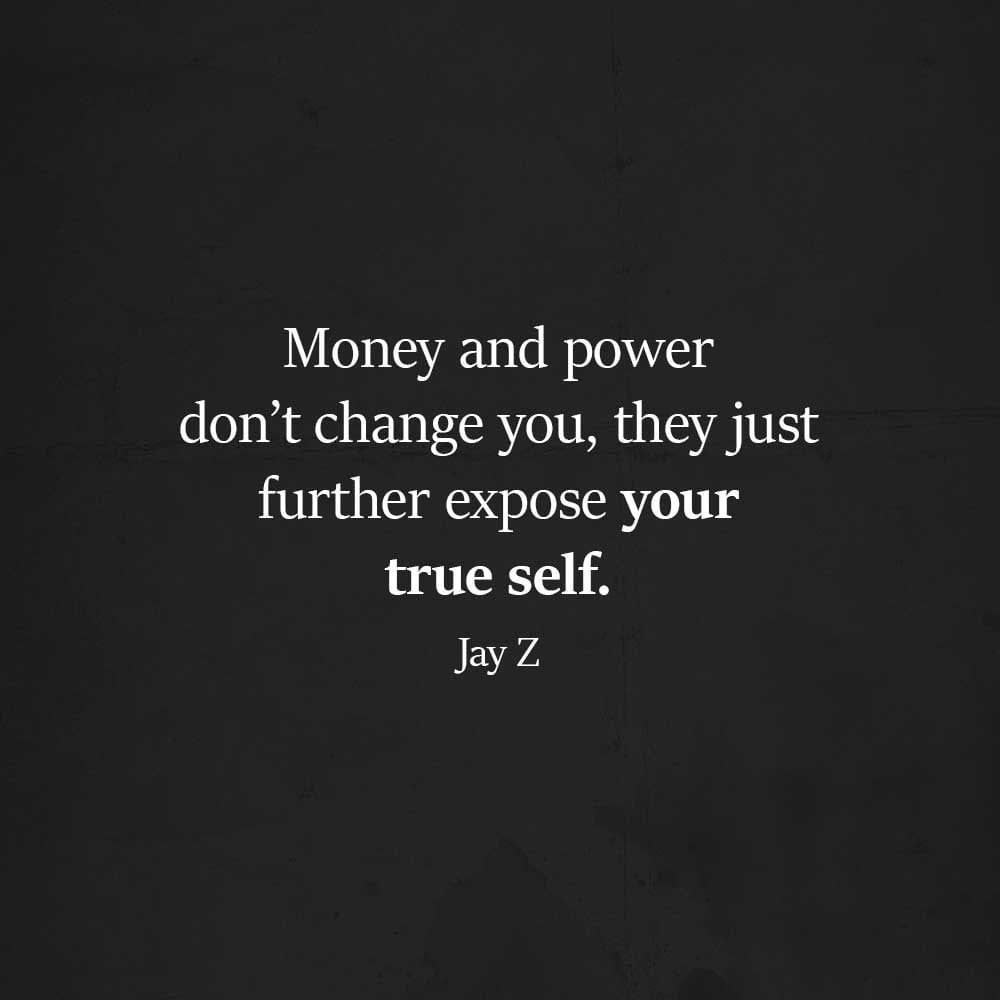 15. People look at you strange, say you changed. Like you worked that hard to stay the same. – Jay Z