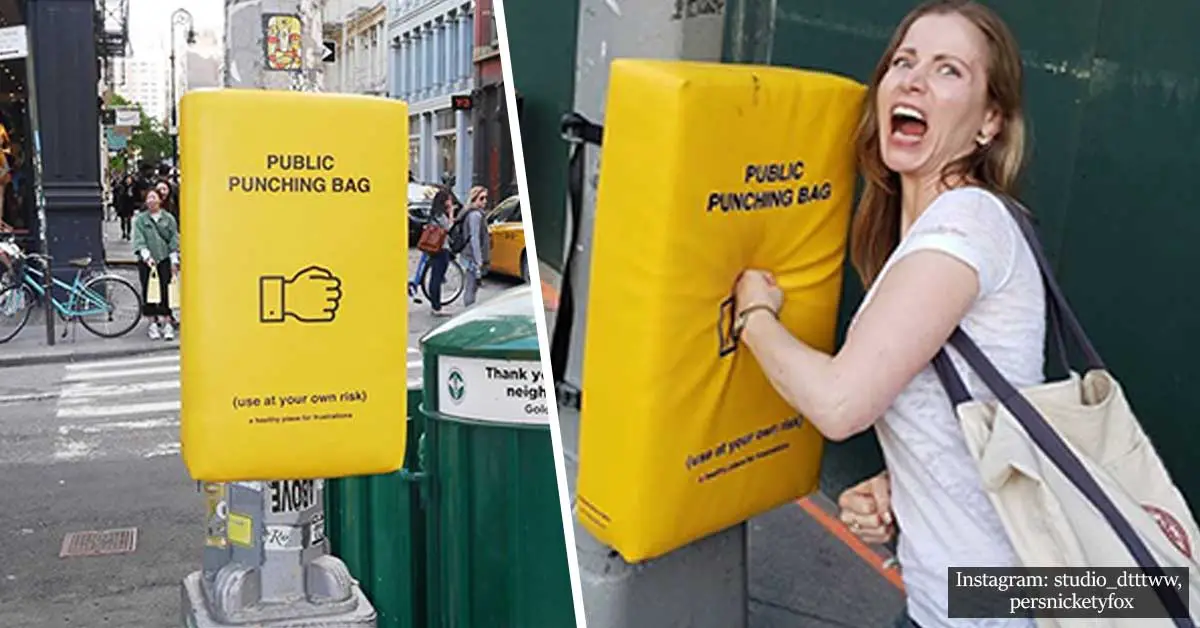 "Public Punching Bags" Placed Around Manhattan Help New Yorkers Release Their Daily Frustrations
A public punching bag has recently been installed around Manhattan in order to give the people of New York a chance to unload their day's frustrations while walking the streets of the city that never sleeps.
A collective initiative from donttakethisthewrongway – based out of Savannah, Georgia – unveiled the boxing-inspired project as their contribution to the New York City Design Week 2019.
The group explains:
"The concept explores designing common spaces for the frustrations we all face.

Frustrations that go beyond designed systems and happen, well, because we are human.

The public punching bag offers an outlet for these emotions as a means to maybe develop a healthier way to address personal and collective issues in a public setting."
A recent Gallup poll has found that Americans are among the most stressed-out people in the world, so this should come as no surprise. Surveys are also showing that stress, anger, and worry have reached the highest levels in a decade, as reported by the New York Times.
55 percent of adults across the U.S. said that they have experienced stress throughout "a lot of the day" before the survey took place, while a mere 35 percent of people in other countries gave the same response. This automatically ranks the United States alongside Greece, which has been holding the world record for stressed-out citizens since 2012.
Similarly, 45 percent of surveyed U.S. citizens said they felt "a lot" of worry the previous day, in comparison to a worldwide average of 39 percent.
It is safe to say that New York – renowned for its gruff pedestrians, traffic-loaded avenues, and generally irritable style – can hardly be seen as an exception to the rule.
So you can bet your bucks that until the situation changes for the better, these public punching bags will certainly be coming in handy for many of us.