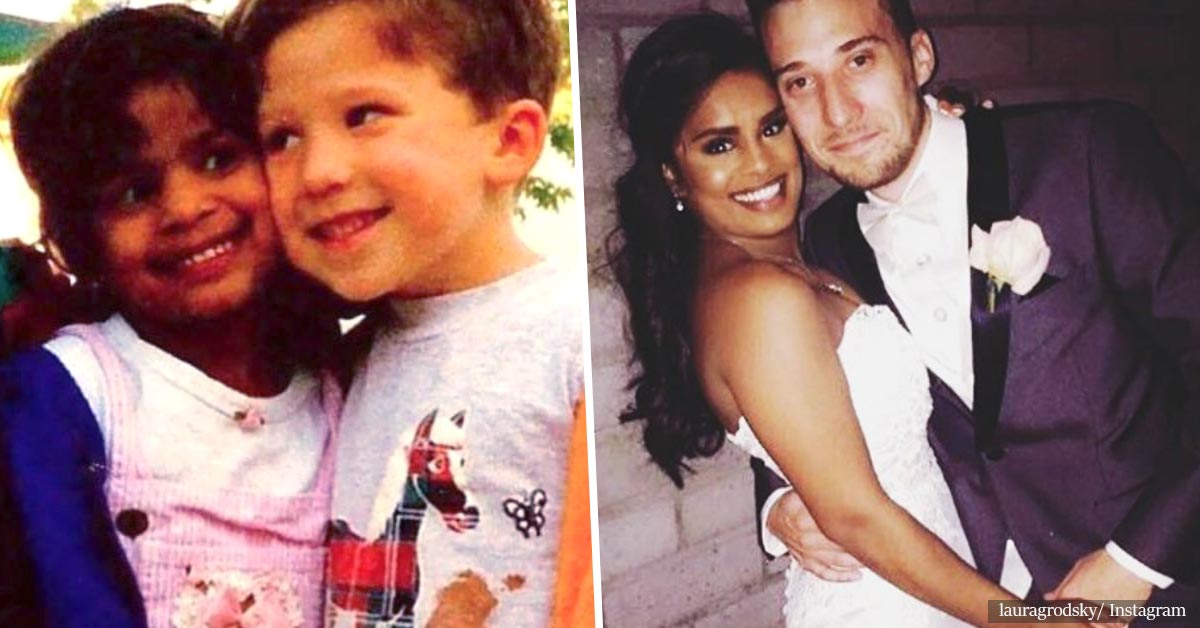 These Preschool Sweethearts Lost Touch, Years Later The Impossible Happened
Their story begins when they are only three-years-old.
From the minute Matt Grodsky and Laura Scheel met at preschool, they created an extraordinary bond.
Everyone around them noticed but they never thought of it as something serious at such a young age. Eventually, the preschool sweethearts moved on with their lives. One day the unimaginable happened.
Where it all started
To begin with, Matt and Laura both attended a preschool in Phoenix, Arizona.
There they developed a friendship so strong, that they were inseparable. Initially, Laura was thinking that Matt was a weirdo who is always following her around the playground. Maybe that was true but soon she started liking the attention and they became best friends.
The sweethearts did everything together. From playing hide-and-seek to holding hands on a school trip, they melted everyone's hearts. Matt was so into Laura that he often recited to her sweet lines from their favorite Disney movies. On the other hand, Laura taught him how to eat string cheese and how to swing. Their parents and their teachers found their friendship adorable but they never suspected what would happen in the future.
Little Matt even dared to stand up in front of all of their classmates and say that Laura will be his future bride. "Just you wait!" he told her. As you may assume, everyone laughed. Who could have taken the words of a toddler serious? Perhaps even he didn't know what he was saying then.
Difficulties on the way
Unfortunately, soon these sweethearts had to go off to kindergarten. Matt and Laura's parents sent them off to different schools. Clearly, they didn't know how much the kids' friendship meant to them. Furthermore, they were even sent to separate elementary schools. This put their bond to test once more.
Sadly, Matt and Laura quickly started losing contact. The only thing that kept them in touch for the next 7 years was their parents' annual Christmas cards. Until the fall of their freshman year. Then everything changed.
One day Laura was playing around with one of her friends' phone and she couldn't believe what she saw. She was scrolling through the contacts list and found Matt's phone number. Surprisingly it turned out that they attended the same middle school. Obviously, Laura got excited and she told her friend about her and Matt's preschool romance. Her friend had an amazing idea.
When Laura's friend found out the story about the preschool sweethearts, she knew she had to do something about it. Their little romance couldn't end with them moving on their separate paths. So, she immediately took action.  She decided to set them up.
The revival of their love story
Laura's friend gave Matt her number and soon enough he sent her a message. They met up at the movie theatre and it felt like love at first sight. Well, second sight. In the short time of only two weeks, they were officially a couple. Studying in different high schools didn't stop these sweethearts from dating.
Matt and Laura were inseparable just like they were in preschool. However, their relationship was on the edge once more. When it was time for college, they were unsure about the future, just like everyone else at this time. They wanted to go to different universities which meant they had to be in a long-distance relationship.
The preschool sweethearts didn't give up. They knew that their bond is strong and nothing will come between them. Matt and Laura came to the conclusion that they need a schedule to see each other as much as possible. Of course, they also used different types of social media to see each other every day. Everything between them was going fine but Laura couldn't believe what Matt would soon do.
Their first year in college went by really fast but the distance was still unbearable at times. Matt was determined he has to do something he should have done long ago. At the end of their junior year, he wanted to surprise Laura with a charming gesture. He told her that they are going to a celebratory picnic for the successful end of their first year in college. How sweet is that! But wait until you see what Matt actually had in mind!
Surprise!
What Laura didn't know is that Matt was taking her to their preschool playground. He chose this location because this was the place where their love story has started. Laura was surprised enough that they were there for the picnic but she never expected what Matt did next.
On 23rd of May, 2015, at the place where it all started, Matt got down on his knee and asked the love of his life to marry him! Exactly like he was standing up in front of their preschool classmates, declaring that Laura would one day be his wife, he was now kneeling in front of her, asking for her hand. Clearly, Laura said "YES!"
What is even more interesting about this story is how Matt set everything up. The lovebird had everything planned. He asked for Laura's father's blessing two months before the proposal. He got an amazing engagement ring. Matt even asked his brother to go to the preschool before they arrived so he could take photos of this magical event. However, his plan didn't stop there. Matt has also taken the very same picnic bag his father used to propose to his mother and filled it with wedding magazines and snacks.
The sweethearts Matt Grodsky and Laura Scheel got married on 30th of December, 2016. For their first dance as a married couple, they chose the song "Can You Feel The Love Tonight" from their favorite Disney movie "The Lion King".
Sharing their story with the world
Laura wanted to share their love story with the world. Curiously, Matt had the same idea. He posted their wonderful preschool romance with the popular Instagram account The Way We Met where you can find the inspiring stories of other couples. In the post Matt said:
"One of my very first memories is of being 3 years old and standing up in front of my pre-school class, declaring that I would marry her someday."
Soon the sweethearts' story became popular all around the world. Even the famous actor Tyrese Gibson reached out to them and offered them a special vacation to Miami. They loved the opportunity and expressed their genuine gratitude to Gibson. The publicity of their relationship only made it stronger.
Where are the sweethearts now?
Now Matt and Laura Grodsky are living truly happily ever after. Matt is working at a digital marketing agency and Laura is helping foster families in need. The lovely couple also has a new family member – their beloved puppy Kirby. The preschool sweethearts are still doing everything together and no one has the power to come between them.
"We crossed paths at the right time" Laura shared on one of her Instagram posts.
When it comes to their future, Matt and Laura are hoping to have kids one day but for now, they are enjoying their life as newlyweds. Their astonishing love story is still inspiring many people around the world!