Mistreated pregnant dog shot 17 times becomes a registered therapy dog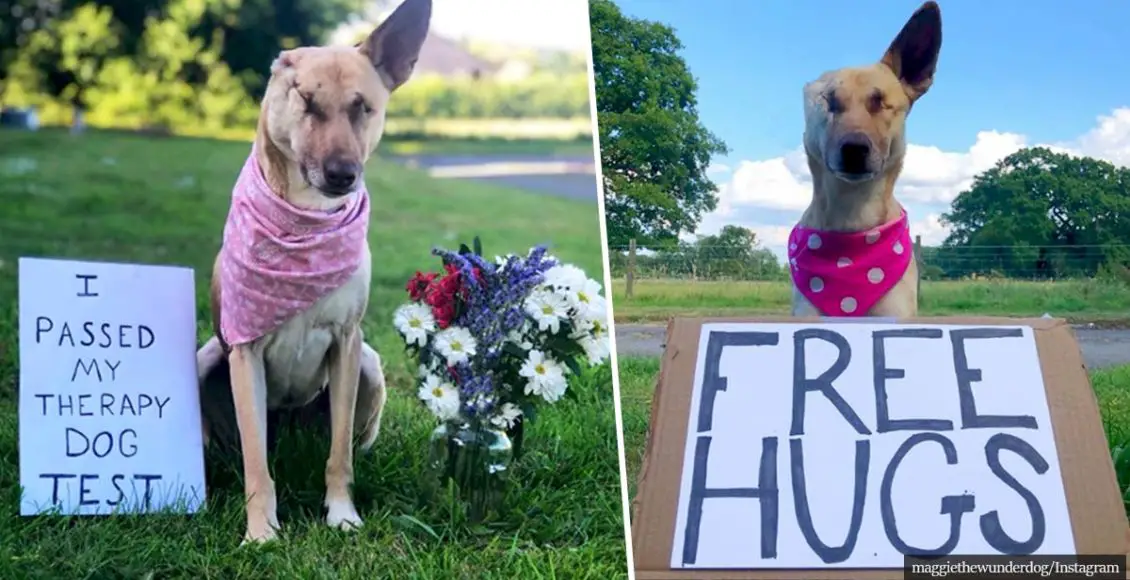 Maggie is a five-year-old dog who was discovered in Lebanon with her ear severed off and her eyes shot out, suffering helplessly with a broken jaw.
She was pregnant when she was found tied to a box and rescued by the Wild Heart Foundation animal charity. Later she was adopted by an animal lover from Brighton named Kasey Carline, 25.
Maggie has since won the hearts of thousands of people with her unshakable inner strength.
After she underwent vigorous rehabilitation, Maggie began her training to become an assistance dog.
In a beautiful and heartwarming Instagram post believed to have been written by Kasey, it was revealed that Maggie had passed her therapy dog test.
"Guess what? I am now a registered therapy dog! Do you think I'll be able to make people happy?," the post read. The post detailed Maggie's "unconditionally loving heart" and calming personality. 

"Her story catches the hearts of many and reminds us all of our inner strength," it read.
Kasey said they would visit schools and share Maggie's story all around now that she has become a verified therapy pooch with Underdog International.
According to The Sun, Maggie lives in Brighton with Kasey and her husky Mishka.
Kasey instantly knew she wanted to give Maggie a loving home as soon as she heard about her through the Wild At Heart Foundation.
"She's so energetic and bubbly. She must have been in agony with all she's been through but she's so loving," she said.
Maggie's Instagram page currently has more than 100k followers and documents her new life journey as a "Cute Happy Disabled Rescue Dog".
How do you feel about Maggie's dramatic story? Share your thoughts with us in the comment section below.