Popular YouTuber Shoots Himself in the Head in Freak Accident
A highly popular YouTuber nicknamed WhistlinDiesel survived a freak accident after mistakenly shooting himself in the head with a stray bullet from his weapon.
22-year-old Cody Detwiler – who has 1.77 million subscribers on the platform – said he was aiming at metal plates with his 50 caliber gun from a mere 4 feet distance when one of the bullets ricocheted and went inside his forehead.
He is known for uploading stunt videos involving huge trucks and guns, among other things. In a message to his fans he wrote about the terrifying experience along with a selfie he posted on Instagram.
"Not sure how I'm alive rn……," Cody wrote. "I literally know what it feels like to get his with a .50 cal…. in the head……"

Instagram

"I'm ok they're just doing some scans to make sure I don't have swelling other than the 2′ lump on my forehead and the copper jacket under my skin," he added.
Another photo to the YouTuber's Instagram shows a photo of him in a hospital bed, with a sizeable hole right above his eye socket. A second picture showed the casing, along with the bullet that caused the damage.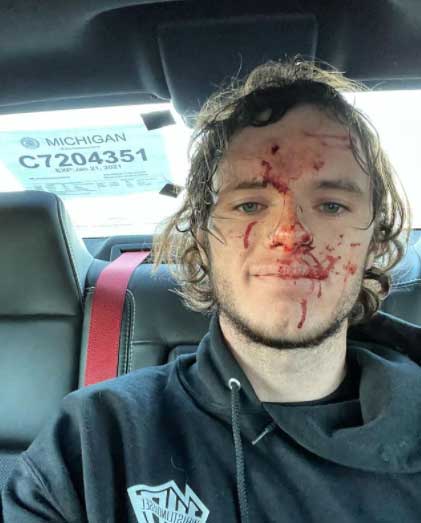 Despite the gruesome injury, Detwiler said he has no plans to stop shooting.
"Got a ct scan to be safe and they say my skull isn't cracked soo…. back to target practicing!!!" he wrote.
To see some of what WhistlinDiesel does, check out the video below.
What are your thoughts on this crazy story? Let us know by joining the conversation in the comments and please share this article if you've found it of value.