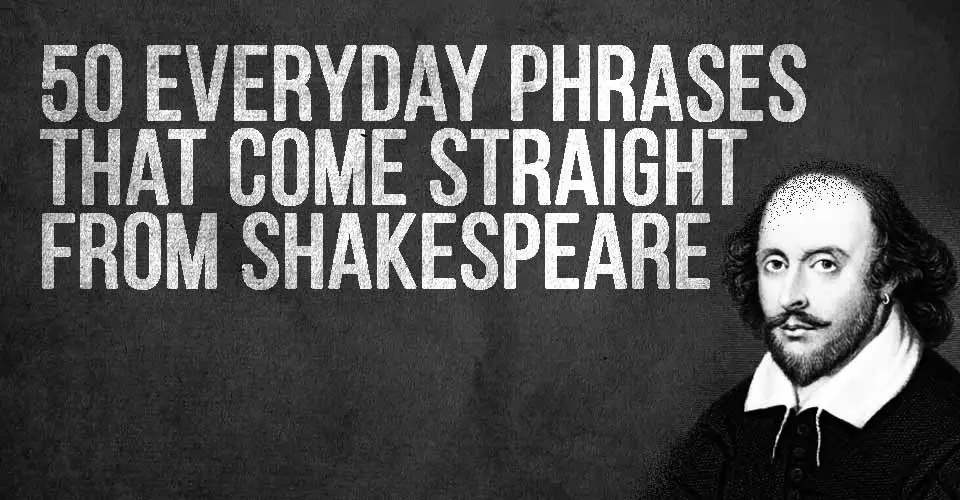 Did you know you have probably quoted Shakespeare thousands of times in your lifetime without even realising it?
Yes indeed, William Shakespeare is responsible for some of the more commonly used phrases in the English language, and regardless of how difficult some of his works may be to read through, there is never 'too much of a good thing' when it comes to the British bard.
So if you have ever been 'bedazzled', 'in stitches' or 'eaten out of house and home', this is where those wonderful phrases come from.
Its not known if Shakespeare actually invented these phrases, or if they were already in use during Shakespeare's lifetime. In fact, it is almost impossible to identify when a word or phrase was first used, but Shakespeare's plays often provide the earliest citation.
Here are some of the most popular Shakespeare phrases in common use today:
1. A laughing stock (The Merry Wives of Windsor)
2. A sorry sight (Macbeth)
3. As dead as a doornail (Henry VI)
4. Eaten out of house and home (Henry V, Part 2)
5. Fair play (The Tempest)
6. I will wear my heart upon my sleeve (Othello)
7. In a pickle (The Tempest)
8. In stitches (Twelfth Night)
9. In the twinkling of an eye (The Merchant Of Venice)
10. Mum's the word (Henry VI, Part 2)
11. Neither here nor there (Othello)
12. Send him packing (Henry IV)
13. Set your teeth on edge (Henry IV)
14. There's method in my madness (Hamlet)
15. Too much of a good thing (As You Like It)
16. Vanish into thin air (Othello
17. For goodness sake (Henry VIII)
18. Knock knock! Who's there? (Macbeth)
19. All's well that ends well  (All's Well That Ends Well)
20. With bated breath (The Merchant of Venice)
21. A wild goose chase (Romeo and Juliet)
22. A heart of gold ( Henry V)
23. Such stuff as dreams are made on (The Tempest)
24. What the dickens ( The Merry Wives of Windsor)
25. Puking ( As You Like It)
26. Lie low ( Much Ado About Nothing)
27. Dead as a doornail (Henry VI, Part II)
28. Not slept one wink (Cymbeline)
29. Foregone conclusion (Othello)
30. The world's mine oyster (The Merry Wives of Windsor)
31. Obscene ( Love's Labour's Lost)
32. Bedazzled (The Taming of the Shrew)
33. In stitches ( Twelfth Night)
34. Naked truth ( Love's Labour's Lost)
35. Faint-hearted (Henry VI, Part I)
36. Send him packing (Henry IV)
37. Vanish into thin air (Othello)
38. Swagger (Henry V)
39. Own flesh and blood (Hamlet)
40. Truth will out (The Merchant of Venice)
41. Zany (Love's Labour's Lost)
42. Give the devil his due (Henry IV, Part I)
43. There's method in my madness (Hamlet)
44. Salad days (Antony and Cleopatra)
45. Wear your heart on your sleeve (Othello)
46. Spotless reputation (Richard II)
47. Full circle (King Lear)
48. There's the rub (Hamlet)
49. All of a sudden (The Taming of the Shrew)
50. Come what, come may (Macbeth)