Monsanto is not the only corporate giant that destroys our world, some of these are just as bad: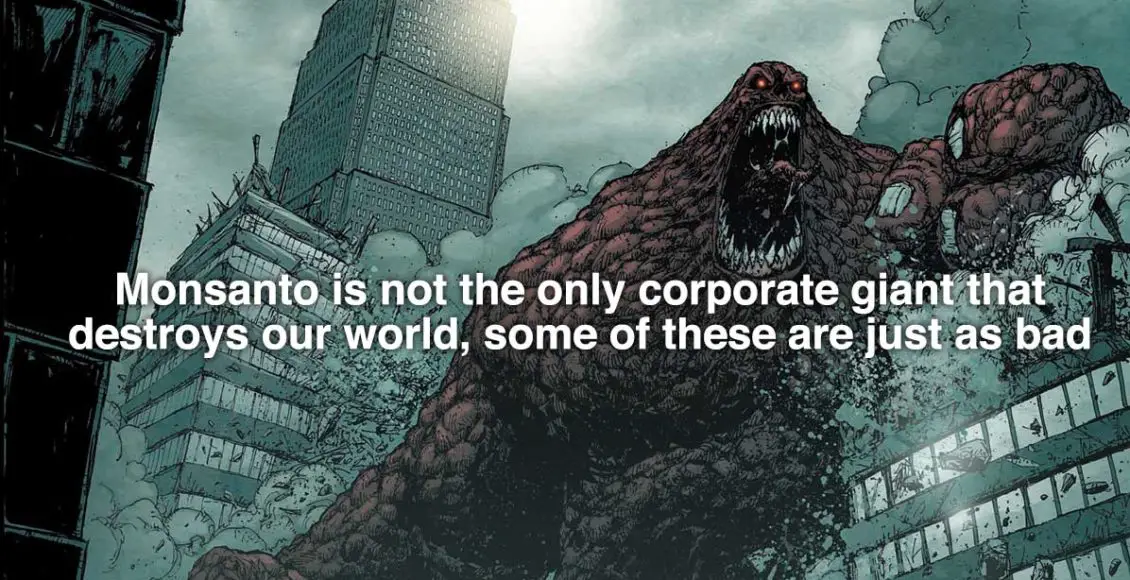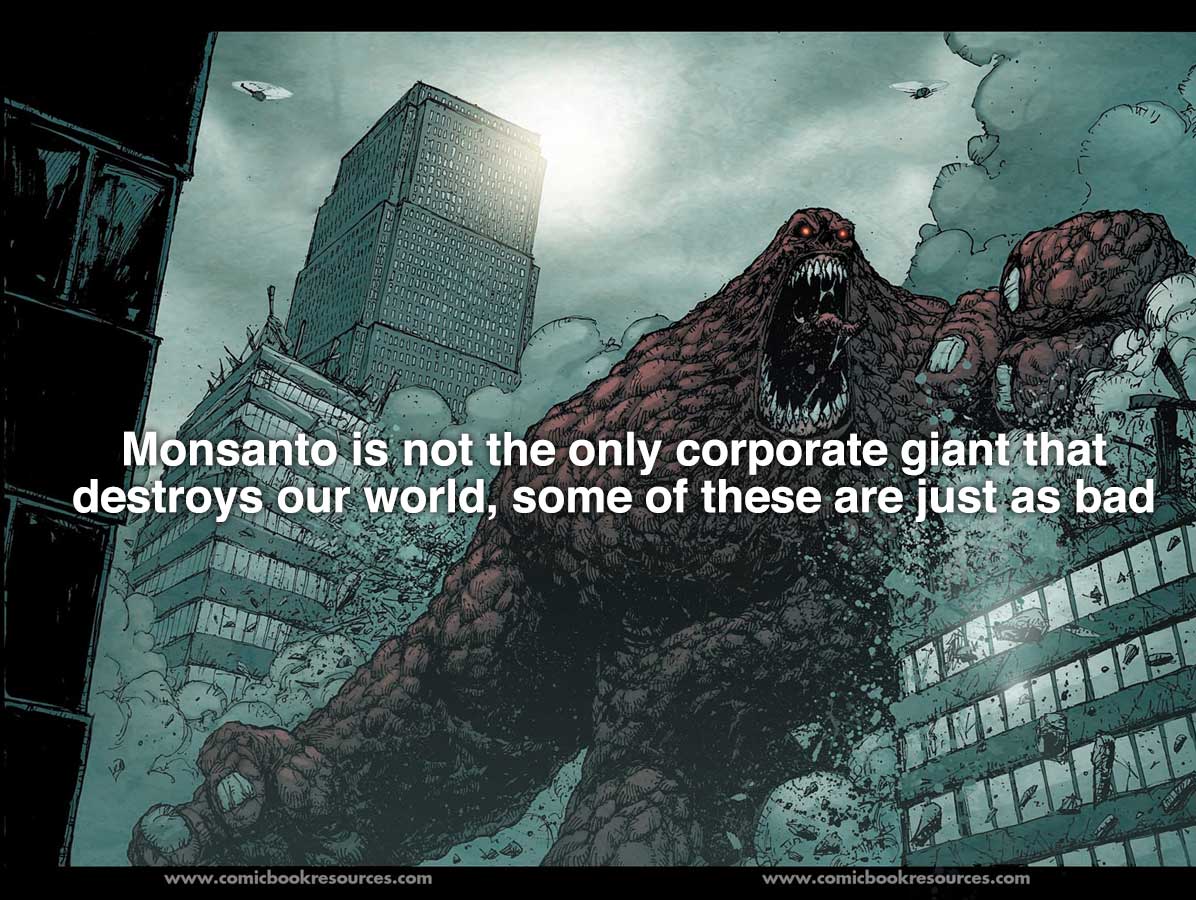 According to a recent report by etcgroup.org some of the largest chemical manufacturers in the world are also some of the largest in the seed business. Same companies are also involved in producing GMOs. 
During the first decades of XX century, farmers and public-sector plant breeders were handling most of the seeds around the world. Little by little Gene Giant have spend big money in courts worldwide so they could eliminate farmers and take over the seed industry.
In less than thirty years a few corporations have managed to pull up almost full enclosure of the first link in the food chain – seeds
82% of the worldwide seed maket is made up of property seeds(brand-seeds that are intellectual property of big corporations). The global properietary seed market in 2007 is valued to be around 22 billion dollars(and the whole commercial seed market was ~26 billion back then) and it has grown in value since then.
Here are some scary facts:
Bayer – biggest agrochemical company and seventh biggest seed
Monsanto – biggest seed company is also fifth biggest agrochemical company.
DuPont which is the world's second biggest seed company is ranking sixth in the list of chemical producers.
Syngenta is the third largest seed producer and second largest agrochemical company.
Here is a little list of the world's biggest seed companies and their share of the global proprietary seed market:
Company – 2007; Seed sales (US$ millions); % of global proprietary seed market
Monsanto (US) – $4,964m – 23%
DuPont (US) – $3,300m – 15%
Syngenta (Switzerland) – $2,018m – 9%
Groupe Limagrain (France) – $1,226m – 6%
Land O' Lakes (US) – $917m – 4%
KWS AG (Germany) – $702m – 3%
Bayer Crop Science – (Germany) $524m – 2%
Sakata (Japan) – $396m – <2%
DLF-Trifolium – (Denmark) $391m – <2%
Takii (Japan) – $347m – <2%
Top 10 Total – $14,785m – 67% [of global proprietary seed market]
The top 10 seed companies account for almost $15 billion and 67 of the global proprietary seed market(and the first three companies account for almost half of the global market)
Here is a list of the 10 largest pesticide companies:
Company – 2007 Agrochemical Sales (US$ millions) – % Market Share
Bayer (Germany) – $7,458m – 19%
Syngenta (Switzerland) – $7,285m -19%
BASF (Germany) – $4,297m – 11%
Dow AgroSciences (USA) – $3,779m – 10%
Monsanto (USA) – $3,599m – 9%
DuPont (USA) – $2,369m – 6%
Makhteshim Agan (Israel) – $1,895m – 5%
Nufarm (Australia) – $1,470m – 4%
Sumitomo Chemical (Japan) – $1,209m – 3%
Arysta Lifescience (Japan) – $1,035m – 3%
Top 10 Total – $34,396m – 89%
Furthermore, weed killers like RoundUp accound for over 30% of the global pesticide market. About 80% of the GMO seeds suck down the toxin. There s no herbicide resistance in genetically modified plants. There is only herbicide and glyphosate addiction. Many pests are getting immune to glyphosate and even stronger poisons have to be used to destroy those bugs on "steroids", that's why Dow created the Enlist Duo
Sadly just like with any other addiction, the junkies(bugs) eventually get used  to the dose and need a stronger poison…
If only humans were as adaptive as bugs, but unfortunately evidence proves that they are not. More and more are experiencing the side effects of pesticides which include many of the modern health conditions, allergies and…death
We have the power to stop those corporations and regain our health.
'The most common way people give up their power is by thinking they don't have any.' – Alice Walker
Written by Stan Slavov
Thanks to:
www.gmwatch.org
www.naturalsociety.com
www.etcgroup.org