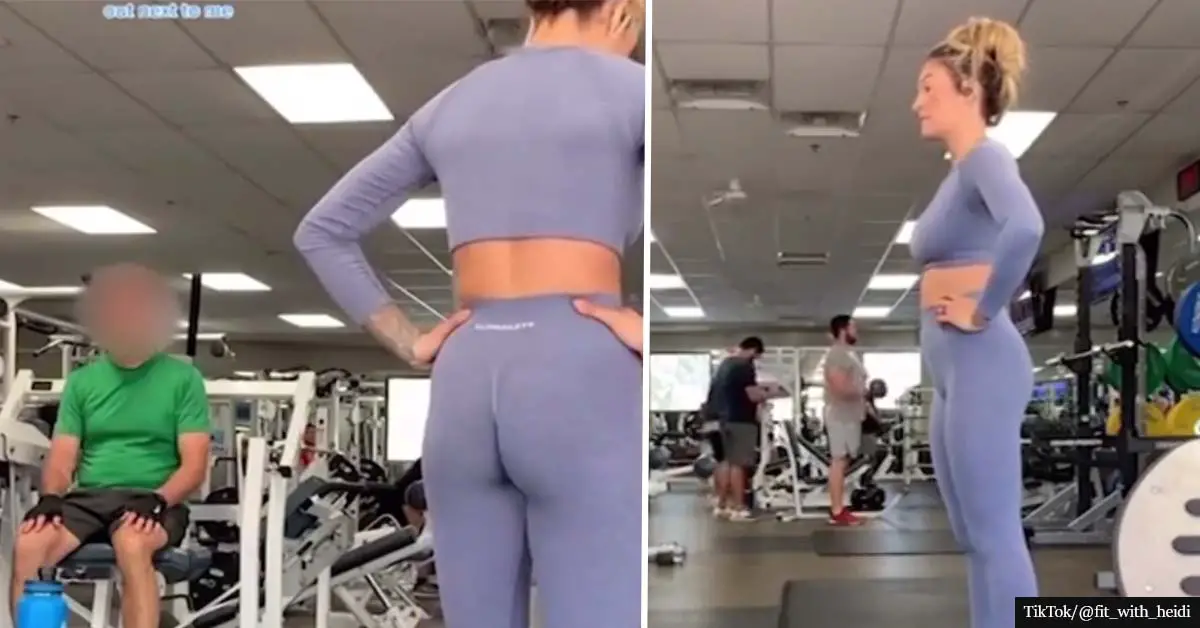 Personal Trainer Praised For Confronting "Creepy Old Guy" Staring At Her In The Gym
A TikToker/personal trainer has been complimented on the way she handled a "creepy old guy" at the gym. 
Heidi Aragon is an American personal trainer. During a recent workout session, she noticed a man staring at her, which led her to call her husband over to stand in the way, but the man kept on doing what he was doing..
In a clip she shared on social media, Heidi can be seen placing her phone on a bench to record herself while working out, but stops when she sees the man making his way towards her.
"This creepy old guy at the gym kept coming over and staring at me," she wrote in the text box.

"So I told my husband, and he came over and worked out next to me."
But the man just kept on staring.
Heidi explained:
"I thought he got the picture. I attempted to do my set. Then I got fed up and went over and addressed him."
Heidi can then be heard telling him to "stop this" after she walks out of the frame.
"I told him if he's gonna work out in this corner, he needed to stop staring and making me uncomfortable – his response was, 'I'm just looking around'.

"I then told him I record my workouts and I have him on film. He shut up real quick."
In her video, the influencer can be seen confronting the man for making her feel uncomfortable.
"Don't sit there and tell me you're not doing something when I have proof," she said.
After sharing the video, Heidi received praise from her followers for confronting the man. 
One person wrote:
"You did good by confronting him! These type of men only go to stare at women and not workout. See it all the time!"
Another commented:
"That's good you confronted him and have it on video."
What are your thoughts on this story? Let us know by joining the conversation in the comments and please share this article if you've enjoyed the read.