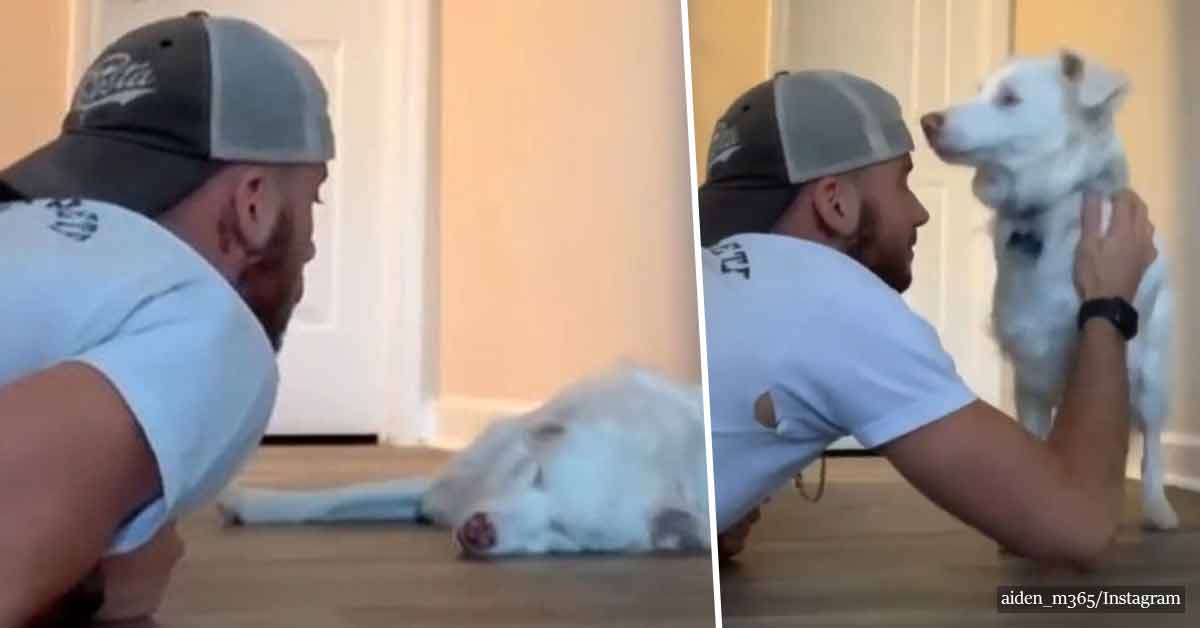 People are in tears after seeing the adorable way an owner wakes his deaf and blind dog up without scaring her
Plum is a rescued Australian shepherd dog. Unfortunately, she was born deaf and blind, which makes taking care of her quite challenging.
Even the slightest touch would frighten her and make her jump. But her loving owner, Aiden Mann, found an adorable way to wake her up from her naps without scaring her.
One day, one of Aiden's co-workers, who was fostering Plum at the time, brought the pupper to work. Mann instantly fell in love with her and knew in his heart that he and his other dog, Lola, could give her the loving home she deserved. In an interview with Bored Panda, he shares:
"I got Plum July of 2019. She was 6 months old and just the sweetest pup. My coworkers work with a lot of rescues and were fostering her and her brother, and I was trying to find homes for them. When she brought Plum to work, I immediately loved her and wanted her."
When Aiden adopted Plum, he found that waking her up without scaring her was a very difficult task.
The slightest touch would leave her disorientated. Snacks couldn't help either.
Eventually, the Australian shepherd's owner discovered a charming way to gently wake her up. It's melting hearts all around the globe since Aiden uploaded a TikTok video of him waking Plum up. He also posted it on his Instagram account. Mann captioned the video with: "People ask me how I wake up my deaf and blind pup without scaring her…"
In the adorable footage, Aiden can be seen lying on the floor next to the blind and deaf pup, and gently blowing on her nose to show her he's there. Then, Plum instantly jumps up to try and find him for some well-deserved ear scratches. Describing the lovely scene, Mann writes:
"I slightly blow on her until she feels me. Then she wants all the love.
Daddy's here ❤ And always will be."
The heart-melting video has nearly 13 million likes on TikTok and more than half a million views on Instagram.
People genuinely share it was so touching it left them in tears. One netizen commented: "I'm crying, this is so sweet. Thanks for giving her a loving home."
Aiden also shared:
"Plum is the happiest and sweetest dog you've ever met. Her favorite toy is a ball, she loves to cuddle, and her favorite place is anywhere Lola and I are. My favorite thing about Plum is that even with her differences, she doesn't let it affect her. She lives life to the fullest and is still such a happy dog."