Penguin swims large distances to reunite with the man who saved his life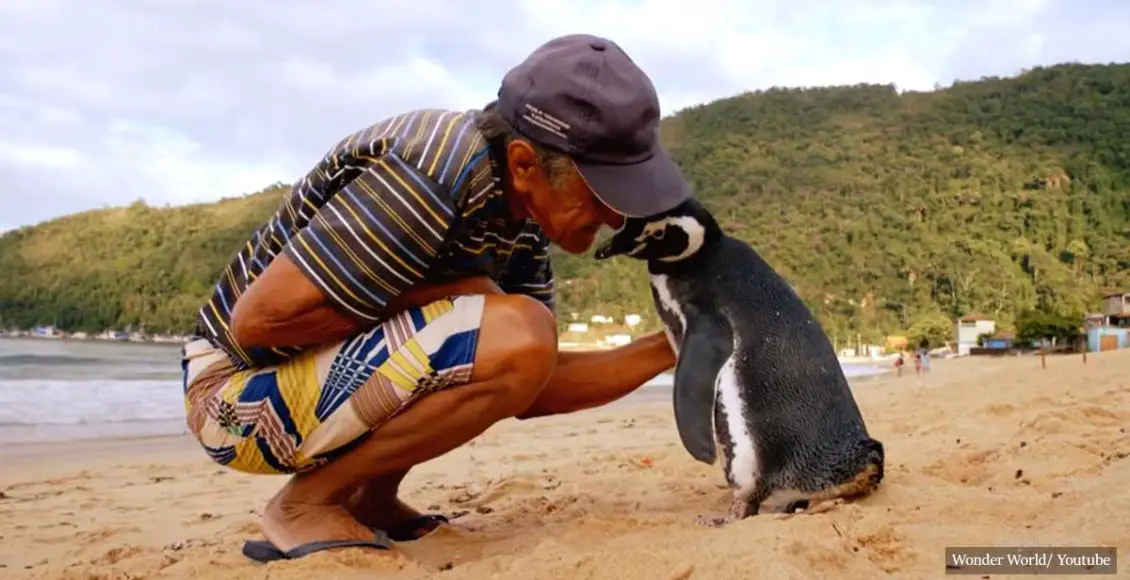 This article was updated on 13.11.2019
The story of a South American Magellanic penguin who swims large distances to reunite with the man who once saved his life has warmed the hearts of millions around the world.
71-year-old  retired bricklayer Joao Pereira de Souza, who resides on an island village near Rio de Janeiro, Brazil, found the little penguin, soaked in oil and dying on the local beach rocks back in 2011.
Joao scrubbed the oil off the creature's feathers and fed him daily to rebuild his strength. He named him Dindim.
A week went by and Joao tried to release Dindlim back into the sea. However, he would not leave.
'He stayed with me for 11 months and then, just after he changed his coat with new feathers, he disappeared,' Joao remembers.
And just a few months later, Joao's new best friend was back. He saw the fisherman on the beach one day and decided to follow him home. For a period of five years, Dindlim had spent eight months of the year with Joao and is thought to spend the rest of his time with his own kind.
'I love the penguin like it's my own child and I believe the penguin loves me,' Joao told Globo TV. 'No one else is allowed to touch him. He pecks them if they do. He lays on my lap, lets me give him showers, allows me to feed him sardines and to pick him up.

'Everyone said he wouldn't return but he has been coming back to visit me for the past four years. 'He arrives in June and leaves to go home in February and every year he becomes more affectionate as he appears even happier to see me.'
Biologist Professor Krajewski, who talked to Joao for Globo TV, told The Independent:
'I have never seen anything like this before. I think the penguin believes Joao is part of his family and probably a penguin as well. 'When he sees him he wags his tail like a dog and honks with delight. And, just like that, the world seems a kinder place again.
Take a peek at Joao and Didndlim's wondrous relationship in the video below.
EDIT:
This article was previously published under the headline 'Penguin Swims 5000 Miles Each Year To Reunite With The Man Who Saved His Life.' We were recently notified of a number of misconceptions about this story, which have hopefully now been rectified. We apologize for any confusion this may have caused.
Further clarification on the story is provided below, quoted from the author of the original story, Joaopaulo Krajewski:
The true story of Dindim, the rescued penguin from Ilha Grande, Brazil, that returns every year to his rescuer.

Since I recorded and presented the story about the penguin Dindim for the segment Domingão Aventura, that I present in Globo TV, Brazil, the story went viral all over the world. Several news agencies and websites published stories about the case and I was absolutely shocked with the amount of mistakes and wrong statements introduced in the story by some of them. Dindim is a Magellanic penguin that was rescued in May 2011 by Mr João Pereira de Souza, in Provetá Beach, Ilha Grande, Rio de Janeiro State. The penguin was covered in oil and could barely move. Mr. Joao cleaned and fed the penguin for days until, according to Joao's judgment, Dindim was strong enough to be released in the sea. Joao took the penguin in a boat, went to a nearby island and released the animal. The same day the penguin went straight back to Joao's backyard at Provetá beach, stayed there until Feb next year and then went out to the sea. Next June Dindim returned to Mr. Joao's house and made several vocal calls when he saw the man. This story has been repeated every year since then. It is, indeed, an amazing and charming story the way it really is. For my surprise, thought, basically all the articles I read in the internet introduced false or speculative assumptions about the story. So, as being part of the team that filmed the complete story and spent 2 days talking with Mr. João and his family, that is still in touch with me and are good friends of mine now, and as I am a biologist with PhD in Ecology, I feel I have to write some words about the story and especially about the misconceptions spread by some articles. Here are some important and interesting facts:

1- I was never contacted directly by any foreign news agency that already published something about the story, and I did not send them any image directly, only via Globo TV website.

2- I never ever said that local authorities allowed Mr Joao to "keep the penguin because of his kindness". First of all, the penguin is completely free. It sleeps in Mr. Joao's backyard, which is connected to the beach and only partially fenced, since Joao is concerned about street dogs attacking the penguin. In fact, the penguin left to the sea some weeks ago.

3- Some articles published that "penguin travels 5 thousand miles every year to see his rescuer". And some even present a map showing the supposed anual migration route of Dindim. Please, when you see this, disregard completely. We have never said this in our story and this is extremely unlikely. We don't know where the penguin goes when it is out at the sea, but it is extremely unlikely that it travels to Patagonia, specially to the coast of Chile, after leaving Ilha Grande. This is because statement 4 below:

4- Dindim stays in Ilha Grande at the same time all other Magellanic Penguins are breeding in Patagonia and other islands down South. So, it is very unlikely that Dindim breeds anywhere else, as some articles are stating. When these penguins finish breeding and moulting, they migrate and spend months feeding in the sea. Also, judging by the first photos taken when the penguin was rescued and by an evaluation by local biologists, Dindim is reaching the sexual maturity now. It is estimated to be about 6 years old.

6- Dindim is a male. We know that because we took a few measurements of it's bill and the sex was later confirmed by a group of professionals from Ubatuba's Aquarium that took a blood sample and tagged Dindim for research.

7- The story I filmed and presented was produced by Rede Globo de Televisão, not "Global". All the images related to the story I presented are most likely done by me and should be also credited to Globo TV. Team: Presenter and Camera: Joao Paulo Krajewski, Producer, Cyro Scarpa, Assistant: Roberta Bonaldo, Director of the segment: Cristiano Gomes.

8- João, Dindim's rescuer, is not a fisherman. He is a retired bricklayer.

9- If you want to see the original story with some nice images and the participation of Mr. Joao, here is the link: http://globoplay.globo.com/v/4864050/

10- And if you want to learn more about penguin biology, here is a very nice book about it: http://www.amazon.com/Penguins-Natural-Histor…/…/ref=sr_1_1…

11- I have never ever made any comment about religion, miracles and things like these. If you see this in any post, please, I have not written it. I don't think the fact Dindim was found by Mr Joao was a "divine intervention". Many penguins are found sick in the coast of Brazil, and finding and taking care of one is pure chance. If anything created this event, it was the terrible habit of humans to trash the environment, which causes many animals to get covered in oil or swallow trash.

My interpretation for the story is that, because Dindim was rescued, fed and stayed with Mr. Joao for the entire part of the year where the species usually stay in the beach and breed, along the coast of Patagonia, it imprinted Ilha Grande as it's land based home instead. When all the Magellanic penguins are going to Patagonia, Dindim goes to Ilha Grande and recognises Mr. Joao. Penguins are usually very loyal to their partner. They may live for over 25 years and usually mate with the same individual in the same nest every year. This site and partner fidelity certainly facilitated the development of the relationship between Dindim and Mr. Joao. The relationship was created by the accident suffered by Dindim and by Joao having rescued him.

Many penguins are found sick in the coast of Brazil and in case you find one the best thing to do is to call the local authorities (contact in the end of this post). And, please, don't put the poor animal in the ice. Magellanic penguins live in temperate places, where air temperatures usually reach 35º C during summer, and sea temperatures are about 15-20ºC. Just keep them safe in a comfortable box and call local authorities.

I am happy to see the story I presented spread all over the world, but I am also concerned by the amount of misconceptions spread and by some articles changing my statements and putting wrong credits to the images. If anything impacted me positively so far it was the the creativity of some people who wrote the stories about Dindim. And, of course, the many good comments about Mr Joao's kindness.

The only statement in English I have was passed indirectly to a news agency from the UK, and is this:

"Magellanic penguins are usually very loyal to their partner. They live for more than 25 years and usually the same couple nests in the same hole every summer in Patagonia. The penguin Dindim certainly displays this same loyalty by changing the usual nesting site of the species by the place where it was rescued and fed in Brazil. His rescuer, Mr João, is now like family for him. Professionals who work with animal rescues make the most to avoid relationships like this so they are able to reintroduce the animal into the wild. But this isolated case in Brazil certainly allowed Dindim to live and was the best this humble and kind man could do for the penguin." ~ Facebook: joaopaulo.krajewski
What are your thoughts on this extraordinary story? Let us know by joining the conversation in the comments.