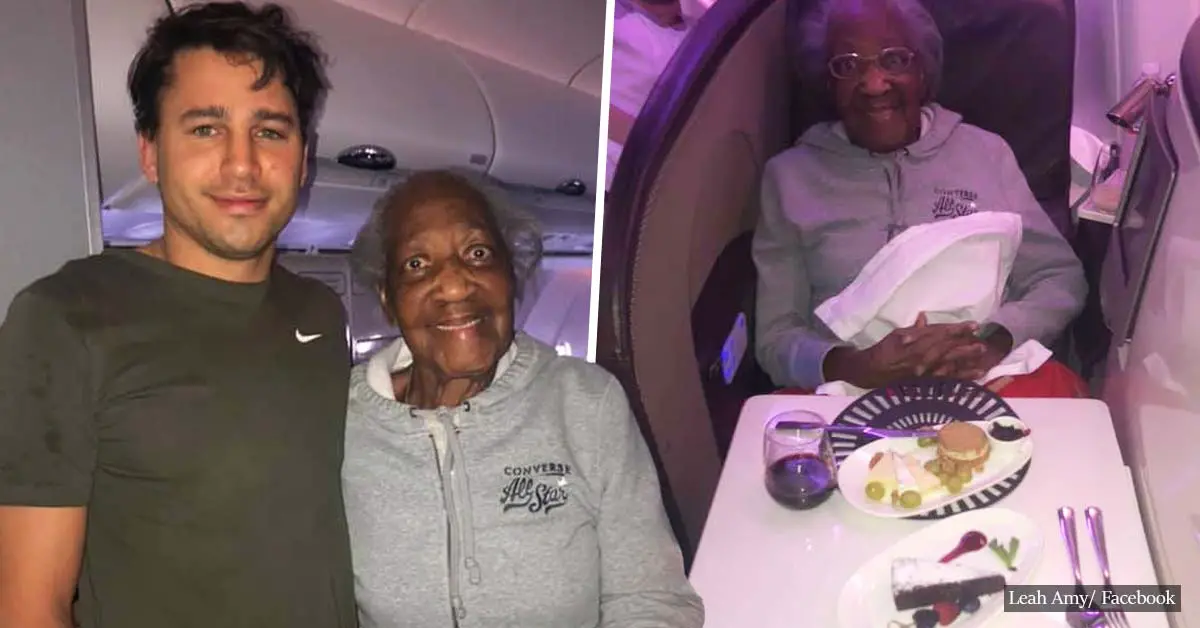 Passenger selflessly gives his first-class seat to an 88-year-old woman making her dreams come true
A Virgin Atlantic flight attendant shared the loving story of her new "favorite" passengers:  a man with a big heart and an elderly woman he selflessly swapped seats with, so she could travel in first class. 
A week ago, Virgin stewardess Leah Amy shared the heartwarming story on social media, in a post that has since gone viral with more than 11,000 likes and 3000 shares.
In her career, Leah has already met famous actors, supermodels, and athletes, but she said these two passengers – whom she identified as Jack and Violet – were her new "favorite passengers EVER!"
As per the New Zealand Herald, the two passengers immediately struck an "instant friendship" at the airport they were traveling from when Jack made the decision to give her his first-class seat to New York.
Reportedly, it was the 88-year-old's dream to have a front seat on the plane, and the considerate traveler accepted it as his mission to make it come true "out of the kindness of his own heart."
After boarding the plane, Jack swapped his first-class seat for Violet's economy seat, which was situated "directly next to the toilets" – but he reportedly kept his good deed quiet.
"[Jack] sat on the row of seats directly next to the economy toilets and never made a peep or asked for anything the rest of the flight," Leah noted. "No fuss, no attention, literally did it out of the kindness of his own heart, no one asked him to."
Leah detailed that the elderly woman often travels to the Big Apple to visit her daughter, and her latest trip was first in a long while due to a knee replacement procedure.
"You should [have] seen her face when I tucked her in her bed after supper," Leah recalled.
Even though Violet didn't provide Leah with contact information to share the special photos with her, the stewardess said she planned to forward the memorable pictures by regular mail and share them on the web in the meantime.
Facebook users, meanwhile, were quick to praise Jack:
One person commented:

"Usually we hear only the bad things, but there still a lot of good people [sic]. That young man did a wonderful thing for this woman."

Another said:

"This is just so sweet. I hope Jack has an amazing life, he sure deserves it."
What are your thoughts on this heartwarming story? Let us know by joining the conversation in the comments, and please share this article if you enjoyed it.