Over $130,000 raised for California family after girls seen using Taco Bell WiFi to do school work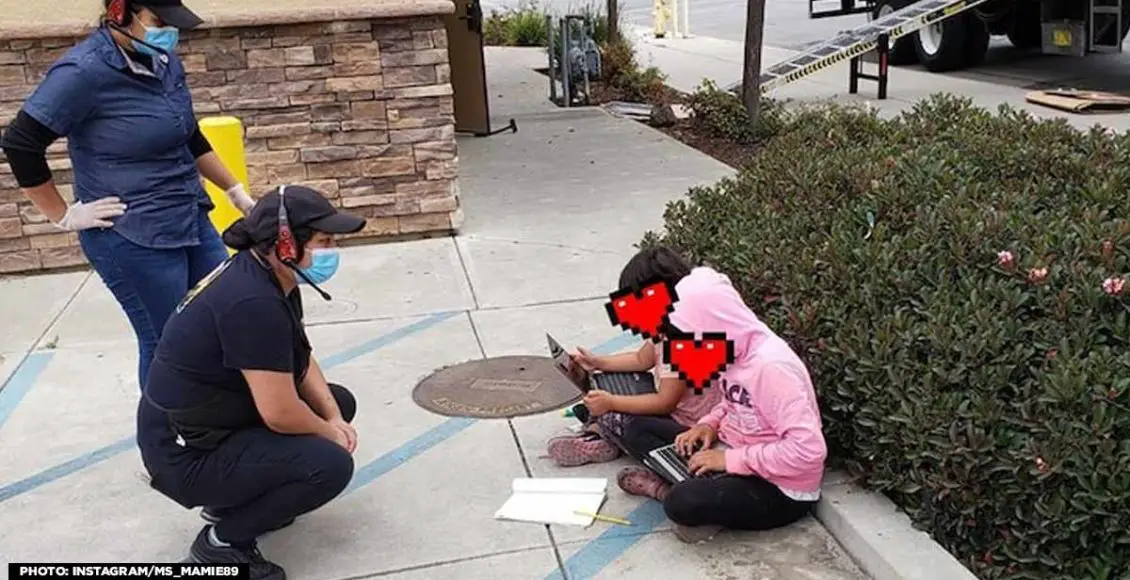 Over $130,000 has been raised for a California family after a picture of two girls using the free internet at Taco Bell parking lot to do their school work went viral a week ago.
In the photo, two young girls can be seen sitting on the ground outside a Taco Bell in Salinas, California, doing their studies on laptops as a worker crouches down in front of them. The girl's faces are obscured, but they have been identified by the Salinas City Elementary School District after the photo went viral and "immediately provided the family with a hotspot," Richard Gebin, public relations officer for the district, shared with USA TODAY.
"The digital divide is very real and delays in receiving needed technology are a statewide concern," president of the Salinas City Elementary School District, Amy Ish, said in a statement. "We are grateful the State is making technology a priority and look forward to receiving these hotspots in our District."
The district, which only has around 8500 students, is currently in distance learning mode, as per Gebin. Officials have given out 8245 Chromebooks and 1500 hotspots and are currently waiting for another delivery of 2500 hotspots.
A fundraizer has been set up by Jackie Lopez after she learned the family was going to be evicted from their home, as per GoFundMe. It has since raised over $146,200 and the family is working with an accountant to manage the money.
"All children deserve a happy place to live and because of their dedication, these little girls deserve a safe space to learn," Lopez posted. "We appreciate every single one of you for helping making that happen."
https://t.co/O0ic0gNlTw the instagramer @flowerinspanish who said police/CPS got involved also said family was evicted we are still trying to confirm that, Flower is not responding to our request for interview, also jackie lopez who has raised $100k+ for family is not responding

— Felix Cortez (@FelixKSBW) September 1, 2020
The school district made clear that it was not involved in the fundraising. An official from GoFundMe confirmed the validity of the fundraiser. 
The photo, which has been shared by a number of officials, shows the unfortunate truth that many of the children who are currently going back to school on an online basis do not have internet access at home.
"This is California, home to Silicon Valley…but where the digital divide is as deep as ever," Kevin de León, president pro tempore of the California Senate tweeted last week. "Where 40% of all Latinos don't have internet access. This generation deserves better."
The picture was also shared by Monterey County Supervisor Luis Alejo who wrote the following:
"we must do better & solve this digital divide once & for all for all California students."
A Taco Bell Corp. official called the story "a tough reminder of basic inequalities facing our communities," in an email to USA TODAY. 
"We and our franchisees have always been passionate about supporting youth education, and the owner of this restaurant is looking into additional ways to support these students and the broader community," the email read.
What are your thoughts on this story? Let us know by joining the conversation in the comments and please share this article if you've found it of value.