Oregon Rep. Mike Nearman Expelled For Helping Protesters Breach The State Capitol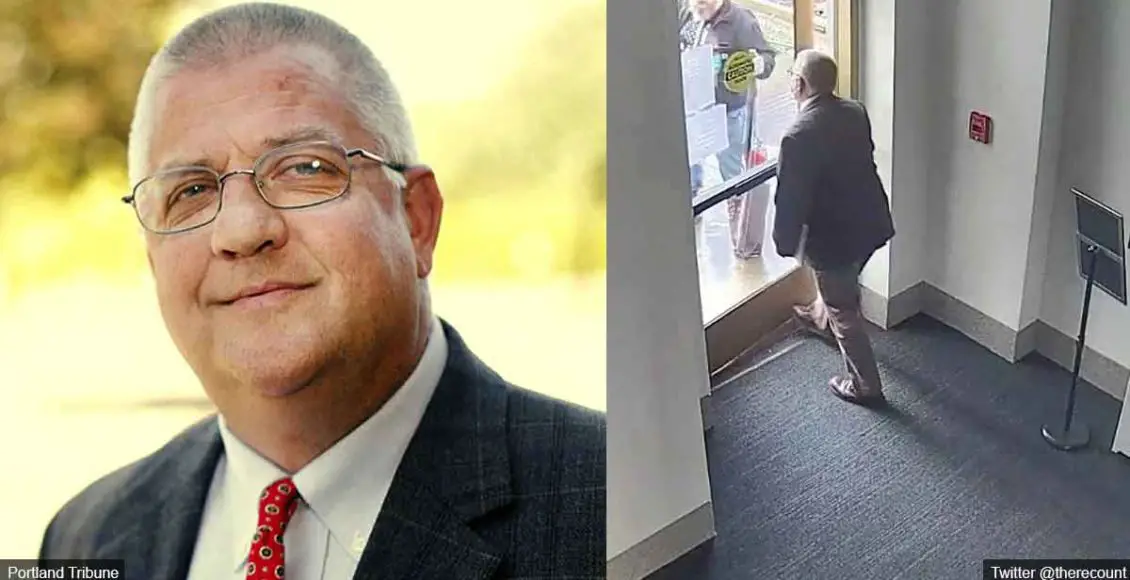 A GOP representative in the state of Oregon became the first congressman in history expelled from his position. 
Mike Nearman was voted out by the Oregon House with a 59 to 1 decision for giving protestors access to the Oregon state capitol building while an emergency meeting was held in December last year.
By opening the door Nearman allowed protesters to get inside the building, where they sprayed police officers with bear spray.
The building was supposed to be shut while lawmakers held an emergency meeting to discuss Oregon's economic issues that came about due to the coronavirus pandemic.
Nearman, whose actions were captured by a security camera, faced strong criticisms from his colleagues in the statehouse during an earlier hearing on the incident.
Democrat Rep. Paul Holvey was disturbed that Nearman would put so many of his colleagues in danger, saying:
"It's impossible to overstate the seriousness of the reason we are here today,."
"Rep. Nearman enabled armed, violent protesters to enter the capitol, breaching the security of the capitol, which was officially closed to the public, and also endangered the authorized staff and legislators inside the building."
Citizens were also encouraged to express their views in the hearing.
Some people applauded Nearman for what they saw as an act of "civil disobedience". Others denounced him as an unpatriotic helper of rioters.
David Alba, who lives in the district Nearman represented, said the following:
"Mike Nearman's behavior … was abhorrent and anti-democratic."
"Furthermore, by aiding and supporting extremists, he has placed people's lives in danger. He should be removed from office and he is not fit to represent my district."
Oregon state Rep. Mike Nearman (R) has been expelled from the House in a 59-1 vote for helping far-right protestors enter the State Capitol. pic.twitter.com/z9aq2Roz8X

— The Recount (@therecount) June 11, 2021
Oregonian Casey Ocupe also supported Nearman's actions.
She blasted GOP lawmakers who recently suggested he step down after media reports documented that Nearman pre-planned exactly how he would let the protestors in, saying:
"We see you compromising Republicans that whittle away at concepts of morality, liberty, and justice to take a knee to the woke mob."
"May your Republican constituents take no mercy on you."
During the debate over whether Nearman would be expelled, he stood his ground.

"The fact is that I exited the building and members of the public entered into the capitol building, a place they had a right to be — a place the legislative assembly had no right to exclude them from."
What are your thoughts on this story? Let us know by joining the conversation in the comments and please share if you've found this article informative.