One-armed drummer shows how she can rock despite her disability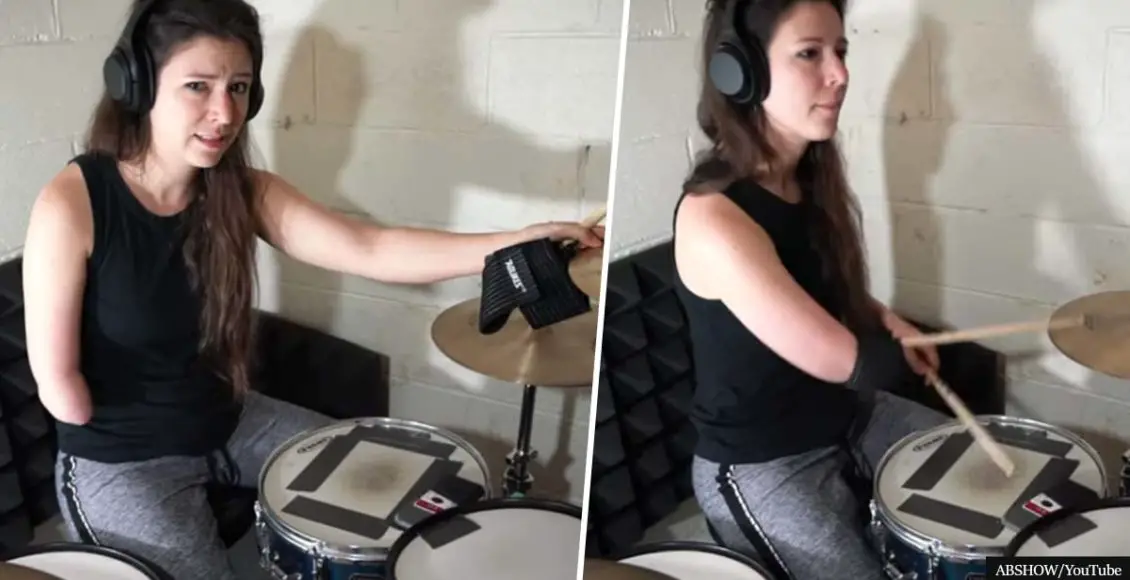 A woman with one arm proves she is a gifted drummer despite her disability. 
Abby Caulk, a talented musician, has stunned everyone with her awesome drum skills. What's unique about Abby is that she plays the drums despite having only one arm.
In a video that went viral all over the Internet, including on TikTok, YouTube, and Reddit, the brilliant drummer compares the way people think she plays with one arm and the actual way she plays, which is truly something else.
The popular clip, which has been viewed thousands of times across different social media platforms, first shows Abby playing by using only her one hand and her foot pedal. She then shows her viewers how it would sound if she were to play with both drum sticks in one hand, and it was just as bad as her first attempt.
However, Abby then grabs a Velcro wrap, attaches one of the drum sticks to her arm, and starts playing as skillfully as a professional musician.
Social media users have been bewildered by Abby's incredible talent. 
After watching the jaw-dropping video, one Redditor commented:
"Damn if I had 7 arms I wouldn't be able to play like that."
Another said:
"Great inspiration! We need more people like her to show that nothing is impossible. Amazingly talented!"
On YouTube, one inspired user wrote:
"I just wanted to say that you give me so much inspiration. I was born with my full right arm, but only half of my left, I have a fully functioning elbow, but not much beyond that. I would love to learn to play the drums!"
Another jokingly asked:
"How does it feel to be more talented than a guy with 2 functioning hands?"
But that's not all…
On her TikTok channel, the one-of-a-kind drummer often shows her awe-inspiring skills.
Here's a video revealing her remarkable potential:
What do you think of this gifted drummer? Let us know in the comment section!