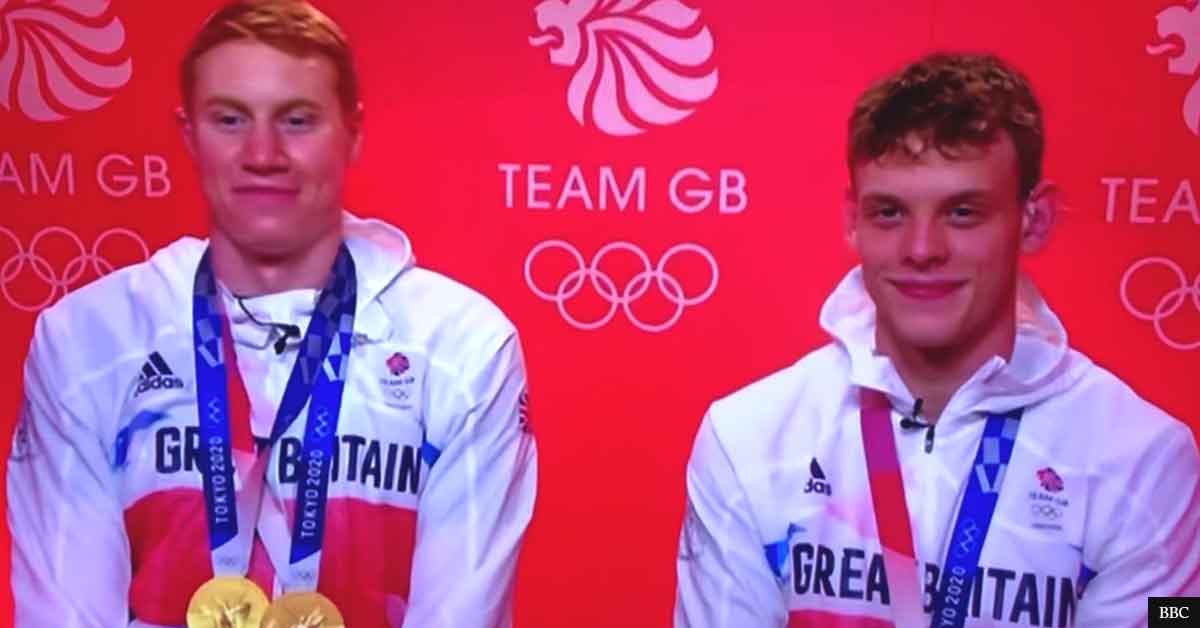 Olympic swimmers almost burst in laughter after announcer compliments 'third leg'
British Olympians Tom Dean and Matthew Richards could hardly contain themselves after an interviewer praised their "third leg" and talked about how "phenomenal" it was.
BBC reporter Clare Balding chatted to the swimmers after their win in the men's 4x200m freestyle race in Tokyo last Wednesday and commented on their young age and incredible victory, which set a new record for Europe.
"You're 18 years old, it's your first Olympics, and your third leg was just phenomenal," the reporter said.
At one point, Dean was visibly trying to contain his laughter and having a hard time remaining in the moment. And that's when Richards took an awkward pause while simply grinning at the reporter.
Dean and Richards were then praised in the comment section of a video that carried the caption "did she really just say that?", which has already been viewed millions of times. 
One TikToker made a comment saying:
"18 and held it together without laughing hysterically. That's an achievement on its own."
Another wrote:
"Caused a bit of a drag but I swam on."
Yet another person said:
"He deserves another Gold for holding it in."
And another commented:
"[Dean] wanted to look at him, but then did not because he knew he would burst out laughing."
All the emotions!

Tom Dean, James Guy, Matthew Richards and Duncan Scott – incredible!
👉 https://t.co/3lv8hkTQGl#Tokyo2020 #bbcolympics pic.twitter.com/E1JNzqtj5d

— BBC Sport (@BBCSport) July 28, 2021
Dean and Richards, together with their teammates James Guy and Duncan Scott, defeated Russia and Australia in the race for Olympian gold.
What are your thoughts on this story? Let us know by joining the conversation in the comments and please share this article if you've enjoyed the read.