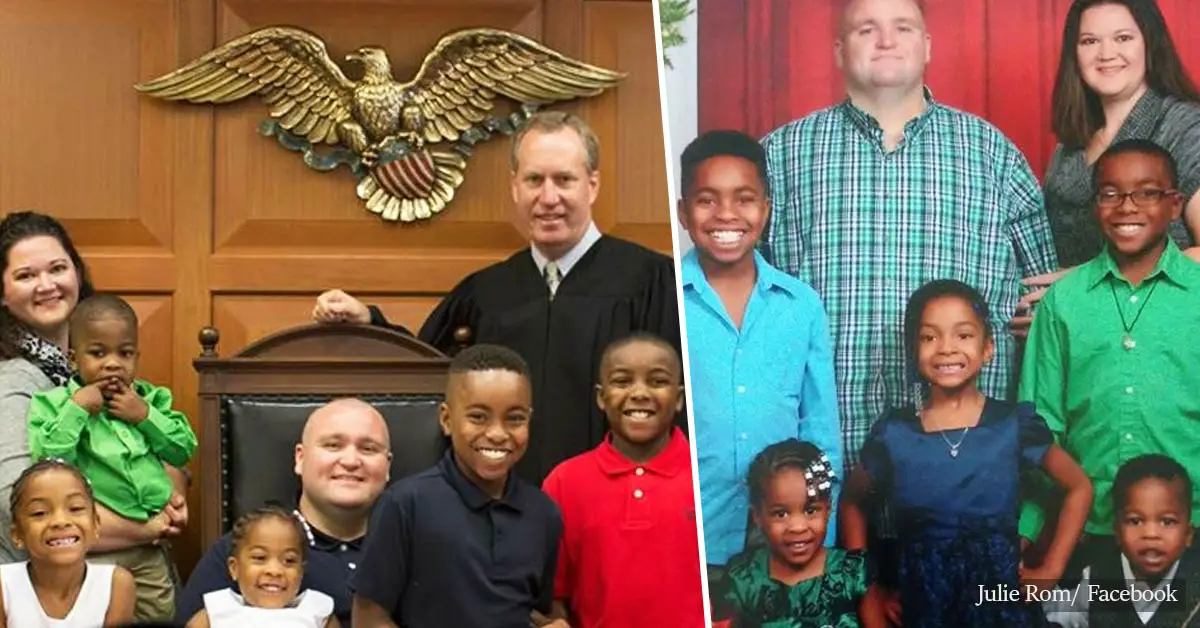 Ohio couple becomes first-time parents by adopting 5 siblings
Cincinnati, Ohio: Julie Rom and her husband, Will, have been parenting foster children for more than 10 years.
Julie revealed that she and Will were never able to make a child of their own, so they opted to help orphaned children instead.
"We [said], 'It's not meant for us to be parents right now. Let's foster and be the bridge for these kids while the parents get themselves together and eventually get themselves through reunifactions,'" Julie said.
The two were finally able to adopt children and create a family of their own. Their names are William , 12, Truth, 9, Marianna, 6, Keyora, 3, and KJ, 2.
"It was awesome, we actually had a very large adoption party on Saturday night," Julie told ABC News. "To me, they've been my kids. I don't feel any different than I did this time last week. They've been waiting for this. It was more relief than anything."
The couple fostered children for long periods of time before meeting Truth and Will, the oldest of the group of five sisters and brothers, who were put into foster care due to their previously unfit situation, according to Julie.
"They were our first within their family in February 2014 when they were just 6 and 9 years old," Julie said. "Then Marianna came to us in December 2015 and then KJ and Keyora came to us July 2016."

"We've always said that when we had children come into our home, we would never have them uprooted another time," she contunued "If the opportunity came along, that we would just keep them. It's extremely important that they do stay together because they've lost so much from their past."
On July 27 of 2017, the adoption went through in Judge Ralph Winkler's court at Hamilton County Probate Court.
Family, friends and the children's teachers were gathered for the wonderful event.
"I am excited and happy for the Rom family and their future together," Winkler told ABC News. "They changed 5 siblings' lives forever by adopting them into a safe, loving and caring family. My greatest hope is that the Rom's 5 adoptions will encourage more and more good people to adopt children."
Ann Boyle, who used to be 12-year-old Will Rom's second-grade teacher, was also present on the occasion.  She told ABC News that she felt "elated" that the adoption came to a positive conclusion.
"Julie and Will had so much love in their hearts the moment they took them in," she said. "There was a 180. [The kids] were smiling, they were talkative. I knew it was the right path for them. [Julie] got them into church she got them active in sports. There was no sadness in their eyes anymore. She treated them as their natural kids and I saw that from day one."
Will, Truth, Marianna, Keyora, and KJ had their last names changed to Rom.  Julie and Will also bought a bigger house and an SUV in order to have more space for the whole family.
Check out Local 12's coverage on the story in the video below.
What are your thoughts on this touching story? Let us know by joining the conversation in the comments and please share this article if you've enjoyed the read.