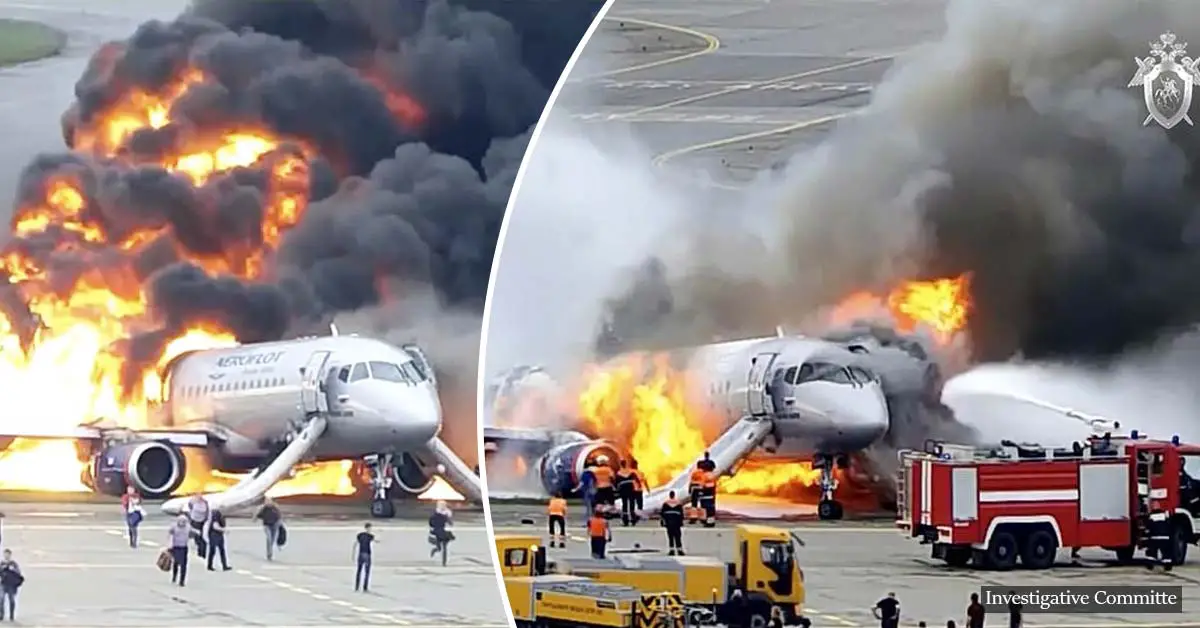 New Horrifying Footage Shows Moscow Plane Crash That Killed 41 In 100ft Flames
Disturbing new video material of people escaping a burning plane has been made public as the Russian authorities today charged the jet's captain with negligence after it was struck by lighting.
41 people in total perished in the flames after the Aeroflot Sukhoi Superjet 100 crash-landed at Moskow's business international airport, Sheremetyevo.
In the footage that is being used as part of the police investigation gigantic flames can be seen covering the plane. Thankfully, however, 37 people have survived.
Denis Evkodimov, 42, the captain of the aircraft, has said he is being made a scapegoat after his Murmansk-bound flight was struck by lightning soon after it took off.
He is now facing up to 7 years in prison if convicted. The captain turned back to the airport and made a 'jumping' emergency landing that led to the plane being engulfed by flames on May 5 of 2019, other video material shows.
The footage shows the aircraft spin and then stop with its back burning.
His inability to keep the plane under control resulted in its destruction and the death of 40 passengers and one crew member.
10 people were badly hurt. In total, 37 people managed to make it out alive.
Investigators say the actions of air traffic control and the emergency services on the ground were probed. The investigation does not point at them to be responsible for the dead. There were also no issues with the plane to prevent an emergency landing, according to the committee.
Prosecutors in charge believe the captain mishandled the landing and came in at too steep an angle.
This caused the aircraft to land badly and as a result broken landing gear went through the fuel tank which ignited and engulfed the plane with fire. The majority of the victims died from carbon monoxide poisoning or were burned alive.
The pilot claims that when he hit the ground a back door was opened in violation of his orders, which ultimately led to the ignition of the passenger cabin. Most of those who passed away were sitting either at the back or in the middle part of the plane.
See the terrifying footage in the video below.
Svetlana Petrenko, spokesperson for the Russian Investigative Committee, stated:
"Actions by Evdokimov violated the existing regulations and led to the destruction and outbreak of fire.
As a result, 40 passengers and one crew member were killed, and (ten) others were badly injured."
After the crash, claims were being made that serious technical issues on the Superjet – a plane supported by President Putin – were to blame.
What are your thoughts on this catastrophe? Let us know by joining the conversation in the comments and please share this article if you've found it informative.
Source: The Sun