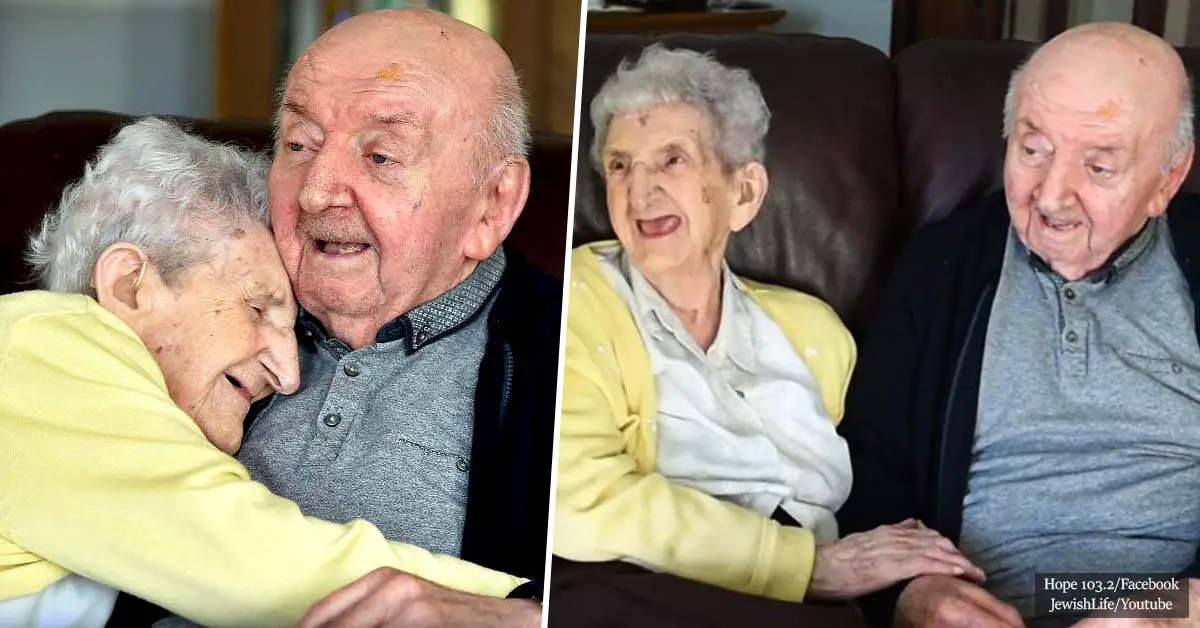 Mother aged 98 moves into care home to look after her 80-year-old son
A mother's love truly cannot be measured.
A 98-year-old woman went viral after deciding to move into the same care home her 80-year-old son was living in order to tend to him. 
It's a heartfelt tale of the love of a mother being so strong even at such a late age, and Ada Keeting is the precious mom who made it her task to look after her son's well-being.
Tom Keating had made Moss View care home in Liverpool, UK, his new home back in 2016 as he needed extra care and support.
And that was when mother Ada made the decision to move into the same home in order to be closer and care for her eldest. The two enjoy every moment they can with each other and watch Emmeralde or play games in their free time.
Originally, Ada and Tom are from Wavertree, Liverpool, and have always had a special connection since they always lived together, and Tom never married.
Ada shared that they have crafted a routine of sorts.
"I say goodnight to Tom in his room every night and I'll go and say good morning to him," she said. "I'll tell him I'm coming down for breakfast."
She revealed that, even after all these years, they still love each other deeply.
"When I go out to the hairdressers he'll look for me to see when I'm coming back," she said. "When I get back he'll come to me with his arms outstretched and give me a big hug. You never stop being a mum." Tom added, "They're very good here and I'm happy to see my mum more now she lives here. Sometimes she'll say 'behave yourself.' She's very good at looking after me."
Mother aged 98 moves into care home to look after 80-year-old son.
Ada Keating and her son Tom have moved into Moss View Care Home in Liverpool.https://t.co/RQ6l0EfEyF pic.twitter.com/cb2rm8bbdo

— Altura Learning (@AlturaLearning) July 24, 2018
Of four children born to Ada and her late husband Harry, Tom is the oldest and the only boy. Ada's daughters are Margi, Barbara, and Janet, who passed away at the age of 13. Tom made a living by painting and decorating before his retirement, and Ada worked as an auxiliary nurse.
Members of their family pay them regular visits at the home, and they are always happy to see the duo together. On some days up to five generations of the Keating family come to visit.
In one of the homes for the elderly Liverpool lives 98-year-old Ada Keating (Ada Keating) and her 80-year-old eldest son Tom. pic.twitter.com/n69XSmgK85

— rajiv (@rajbindas86) November 2, 2017
Ada's grandchild, Debi Higham, often visits her grandmother and uncle. She said the following:
"There's no parting them. It's reassuring for us that they're both getting looked after 24/7."
Phillip Daniels, manager of the care home, also revealed that they were delighted to have Tom and Ada with them.
"It's very touching to see the close relationship both Tom and Ada share and we are so pleased we were able to accommodate both of their needs," he said. "It's very rare to see mothers and their children together in the same care home and we certainly want to make their time together as special as possible. They are inseparable."
You can see the loving mother and son talk about what their typical day looks like in the video below.
What are your thoughts on this heartwarming story? Let us know by dropping us a comment.