A mom has shared the staggering cost of one day at Universal Studios in Florida after she and her family looked at their bill for the day. 
Miranda Pearce, 41, shared a social media clip she recorded on their recent trip to the attraction site, showing their exciting – yet pricey experience.
"Guess how much we spent in one day at Universal Studios Florida – wait for the end, you ain't gonna believe it," she said.
In the video, the family can be seen buying food at a drive-through, for which they spent $21,79 for three breakfast meals with drinks, the mom said.
"This is us getting breakfast at Wendy's first of all, which was $21."

"Then we go for parking at Universal: $27."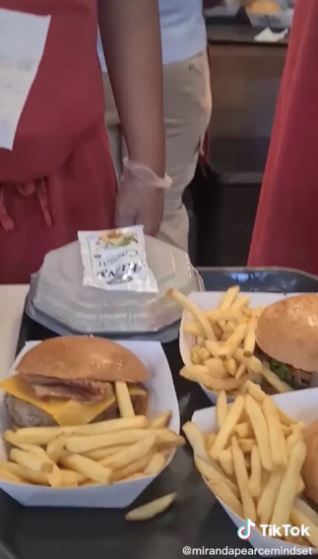 Miranda then shows the $19 beverage she purchased for her boy – which was at least refillable as he had spilled most of it. 
Later on, the family went to have lunch, which cost $62,79 for three burgers with fries and one Ceasar salad.
Miranda then goes on to show the expensive Harry Potter Gryffindor journal they bought, adding:
"This was the only souvenir we bought at Harry Potter World… $42 plus the pen.

"Then, later in the afternoon, we got ice cream and fake smiles. This is $19.

"And I got a coffee because I was fading fast by that point – $4."
The family ended their day with dinner at Burger King.
Thankfully, this cost much less than lunch.
"Then we paid for dinner – not too bad: $34 at Burger King," Miranda said.
With a now much lighter wallet, Miranda showed the rest of the receipts from the trip and calculated the shocking final cost for everything…
She went on to say:
"Oh my God, you guys… $483 for the tickets and $396 for the fast passes – I ain't waiting around in any queue with a six-year-old. Would you have paid that?"

"Total of $1,113.40."
Miranda's clip has since gone viral – and people reacted accordingly.
One commenter said:
"Sounds like a complete rip off, but I'm glad you had a good time."
Another added:
"14 days at Disney a few weeks back and spent just over $1,000 in total! Backpack, flasks, snacks, Walmart deliveries. Mainly to save queuing!"
A third commenter wrote:
"1 rucksack, flask of coffee, sandwiches and snacks and sweets. Forget fast pass, go to far end of park where it's quieter and work towards front of park."
A fourth said:
"Cheaper to get a room overnight and you get two days express passes inc."
Yet another wrote:
"We just came back from Orlando, not including park tickets food and drinks for family of 4 cost us 400 dollars a day easy!"
See Miranda's TikTok video below:
We hope you enjoyed this article. If so, please share it with your friends and family.