Model calls out photographer who told her to 'stop eating' to lose weight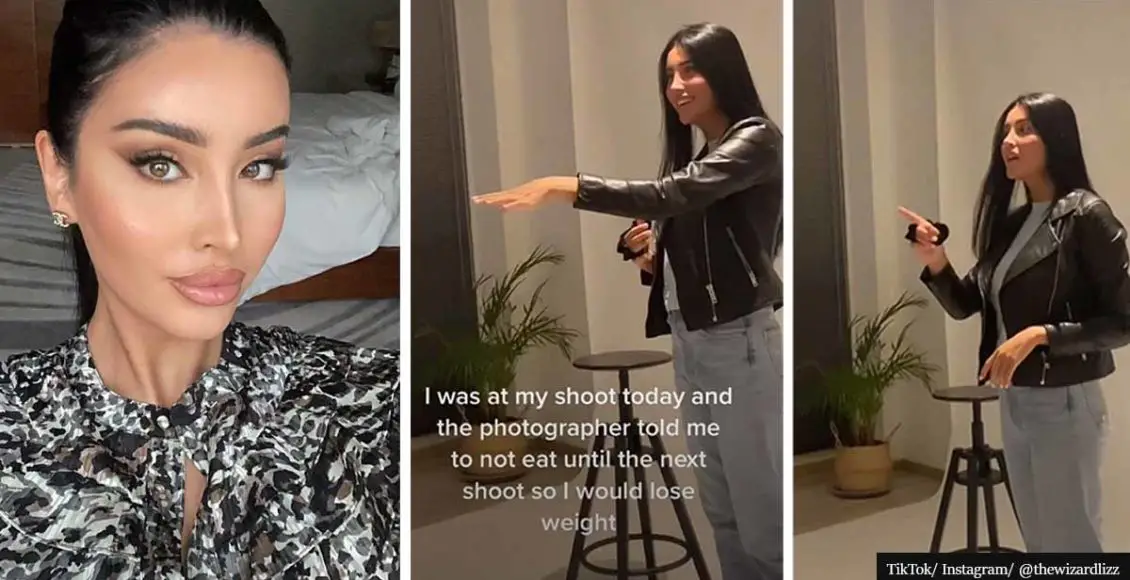 A model slammed a photographer for telling her to "not eat until the next shoot" so she could lose weight. 
An emotional and infuriating TikTok video shows the cruel reality many models are still struggling to live in.
Liz, a model known on social media as Thewizardliz, has recently posted a clip exposing a photographer who demanded her to lose weight despite the fact she is already skinny enough. According to the footage, the cameraman told Liz she should "not eat until the next shoot" so she could lower her size.
 

View this post on Instagram

 
The enraging yet powerful video went viral since Liz posted it, gaining millions of views in no time.
As Unilad notes, it was secretly recorded by a friend who captured the moment the model bashed the photographer for his harmful comments.
In the clip, Liz can be heard confronting the man behind the camera for being irresponsible about his words. At one point, she tells him:
"You can't tell people not to eat until the next shoot because that could develop an eating disorder."
 

View this post on Instagram

 
The outraged model goes on to say how "lucky" the photographer is that she feels "secure in her body," adding:
"But if there was another model who was standing here and was insecure about her body, that one comment that you made would literally make her go insane."
Liz also tells the cameraman that a model can "literally die" because of such hurtful comments.
She continues:
"You should watch how you talk to people, and I shouldn't lose anything because I am already very skinny. And even if I wasn't, you're not the one to tell me what to do with my body."
Asserting she does not want to work with that photographer anymore, she tells him to let the clients know that she wasn't going to continue the shoot. Liz then adds:
"You should watch your mouth with people because it can really damage them."
The model has received a wave of support on TikTok after posting the emotional video. 
One social media user commented: "God bless you for standing up to him."
Another wrote: "For those saying this was an overreaction, it wasn't. It was a perfectly reasonable REACTION. Iconic. God's work."
Meanwhile, some said her reaction was too "dramatic," but she responded, insisting that people are "dying because of EDs."
 

View this post on Instagram

 
Upon reposting the video on her Instagram account, Liz wrote a touching caption:
"I am beyond shocked by all the love and support I received for this video. I really didn't want to post it cause I felt like I might reacted to harsh…

But I am not doing this for me. I'm doing it for my younger self who developed and ED cause of people like this who constantly told me what and when I should or shouldn't eat. I am doing this for every girl/boy out there who has suffered or is still suffering from an ED, for everyone who has been put down and didn't feel comfortable speaking up.

You are worthy, you CAN and SHOULD defend yourself. My body is perfect not because I am 'skinny' but because I am healthy alhamdulillah. I love my body and so should everyone. May all of you be blessed and get everything your heart desires. Thankyou so much for validating my feelings and making me feel worthy 💛

(BTW I received news this morning and the photographer was let go by the clients who booked me.)"
@thewizardliz

Set your boundaries and if they are not able to respect it let them go ♥️
Do you think Liz overreacted or was she right to confront the photographer? Have you ever been body-shamed? How did you handle the situation? Share your thoughts with us in the comment section!