Mini paintings of masterpieces that can fit in the eye of a needle sell for £90,000
An artist recreates famous paintings in the form of "micro-masterpieces" and sells them for £90,000. 
David A Lindon, a 52-year-old artist from Bournemouth, Dorset, UK, specializes in creating miniature paintings that could fit through the eye of a needle.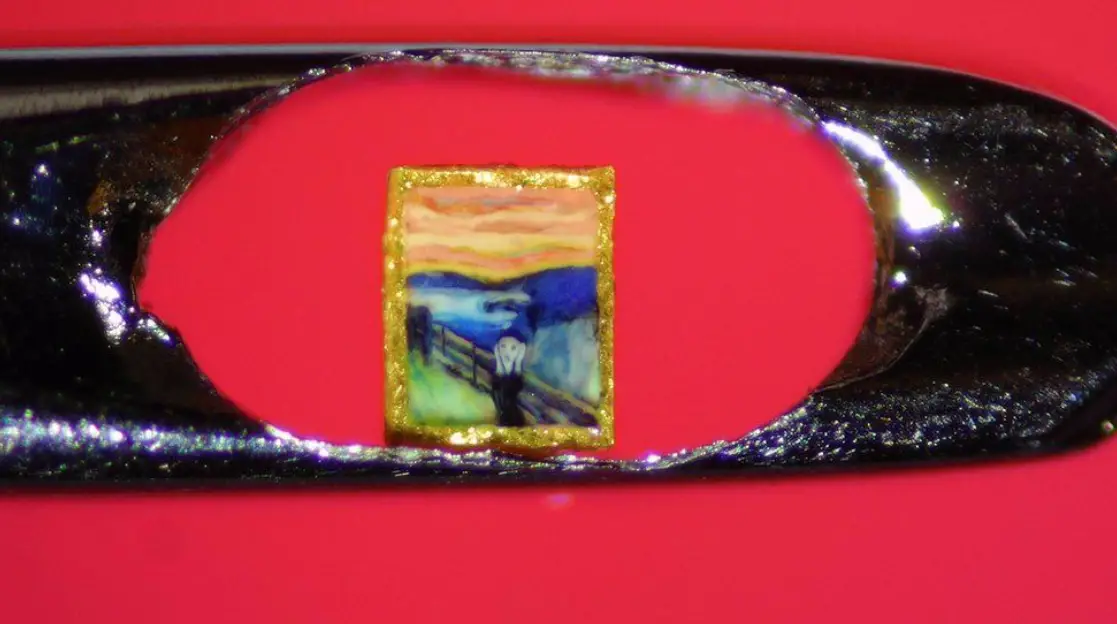 Among his artworks are recreations of Van Gogh's Starry Night and Sunflowers, as well as Banksy's Girl With Balloon, Munch's The Scream, Vermeer's Girl with a Pearl Earring, and Monet's Water Lily.
As per Daily Mail, Mr. Lindon sold all of the micro paintings to private collectors for £15,000 each.
The former engineer was inspired by another micro genius – Willard Wigan.
Micro art by Willard Wigan. First one I think is the last supper. pic.twitter.com/djyD2jGR4o

— Bryan-1066 (@Bryan15106503) March 15, 2021
Before creating the six tiny masterpieces, the Bournemouth artist worked on crafting figures of the likes of Freddie Mercury and Amy Winehouse.
Mr. Lindon was eager to diversify his artistry, so he challenged himself to turn six of the most famous artworks in history into miniature art. 
Speaking to BBC, he explained:
"It seemed a natural progression to explore paintings and to discover just how small I can go.

Whilst creating a micro painting uses the same process as doing a full-size art piece, there is a greater focus on transposing the aesthetic qualities of the original whilst representing them on a much smaller scale. I have to slow my heartbeat down essentially. I control my nerves, I steady myself. I get lost in my own world, I really do."
The talented artist shared it takes him more than a month to create each of the 0.02in-wide (0.5mm) plastic artworks.
He added:
"The only thing I enjoy is when it's done. That relief, and then to see the expressions of joy and surprise on people's faces, is fantastic. I have sold bits and pieces before but that is my first significant sale."
You can observe the six masterpieces, as well as a further six pieces, until October 29. They will be displayed at an exhibition called A New Beginning at the Lighthouse Media Centre in Wolverhampton.