Military vet 'doesn't know what he'd have done without GAMING' after being forced to give up the army
"It's so powerful!" A military vet finds comfort in video games after being forced to leave the army. 
Following the footsteps of his father and older brother, Paul Colling was only 16 when he joined the army in 2001. In the military, he completed a physical trainer course and began training recruits. Meanwhile, he continued to do "whatever" was asked of him, including keeping "everybody up to speed with their shooting or their weapon handling."
Paul took part in missions in Iraq and Afghanistan, while regularly participating in endurance marches and fitness training. Unfortunately, he suffered a traumatic ankle injury, forcing him to give up the army.
"There are parts of Afghanistan that stick with me still, but the bit that reminisces with me the most was the repatriation parades standing by the Hercules as the coffins of our fellow soldiers were loaded on & sent home to rest with the Union Jack laid over the coffins." pic.twitter.com/i7hTGrxzCf

— Help for Heroes (@HelpforHeroes) November 9, 2021
In an interview with Unilad, the veteran said staying in the military with such a severe injury was not an option. He explained:
"I couldn't have done it, it just broke me mentally I think… but it'd have broken me a lot more [if I'd stayed]. I'd have been bitter and twisted by the end of it."
Although the military vet was able to secure a job and a house, something was still missing in his life after he left the army.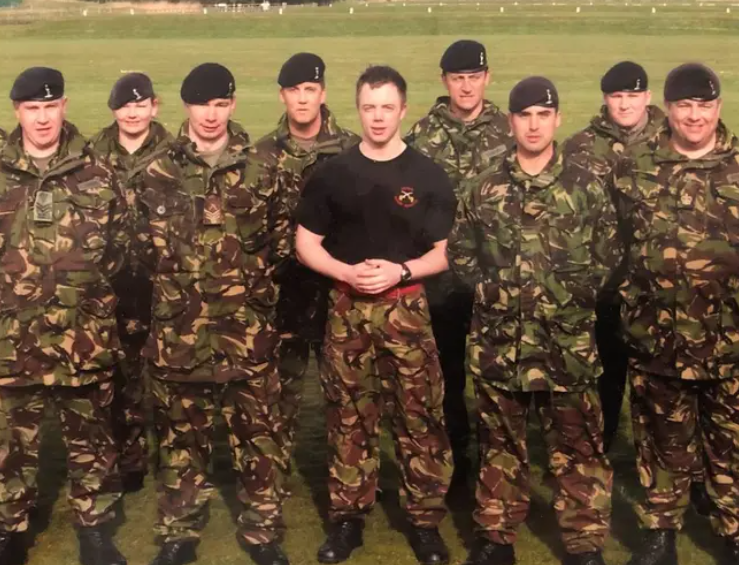 The mental crisis Paul struggled with was so severe that, at one point, he even considered taking his own life. Thankfully, "something clicked" in his mind, making him realize he needed professional help.
Help For Heroes, a UK-based organization that helps veterans affected by their military service to "live a secure and healthy life with purpose," was happy to guide Paul through his healing journey. What's more, he even learned how to assist others who were struggling.
Following eight serious leg surgeries, there were times in the vet's life where he couldn't move for months. Throughout these long periods of inactivity, he found comfort in playing video games, such as God of War, FIFA, and Call of Duty.
If you are a veteran or loved one struggling, please reach out to us. We are here for you 👉 https://t.co/UKWXEoe5jY pic.twitter.com/IheswOLUea

— Help for Heroes (@HelpforHeroes) November 8, 2021
Paul shared:
"I couldn't go out and work – there was nothing I could do because I couldn't walk. By playing games, it filled up that space and I could communicate with people and still be in a line of contact with people which I wouldn't have been able to do without it. So it was a massive tool.

It started at a young age, but got really powerful and really potent when all the surgery started happening and life started going on a downward spiral. It offered a support network and it helps; you can just forget everything and just live the moment of the game."
Gaming was what helped Paul shake off all the stress and anxiety in times when he really needed it. 
He noted:
"[Players] naturally end up chatting and airing out all the stresses, all the problems, all the issues without even realising [they're] doing it. That's why it's so powerful! I could be sat here on my own but then I could be online chatting to hundreds of people [online]."
Moreover, regularly playing video games allowed Paul to improve his motor skills. After finding out he had also suffered a minor brain injury, the soldier was advised to learn how to play the guitar so he could improve his mobility. However, playing an instrument simply wasn't his thing. Instead, he preferred playing games. He said:
"No one ever explained it to me or told me about it, but I just realised myself, actually, my brain's thinking about it, and my hands are doing two times, three times as much as they'd ever been doing on the guitar – I couldn't get past the D chord on guitar.

On the game I was talking to people, and while I was talking to them I was also making things happen on the screen, it was just naturally happening and progressing, it was a very powerful tool to get through a lot of surgery."
Working with Help For Heroes, Paul established a gaming group, bringing together wounded veterans while also raising funds for the charity. 
The Hero Up campaign has raised thousands of pounds for the organization by streaming games and participating in gaming marathons.
Gaming is an outlet for many, including some of our veterans who have found it helps them stay connected, create focus and build communication. How does gaming help you?

— HeroUp Gaming (@HeroUpGaming) November 7, 2021
The vet commented:
"I know plenty of people for whom games have given them a positive reason to get through a rough time. It'll have played different parts in people's recoveries and journeys and life itself, but there are so many people I know it's helped in one way or another."
Sarah Jones, Head of Psychological Wellbeing at Help for Heroes, explained:
"[Hero Up] provides a space where veterans can game together for mutual support.

People can simply sign up, create a fundraising page, set a target and then play their favourite games to drive donations for Help for Heroes. These donations help us to support our veterans affected by injury or illness, and their families, with everything from their mental health to clinical support.

Many of our veterans find gaming to be a really helpful tool to manage daily stresses including chronic pain, mental health issues and social isolation. It's something that's available in their own homes at any time, night or day, so it's accessible and provides a sense of community and camaraderie that they often miss when they leave the military."
Gaming has played a huge role in recovery for some of the veterans @HelpforHeroes support.

Worth a watch 👇👀 https://t.co/MPyHm8zkxs

— HeroUp Gaming (@HeroUpGaming) October 27, 2021
Inspired by his own story, Paul vowed to help other veterans overcome their fears just as he did. 
He said:
"If I can help one or two more people along the way then that's worthwhile being around."
To anyone who struggles with mental health issues, the veteran says:
"We all go through battles. We all have our issues and have our good days and bad days. [We must] understand that it's alright not to be alright. Speak to somebody. The minute you do is the minute things start turning for the better.

Find something that really makes you feel good about yourself, and whenever you feel low just find that positivity that will get you through it one step at a time, one day at a time."