Meet one of the most beautiful cats in the world – Thor the Bengal!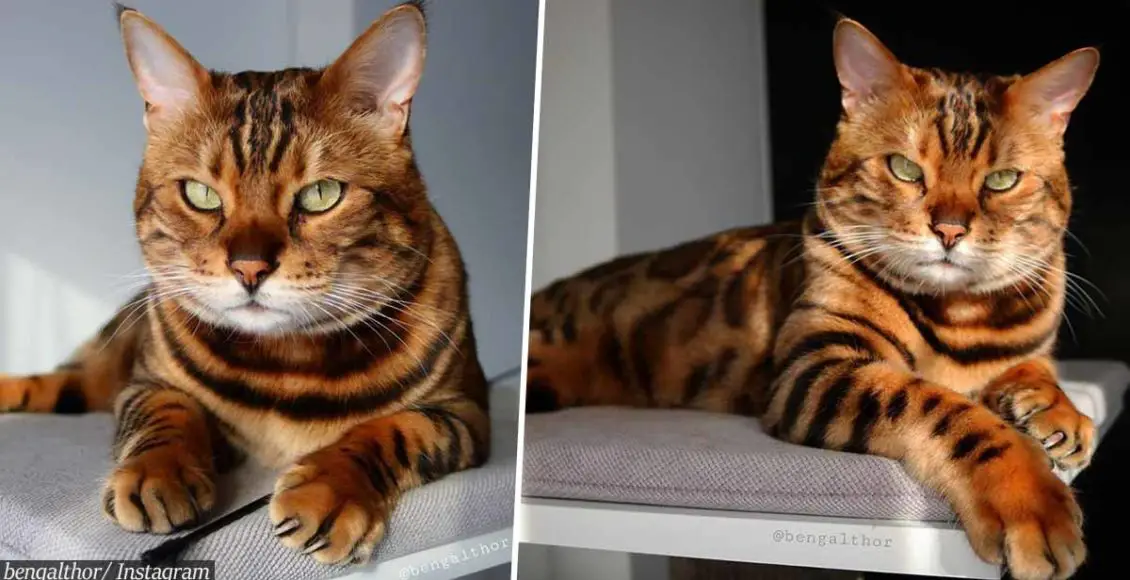 This stunning Bengal cat named Thor is stealing hearts all over social media!
Thor, who turned 7 this year, is an astonishing Bengal cat – a crossbreed of a domesticated cat and an Asian leopard cat. His striking green eyes, combined with his beautiful tiger stripes and leopard spots, have turned the feline into an Internet sensation.
The unreal cat's proud owner, Rani Cucicov, instantly fell for Thor's charismatic presence when she found him at a cattery in the Netherlands back in 2013. In an interview with HuffPost, Cucicov said:
"We actually came to look at another kitten, but then the breeder said she had another one that was available and then she came with Thor in her hands. We immediately fell in love with his beautiful 'orange brown' colors."
For Rani and Thor, it was love at first sight. The lucky lady knew that her golden shimmer Bengal treasure was not the usual domestic cat.
Today, not only Rani's neighbors but also thousands of people all over the Internet are amazed by Thor's remarkable beauty. 
Only on his personal Instagram account, the exotic feline has over 220,000 followers! He also has a Facebook page liked by more than 40k people.
Due to Thor's stunningly rare appearance, many people cannot believe his stripes and spots are real and accuse Cucicov of displaying mad photoshop skills. To these bizarre allegations, the cat's owner responds:
"Of course this isn't true. Thor is real and definitely not photoshopped or anything."

With the looks of a majestic tiger and a graceful leopard combined, Thor has the full right to be treated like the king he is. Besides, his favorite food is shrimps. Rani shares that whenever her four-legged jewel sees or smells them, "he becomes crazy and screams through the whole house to get his shrimps."
However, his royal persona also has its quirky parts, as he loves cuddling, playing around, and of course, napping.
If you have been captivated by Thor's golden looks just like we have, don't forget to share this article with your friends!