Man Travels The World In Less Than 4 Years Without Flying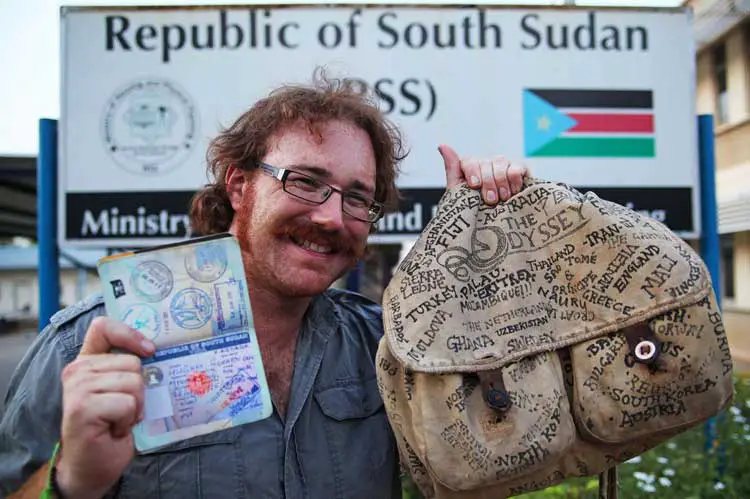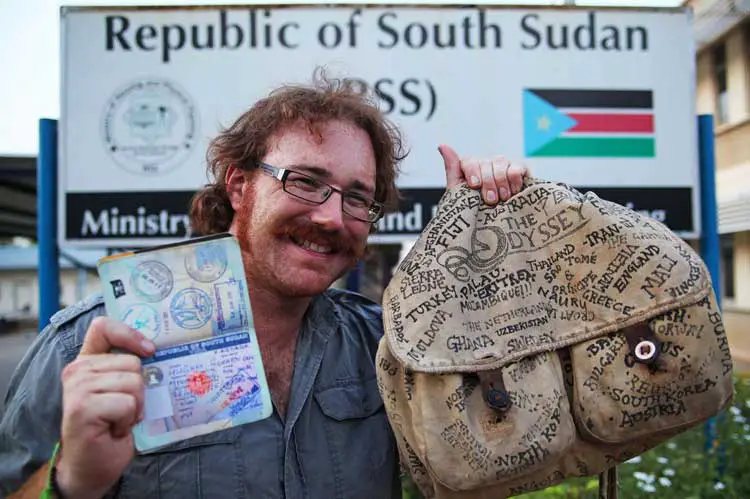 Graham Hughes is the first man to visit all 201* countries in the world… without even taking a plane. He is 33 years old and comes from Liverpool, England. Hughes has a strong passion for adventures and in his search for new ones, he managed to take a dip in all of the world's cultures. Read along to learn more about his incredible experiences.
Hughes's goal to see the whole world without flying was not an easy job. He travelled 160,000 miles in 1,426 days (around 3 years and 11 months) with only $100 a week.
Although his journey wasn't an easy one, he shares some incredible stories about what he had to go through. In order to reach Cape Verde, he had to go through open ocean in a "leaky boat" for 4 days. He was also arrested for espionage in Congo where he spend a week in jail. But that wasn't his only encounter with the authorities. He was arrested in Russia for attempting to "sneak into" the country and then he had to be "rescued from Muslim fundamentalists by a Filipino transsexual named Jenn.", he writes in his blog.
Hughes shares that he has a strong love for travelling and the reason behind his big adventure was that he just wanted to see if it was possible to be done by one person on a tight budget. One of his aims was to prove that the world isn't a bad and scary place. On the contrary, he shares that it is full of nice people who are ready to help even though you are a total stranger.
Hughes is now officially a world record holder for "Most countries visited in one year by scheduled ground transport". He has his whole journey filmed for a documentary and has raised money for charity WaterAid. For most of the longer voyages he counted on the nice crews of cargo ships to take him on board with them. On his way to the Dominican Republic, he even got a lift on a friendly cruise ship.
Graham Hughes has had amazing experiences in those travelling years.
Some of them include making friends with orangutans in Borneo, meeting the Prime Minister of Tuvalu and dancing with the Highlanders of Papua New Guinea. Many people have asked Hughes if it was hard to get into countries like North Korea, Afghanistan or Iraq but he shares that they were the easy ones. Getting to smaller island countries like Nauru (which is in the heart of the Pacific Ocean), the Seychelles and the Maldives was harder for him and he even says that "there were sometimes pirate threats".
Hughes says that there were some really tough moments through his journey. One of them was "sitting in a bus station in Cambodia at one in the morning or riding some awful truck over bad roads". But the hardest part of his adventure was when his 39- year old sister, Nicole, died of cancer. He stopped his trip and went to see her in hospital when he had only 17 countries to go. In a hard moment like that, he thought about quitting his travelling, but after his sister encouraged him to complete his goal, he had new strength to continue, so, he did. Hughes now shares that he doesn't plan to buy a plane ticket any time soon because he loves the trilling experience of the adventure.
*Depending on the source you are looking at, there are between 189 and 196 countries in the world, but he also visited some places that are not recognized as countries by UN and other international organizations.

You can visit his website to read more stories from his adventure: theodysseyexpedition.com
Full country list in order:
SOUTH AMERICA
1. Uruguay
2. Argentina
3. Paraguay
4. Bolivia
5. Chile
6. Peru
7. Ecuador
8. Colombia
9. Venezuela
10. Brazil
11. Guyana
12.Suriname
THE CARIBBEAN
13. Trinidad & Tobago
14. Grenada
15. St. Vincent & The Grenadines
16. Barbados
17. St. Lucia – Martinique**
18. Dominica
19. St. Kitts & Nevis
20. Antigua & Barbuda
Antigua: He visited palm fringed beaches in The Caribbean
St. Martin/Sint Maarten
British Virgin Islands
US Virgin Islands
21. Dominican Republic
22. Haiti
23. Jamaica
CENTRAL AND NORTH AMERICA
24 Mexico
25 Guatemala
26 El Salvador
27 Nicaragua
28 Honduras
29 Costa Rica
30 Panama
31 Belize
32 The United States of America
33 The Bahamas – The Conch Republic**
34 Cuba
35 Canada
EUROPE
36 Iceland – The Faroe Islands**
37 The Netherlands
38 Belgium
Cape Verde: He spent four days on a 'leaky fishing boat' getting to this Atlantic isle
39 France
40 England*
41 Wales*
42 Ireland
43 Northern Ireland*
44 Scotland*
45 Luxembourg
46 Germany
47 Denmark
48 Sweden
49 Norway
50 Finland
51 Estonia
52 Russia
53 Latvia
54 Lithuania
55 Belarus
56 Poland
57 The Czech Republic
58 Slovakia
59 Hungary
60 Romania
61 Moldova
62 Ukraine
63 Bulgaria
USA: He saw a space shuttle take off in America
64 Greece
65 Macedonia
66 Kosovo*
67 Montenegro
68 Serbia
69 Albania
70 Croatia
71 Bosnia & Herzegovina
72 Slovenia
73 Austria
74 Liechtenstein
75 Switzerland
76 Italy
77 Vatican City*
78 Malta
79 Tunisia (Africa)
80 San Marino
81 Monaco
82 Andorra
83 Spain
84 Portugal
AFRICA
85 Morocco
Estonia: Tallinn is the capital of Estonia, the most northern of the Baltic states
86 Western Sahara*
87 Mauritania
88 Senegal
89 Cape Verde
90 The Gambia
91 Guinea-Bissau
92 Mali
93 Guinea
94 Sierra Leone
95 Liberia
96 Côte D'Ivoire
97 Ghana
98 Togo
99 Benin
100 Burkina Faso
101 Niger
102 Nigeria
103 Cameroon
104 Chad
105 Central African Republic
106 Equatorial Guinea
107 Gabon
108 Saõ Tomé & Principé
109 Congo
110 Democratic Republic of Congo
Kenya: Masai Warrior in red standing near Acacia tree
111 Angola
112 Namibia
113 South Africa
114 Botswana
115 Lesotho
116 Swaziland
117 Mozambique
118 Zimbabwe
119 Malawi
120 Zambia
121 Tanzania
122 Comoros
123 Madagascar – Reunion**
124 Mauritius
125 Rwanda
126 Burundi
127 Uganda
128 Kenya
129 Ethiopia – Somaliland**
130 Somalia
131 Djibouti
MIDDLE EAST AND ASIA
132 Saudi Arabia
133 Egypt (Africa)
134 Sudan (Africa)
135 Jordan
136 Palestine*
137 Israel
138 Syria
139 Lebanon
140 Turkey
Iraqi Kurdistan**
141 Iraq
142 Cyprus (Europe)
Northern Cyprus**
143 Libya (Africa)
144 Algeria (Africa)
145 Georgia
146 Armenia
147 Azerbaijan
148 Kazakhstan
Karakalpakstan**
149 Uzbekistan
150 Kyrgyzstan
151 Tajikistan
152 Turkmenistan
Papua New Guinea: He danced with highlanders from Papua New Guinea
153 Afghanistan
154 Iran
155 Kuwait
156 Bahrain
157 Qatar
158 United Arab Emirates
159 Oman
160 Yemen
161 Eritrea (Africa)
162 Pakistan
163 India
164 Bangladesh
165 Bhutan
166 Nepal
Tibet**
167 China
168 Mongolia
169 South Korea
170 North Korea
171 Japan
172 Taiwan*
173 Vietnam
174 Cambodia
Borneo: He befriended orangutans in the jungle
175 Thailand
176 Laos
177 Burma
178 Malaysia
179 Singapore
180 Indonesia
181 Brunei
182 The Philippines
183 East Timor
West Papua**
OCEANIA
184 Papua New Guinea
185 Solomon Islands
186 Australia
New Caledonia**
187 Vanuatu
188 Fiji
Wallis & Futuna**
189 Tuvalu
190 Kiribati
191 Marshall Islands
192 Samoa
Hong Kong: He also saw some of the world's biggest and brightest cities
American Samoa**
193 Tonga
194 New Zealand
195 Nauru
Northern Mariana Islands**
Guam**
196 Micronesia
197 Palau
Hong Kong**
Macau**
THE FINAL FRONTIER
198 Sri Lanka
199 The Maldives
200 The Seychelles
201 South Sudan