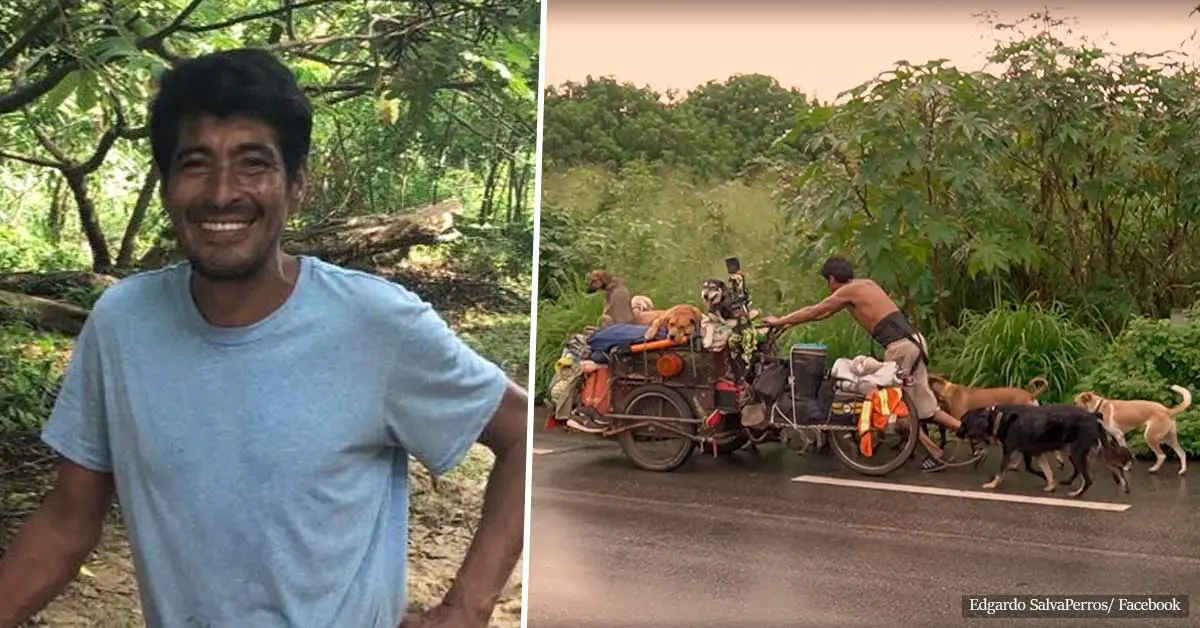 Meet the man who has traveled thousands of miles to save the lives of nearly 500 dogs
Enter the selfless story of Edgardo Perros. He has now walked about 9000 miles around the Mexican perimeter to save injured or ill dogs. 
Over the past six years, he has rescued almost 500. His kindness and compassion for all creatures are truly worthy of admiration. For instance, when he sees a fatally injured dog, he lies down next to it so it has company as it passes away.
His attitude to these poor animals is a marvel to be inspired by. Take a look at his Facebook page.
You can also donate to Edgardo's rescue mission by following this link.
"No one helps dogs living homeless on the roads. This is where I saw their pain,"  49-year-old Edgardo said.
"What hurts me the most, is not the battered, hurt or abandoned dogs. It is the person that is doing it"
"I think that what someone in this situation needs, no matter if a person or animal, is some company and even a little bit of love"
For the last six years, Edgardo has saved and found homes for nearly 500 sick and hurt dogs.
He has also found many that were too damaged for saving.
"Usually, I just keep them company, until in a natural way, they rest," he said.
He has walked about 9000 miles around Mexico, and has only 900 left to reach his goal.  Edgardo has brought three dogs into his own family, which have been by his side from the beginning of his noble journey.
This is Negro
Blanco
and Chilletas
Patuleco suffers from "swimmers syndrome" since birth and has dysplasia (he does not have knees). 
He has been accompanying Edgardo for 3 years.
Sin Pata, a three-legged sweetie has been on the road for a year now and is waiting for adoption.
Wonderful China is hoping for a new home and has been with Edgardo for almost three years.
Kiwi suffered from a bad skin condition but is now well and also looking for a new family.
Another dog named Enzo is currently recovering in a clinic after its leg was amputated due to a bone infection.  When he is able, he will join the trip and learn how to walk from helpful Sin Pata.
Others have been vaccinated, castrated and are learning manners to be ready for adoption.
"I can't live the rest of my life just saying 'I traveled once around Mexico and helped dogs.' I want to continue to work with dogs"
See Edgardo and his loving companions in action in the video below.
Edgardo Perros – Saviour of the Dogs

A few months ago I was driving out of the small Mexican town of Mazunte, Oaxaca, when I saw a peculiar sight on the side of the road. A man was pushing a trolley along the road and surrounding him were dogs. Dogs were on top of his trolley. Dogs were behind him, in front of him and by his side. Tails were wagging furiously, barks were sounding and he just kept pushing his trolley through the heat. This is the story of Edgardo Perros. Thank you to Fernando Cortez Marques for all his help in shooting this project with me and editing all the Spanish interviews! Thank you to Laurie Alexander for helping with the logistics and thank you to Sat Chit Ananda for his translation work. If you would like to contribute to Edgardo and his journey, follow this link:https://www.paypal.me/SalvaPerrosAlso, take a look at his Facebook page Edgardo SalvaPerros!

Posted by The Yogi Photographer on Tuesday, October 22, 2019
What are your thoughts on this moving story? Let us know by joining the conversation in the comments and please share this article if you enjoyed it.