Man Caught On Video As He Jumps From Building After Being Caught Banging Another Guy's Girlfriend Goes Viral
A man jumped from a building after being caught sleeping with another man's girlfriend. 
A video that has been making rounds on the web shows a man jumping from a building after he was caught sleeping with someone else's girlfriend.
As seen in the video, the girl's boyfriend came for a surprise visit with a bouquet of flowers in hand only to get surprised in the nastiest way possible.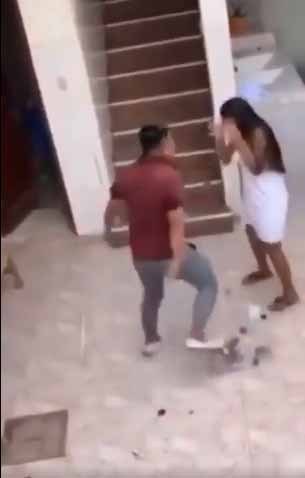 The woman can be seen trying to calm him and slow him down while explaining herself even though she was only wearing a bath towel but he did not want to hear any of it.
The man who was caught in the act can be seen trying to escape from the jealous boyfriend, and in the end, jumps from the top of the first floor to save his life.
It can also be seen that he hurt himself in the process. 
And even though he was limping, he kept on running from the boyfriend who was now breathing down his neck trying to catch him.
See the hilarious video by clicking below.
View this post on Instagram
What are your thoughts on this crazy video? Let us know by joining the conversation in the comments and please share this article if you've enjoyed it.