Sierra Madre, United States: A man walked into his house to the sight of a bear feasting on a bucket of KFC chicken. 
In an interview with ABC7, John Holden said that when he returned home his front door was wide open.
When he went in, he said he was shocked to see the bear laying on the kitchen counter and eating a bucket of KFC.
John went on to say that there was at least one other bear inside, and another outside, and by making loud noises he managed to chase them away.
Surprisingly, this isn't the first time he's had to deal with bears. 
"I've had a lot of other encounters with them. I've actually had them bump into me a couple times in the backyard, but definitely never in the house like that," John said.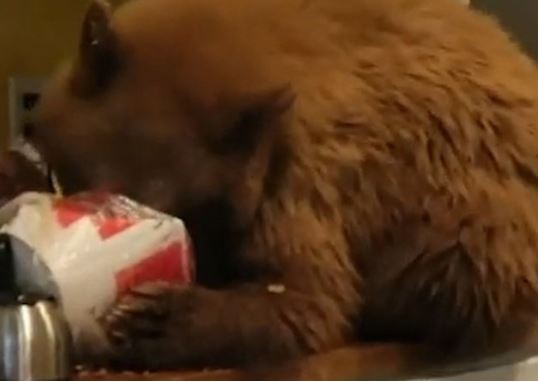 John also said that the animals made a big mess in his house. 
He said the smell of chicken must have been so alluring that they simply couldn't resist and even proceeded to relax in his backyard after the meal.
What would you do if you ever found yourself in John's situation? Let us know by joining the conversation in the comments and please share this article if you've enjoyed the read.