'Mama, I don't feel so good': Shocking video of a four-year-old struggling to breathe after contracting coronavirus warns parents to take the virus seriously
Last month, a four-year-old boy was hospitalized due to coronavirus, even though the family was already in quarantine before Colorado ordered lockdowns.
The boy's mother, a physician, has shared a video of what the virus has done to her innocent child.
Anna Zimmerman posted a video of her little boy Lincoln struggling to breathe, while severely coughing on his fifth day of hospitalization. On her personal blog, Anna shared how heartbreaking it is for her to witness her child battling with the virus. In a blog post, she described the pain she experiences hearing her son saying things like: "Mama, this isn't worth it.", "Mama, when is this going to stop?", and "Mama, I don't feel so good."
Thankfully, Zimmerman's four-year-old son has recovered.
However, the concerned mother wants to spread awareness and warn parents to take coronavirus seriously.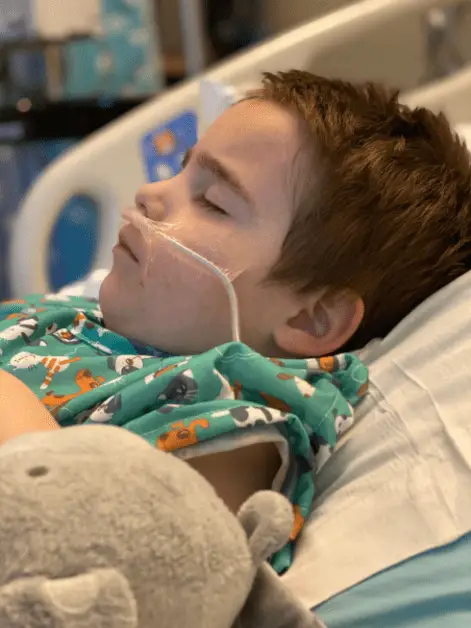 On the Mighty Littles' blog, Lincoln's mom explained:
"As a physician, I followed the outbreak of COVID-19 in China and Italy closely. Although no state or federal mandate was in place, we pulled our kids out of Jiujitsu and swimming lessons early, because we believed this virus was dangerous before many people started to take it seriously." 
The worried woman points out that her kids' last day at school was on March 12th. As Mail Online reports, the state of Colorado closed schools from March 16th.
Furthermore, Anna shares that out of precautions, she wouldn't even let her children play with the kids next door. "We did everything right" she adds. Unexpectedly, on March 21st, Lincoln started showing signs of coronavirus. Zimmerman writes:
"Lincoln sneezed a few times, I thought it was allergies. The following day he got a stuffy nose and slight cough. He didn't have a fever and I wasn't super worried, I assumed he picked up a little cold. "
A few days later, on March 27th, her little boy got a high fever of 104.5°F(40°C). Lincoln was agonizing not only because of the high fever but also from a serious cough.
At first, his mom thought it was just a regular cold, but a pediatrician whom they visited the following day diagnosed the boy with pneumonia.
The next two days Lincoln was at home on oral antibiotics and oxygen.
"He had moments where he looked totally fine, and other moments where he looked sick. But overall, I thought he was ok. By Monday, March 30th, he was needing more and more support and oxygen and was admitted to the hospital."
Still, Anna wasn't convinced that her kid had contracted coronavirus. She thought he would stay at the hospital for a few days, but she had ruled out the possibility of COVID-19.
Shockingly, from being on only 2 liters of oxygen from his first day in medical care to needing up to 9 liters the following night, the boy's mother became extremely anxious. She described watching her child struggle as an 'agony'.
"He was working so hard to breathe – using all of the muscles in his chest, abdomen, and neck to help him breathe. As a doctor, I knew he was working hard to breathe. The medical terms used to describe respiratory distress – seesaw breathing, nasal flaring, grunting, retracting, tachypneic – he had them all."
Although Lincoln's labs and X-Ray appeared to be coronavirus-free, the doctor confirmed that the boy had contracted COVID-19.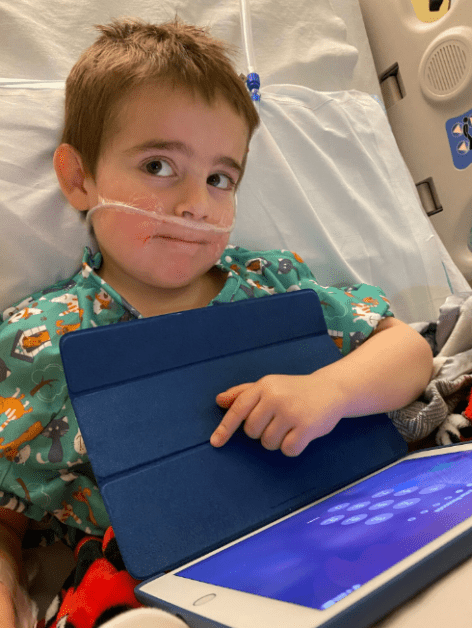 Hearing the devastating news about her child, and not knowing how her boy got the disease despite being overly cautious, the mother burst into tears. Numerous questions flooded her mind.
"His timeline didn't fit. His labs didn't fit. His X-ray didn't fit. We took all the precautions. How did this happen? Why did this happen? I don't understand. How sick is he going to get? How long will this last? How long will we be in the hospital? What if the rest of my family gets as sick as Lincoln?"
The physician struggled, not being able to have contact with her boy while witnessing him losing appetite.
When Anna shared the video of Lincoln coughing and not being able to breathe properly, he had been in medical care for a few days. Luckily, the four-year-old was then beginning to eat small amounts and his oxygen had been brought down to 4 liters. However, he still had, as his mother describes, 'the WORST cough ever'.
Furthermore, Zimmerman shares about their experience at the hospital and her being away from her husband and daughters:
"Being in the hospital has been completely isolating. I am not allowed to leave his room. No one is allowed to come into his room. The nurses and physicians come in to assess him wearing all their personal protective equipment (PPE), but they minimize the number of times they come into the room to preserve gear. My husband is at home with my girls. We can't hug each other. I can't hug my girls. My family is split up and we feel so far away."
The thoughtful mother encourages people to reach out to those in need.
She notes that if there's anything positive from the pandemic, that would be the fact that people are coming together to support each other.
Thankfully, Lincoln is now doing much better.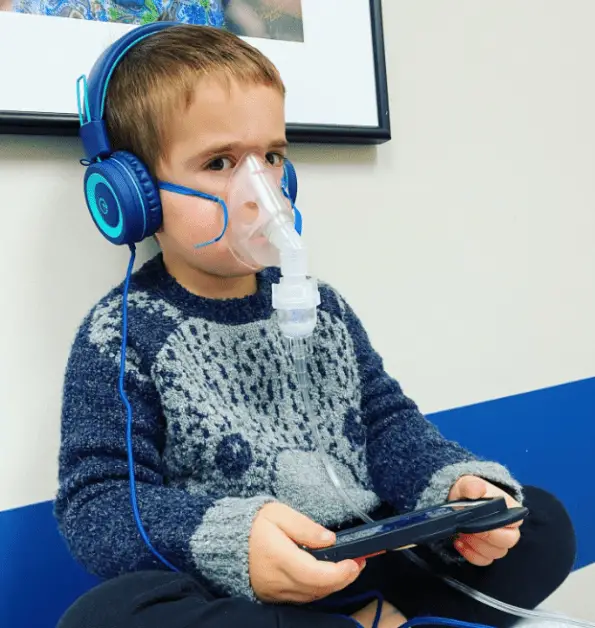 On the sixth day of his treatment, Anna shared:
"Update: Hospital day 6. He is starting to eat better and we have turned off the IV fluids. Now on less than 1L of flow and hoping to go home soon."
At the end of her blog post, the boy's mom asks people to take coronavirus seriously and stresses that COVID-19 is no joke.
"Please stay safe. Please stay healthy. Please take this virus seriously – it is no joke. And please reach out to your friends and neighbors and friends of friends who are struggling through this pandemic."
Here's a video of little Lincoln's opinion about coronavirus, taken before the boy contracted the disease: