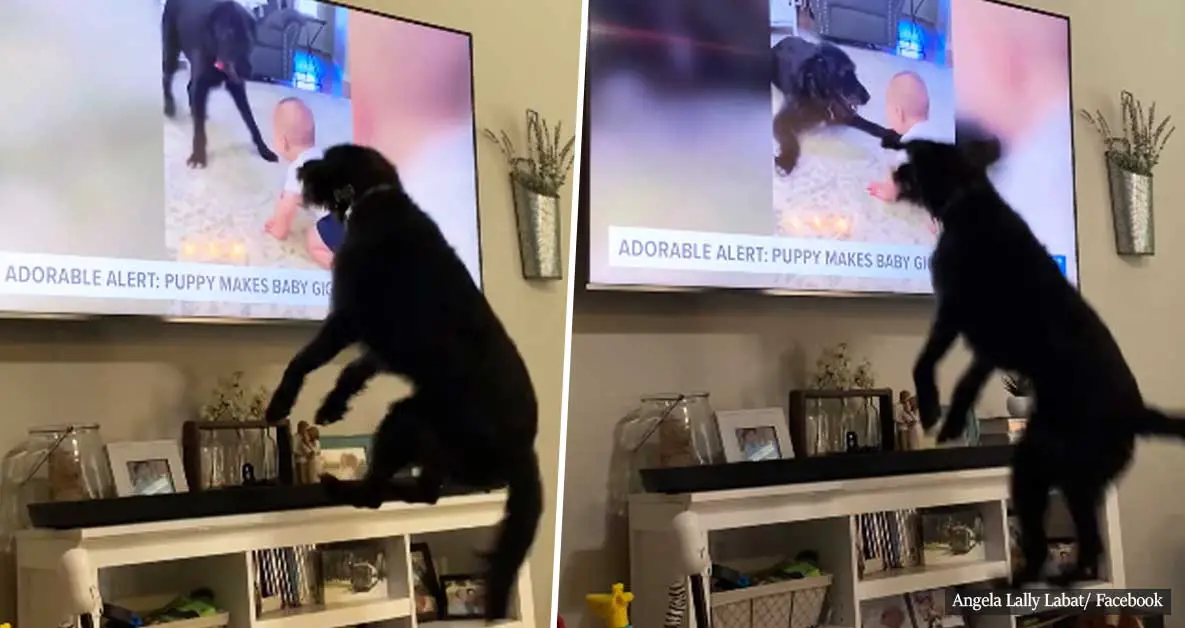 Loving dog instantly goes haywire when he sees himself on TV
We all know how adorably enthusiastic dogs can be sometimes. But this puppy went crazily energetic when he watched himself on TV.
A Louisiana pupper literally lost it when he saw himself on the news.
The excited four-legged TV star Bronn was an internet sensation way before making the local news headlines, as Homes Luxury reveals. But it wasn't because he accidentally photobombed a celebrity or he got into some talents' show. Instead, Bronn became famous for his incredible gentleness and affection he showed to his human baby brother, Liam.
About two weeks ago, the pupper's owner,  Angela Lally Labat, posted a touching video of her baby boy playing with his furry pal.
The sweet family moment was so adorable, it quickly went viral and touched the hearts of many. Angela shared:
"I'd be selfish to not share this! The love of a boy and his dog! 💙🐾"
I'd be selfish to not share this! The love of a boy and his dog! 💙🐾*To use this video in a commercial player or in broadcasts, please email licensing@storyful.com

Posted by Angela Lally Labat on Sunday, April 26, 2020
However, Angela's friends weren't the only ones who fell in love with Bronn's tenderness towards little Liam.
A local news station was also touched by the heart-melting video, so they decided to air it on TV.
Understandably, Liam's mom was happy her boys were shown on the news, but her enthusiasm was nothing compared to Bronn's. When Angela saw the pupper jumping out of happiness, she immediately turned the camera on and filmed his surprising reaction. He was incredibly excited to see himself on the big screen, as he instantly flipped out the moment he saw the video on TV.
Ms. Labat posted the footage of Bronn's overwhelming enthusiasm on Facebook, with the caption:
"I think it's safe to say that Bronn likes seeing himself and his baby brother on the big screen! 😂🤣 "
Here's the pupper's reaction of watching himself making the headlines of the local news:
I think it's safe to say that Bronn likes seeing himself and his baby brother on the big screen! 😂🤣*To use this video in a commercial player or in broadcasts, please email licensing@storyful.com

Posted by Angela Lally Labat on Monday, April 27, 2020