Looters ransack Philadelphia stores during second night of chaos and violence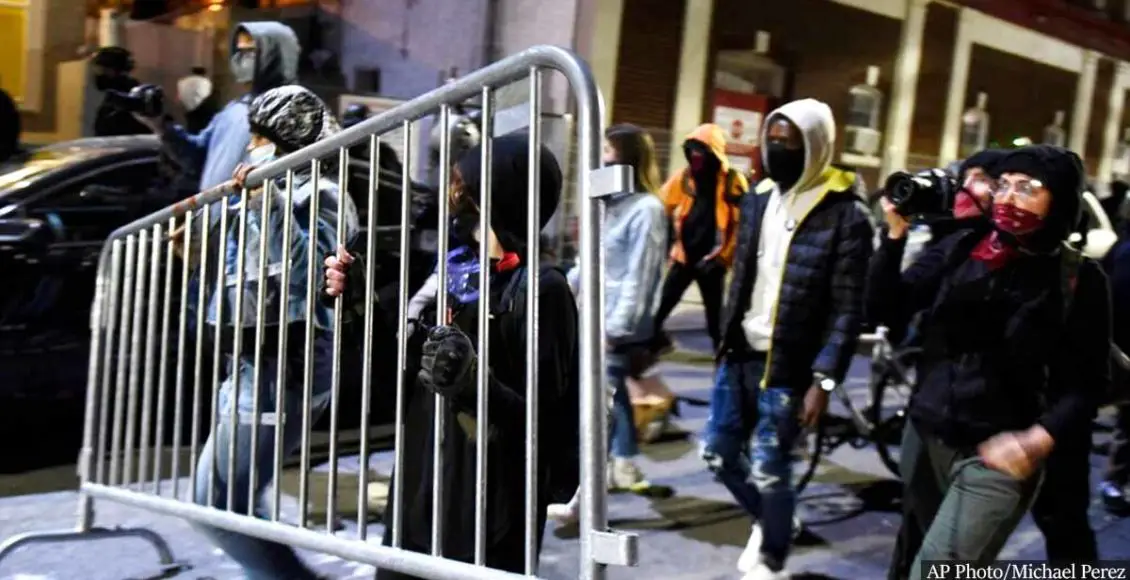 A second night of chaos shook the state of Philadelphia last Tuesday as hundreds of looters broke into and robbed stores in response to cops shooting a knife-wielding black man named Walter Wallace Jr. 
Officers shot the 27-year-old dead in Cobbs Creek on Monday. The man was holding a knife as he walked in the officers' direction and refused to comply with orders to drop his weapon, police said.
Footage from that day seems to show Wallace approaching the cops while his mother is trying to stop him. The camera then points down and the sounds of numerous gunshots can be heard as police start shooting. The man is then shown lying motionless on the ground while his mother, who is screaming, runs to her son.
Protests intensify in Philadelphia after shooting of young African American, United States

After the fatal shooting of Walter Wallace Jr., a 27-year-old African-American, at the hands of Philadelphia police on Monday, a wave of protests broke out at the scene. pic.twitter.com/5a4fqHb6FU

— Moises Lopez (@chapoisat) October 27, 2020
Following the incident, on Monday rioters injured 30 officers, according to local police.
The first night of chaos saw 76 looters arrested for burglary including three with guns, while 11 were arrested for attacking cops. Another three were arrested for unwillingness to disperse.
#BREAKING NOW: Looters are ransacking Philadelphia area Walmart. Steady stream of looters carrying out flat screen TVs, shoes and shopping carts full of items. pic.twitter.com/5qrXHFDogZ

— Preston Phillips (@PrestonTVNews) October 28, 2020
On Tuesday, about 500 people had gotten together at a park in West Philadelphia to protest against police violence.
But later on in the evening, looters set their sights on Aramingo Avenue, where they robbed numerous shops including Burlington, Target, Footlocker, and Dollar General, 6abc Philadelphia reported.
At least two officers were taken to hospital after being hit by rocks on Tuesday night.
More footage of looters going into the Five Below on Aramingo Avenue in #Philadelphia pic.twitter.com/kMFSrIhyEx

— Jorge Ventura Media (@VenturaReport) October 28, 2020
The Pennsylvania National Guard said, at the instruction of Governor Tom Wolf and PEMA, it is sending a few hundred personnel "in support of the Philadelphia Office of Emergency Management and assist Philadelphia police in protecting life, property and the right to peacefully assemble and protest."
Footage from inside a Philadelphia business shows looters destroying the place within seconds during the BLM riot. pic.twitter.com/yz81zf8E6j

— Andy Ngô (@MrAndyNgo) October 28, 2020
Wallace was an aspiring hip-hop artist whose lyrics were often about guns and shooting cops, according to 6abc.
He was allegedly set to go on trial for threatening to shoot a woman at her home, court records show.
A judge had ordered him to undergo a psychiatric evaluation and treatment back in 2013. That was the same year he pled guilty to resisting arrest as well as assault after hitting a policeman in the face.
The man's parents said Tuesday night that cops knew their boy was having mental health problems as they had been called to their house three times the day before.
BREAKING: Philadelphia police have completely lost control of the affected rioting region which stretches multiple city blocks

Looters have broken into more than 30+ stores and are attacking white people

They are also shooting each other. I've only witnessed one arrest pic.twitter.com/bHPGAntwST

— ELIJAH SCHAFFER (@ElijahSchaffer) October 28, 2020
Family lawyer Shaka Johnson said that while Wallace's brother had dialed 911 to call for medical help and an ambulance, police arrived, and they do not know how to handle individuals with mental health problems.
"When you come to a scene where somebody is in a mental crisis, and the only tool you have to deal with it is a gun… where are the proper tools for the job?", he said.
BREAKING: BLM looters jumped our reporter @ElijahSchaffer while he was covering the riots in Philadelphia

He's continuing to report but may need stitches for a deep gash in his upper lip pic.twitter.com/P7ZZup5vUT

— TheBlaze (@theblaze) October 28, 2020
Philadelphia Police Commissioner Danielle Outlaw said that it was not clear whether officers knew about Wallace's condition. Both cops were wearing bodycams and were since taken off street duty due to the ongoing investigation.
The police are currently finishing a threat assessment to decide if they should make the names of the two officers public. According to Ms. Outlaw, the names will be released if the officers' safety is guaranteed.
What are your thoughts on the madness currently unfolding in the US? Let us know by joining the conversation in the comments and please share this article if you've found it informative.