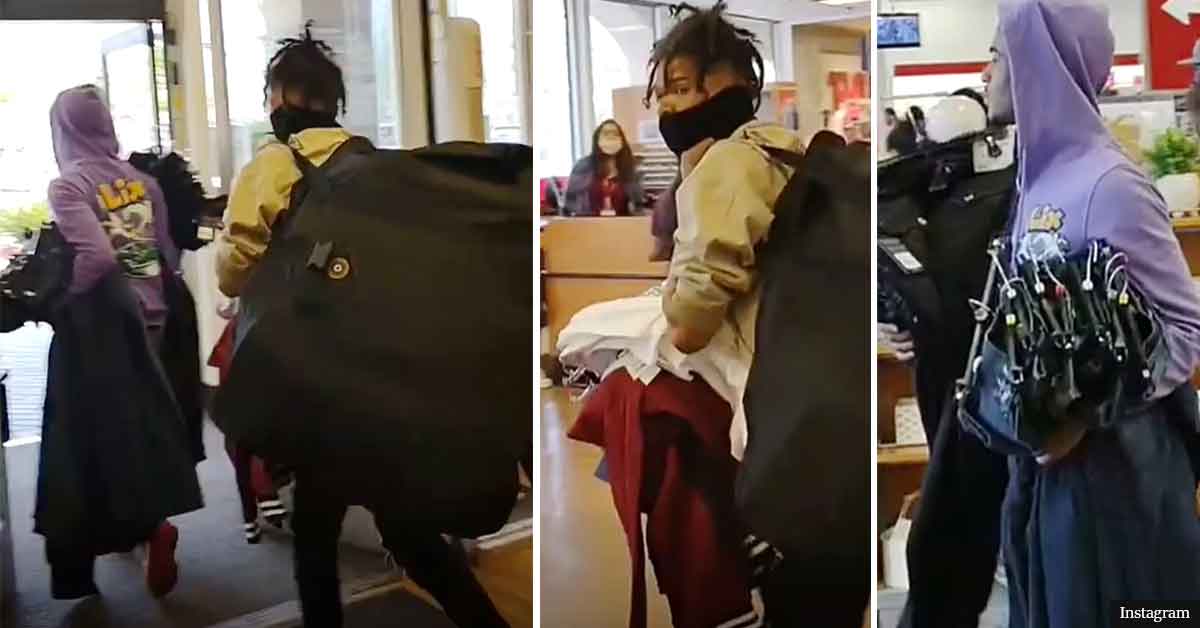 "Criminals are winning" – Theft under $950 is now considered a misdemeanor. 
Earlier this week, two men casually walked out of an LA TJ Maxx with piles of stolen goods and no one stopped them. 
The incident was possible because of Proposition 47, according to which a theft under $950 is now considered a felony or misdemeanor in California. 
San Francisco is also struggling with a rise in shoplifting cases. 
A  video that went viral earlier this week shows two men casually walking out of a Los Angeles store carrying piles of stolen goods, including jeans, jackets, and other apparel. One of them even brought an oversized duffle bag. As Daily Mail reports, the incident took place at a TJ Maxx in the Granada Hills section of the San Fernando Valley.
Thanks to Prop 47 thefts under $950 will not be prosecuted, so cops will not bother showing up. Just a reminder that you get what you voted for, California! pic.twitter.com/jWUPdJzy0A

— Adam Carolla (@adamcarolla) July 20, 2021
The person filming the shocking scene can be heard ironically saying: "That looks great." After following the thieves, he adds: "I want to see how far you guys get."
Commenting on the disturbing accident, LAPD Sgt. Jarretta Sandoz told CBS Los Angeles:
"They didn't even run out, they walked out. And so, that's sending a message that…
the criminals, are winning."
Many blame the passage of Proposition 47 for the rise in shoplifting cases in California. 
Unfortunately, the TJ Maxx incident is not unusual in the state. People believe the reason for that is the passage of Proposition 47, which downgraded charges of property theft of less than $950 in value from a felony to a misdemeanor. The referendum was passed by voters in the state of California on November 4, 2014.
According to Sandoz, the punishment thieves get for stealing goods under $950 is "the equivalent of a traffic ticket." Therefore, criminals are not taking theft seriously.
Just the week before, an employee of a Rite Aid in Glassell Park was shot dead by two men trying to loot cases of beer.
The person who lost his life trying to stop the criminals from stealing was 36-year-old Miguel Penaloza.
Criminal defense attorney Alexandra Kazarian believes that this case proves the fear employees have when it comes to dealing with shoplifters. She said:
"The employees at TJ Maxx have been told that, in these specific circumstances, it's not worth it for you to go and physically attack, physically stop people that are walking out with this inventory. Because these businesses have insurance."
Kazarian added:
"People who are stealing giant, giant tote bags, giant backpacks worth of inventory are not getting the same benefit of the people that are stealing food and clothing for their children."
The LAPD is currently investigating the TJ Maxx incident. 
Attorney George Gascon, a spokesperson for LA County District, commented:
"Once officers make an arrest or cite someone for a crime, they will present the case to our office. We make charging decisions accordingly. We do so based on the facts, the totality of the circumstances, and the law."
Gascon, however, has been accused by many of taking actions that allow crime to worsen in the state. According to the La Verne City Council, his policies are a "risk to public safety." 
My approach to public safety is shaped by a 40+ yr career in law enforcement, a lifetime of experiences that showed me first-hand that the "punishment first" & "lock ' em up" approach fails to create long term community safety.

Together we are reimagining criminal justice in LA. pic.twitter.com/jJ5XzArmcD

— George Gascón (@GeorgeGascon) July 9, 2021
In LA, violent crime is up 5% compared to last year, Compstat crime statistics claim. 
Reportedly, the rise in violent crime is a result of a surge in homicides and aggravated assaults. In the meantime, the arrests made in LA are down 4.1%.
And as it turns out, San Francisco has been dealing with the same shoplifting issues.
At the beginning of July, a video revealed about a dozen people fleeing from a local Neiman Marcus store with armfuls of stolen goods. Authorities confirmed that an estimated tens of thousands of dollars worth of items were stolen by the group.
It is believed that the city's surge in such incidents arose almost immediately after the passage of Proposition 47.
I wrote about The Video https://t.co/Ogm3gB9x7d

— Adam H. Johnson (@adamjohnsonNYC) July 20, 2021
Another case of a shoplifter walking out of a store unpunished for their crime was captured on camera last month. ABC7 reporter Lyanne Melendez posted the video on Twitter on June 14.
This just happened at the @Walgreens on Gough & Fell Streets in San Francisco. #NoConsequences @chesaboudin pic.twitter.com/uSbnTQQk4J

— Lyanne Melendez (@LyanneMelendez) June 14, 2021
In the footage, a robber can be seen carrying a garbage bag filled with products at a San Francisco Walgreens. He then bicycles out of the store with no one trying to stop him.
As per KTVU, San Francisco's District Attorney's Office has since filed formal charges against the shoplifter, Jean Lugo Romero, for the incident. It was revealed he has been involved in other acts of commercial shoplifting and robbery at various Walgreens and CVS stores throughout the city.
Following the incident, 17 San Francisco Walgreens locations closed down due to shoplifting cases.