LGBTQ+ couple BOTH give birth within days of each other
Both partners from a same-sex couple gave birth to a boy and a girl within days of each other. 
Same-sex partners both gave birth to babies within days of each other.
Georgia and Becky from Bristol got pregnant at the same time by the same sperm donor and became mothers to two beautiful babies – a boy and a girl. 
The couple got married so they both could be listed as parents to their children.
Georgia and Becky, a lesbian couple from Bristol, England, became mothers to two gorgeous babies within 13 days of each other.
As per Daily Mail, Georgia Ashford-Singer, 27, and her wife Becky, 28, were eager to try and get pregnant at the same time via a sperm donor. Their plan worked perfectly fine, as they both welcomed Willow, Becky's baby girl, and Woody, Georgia's baby boy, to this world. Willow was born on April 11, followed by her brother from another mother on April 24.
Georgia shares:
"Our families constantly joked about how hilarious it would be if we got pregnant at the same time. It was an ongoing joke the entire way through. Little did we know that would actually come true."
Both Georgia and Becky have always wanted to become mothers. 
Ashford-Singer says:
"Becky has been desperate to have children from the age of 18. Her sister has two kids and Becky is wonderful with them so she has always wanted to have children of her own, it was a really big thing for her." 
After a year of dating, the women began looking into fertility clinics to turn their dream into reality. As they faced several issues throughout their journey, the pair also turned to Facebook groups for donors.
The 27-year-old mom explains:
"We wanted someone with no family history of illness, no STIs, and a high sperm count. 'We didn't really care about what they looked like physically. Becky and I are really opposite – I'm short with dark hair and fair skin and Becky has olive skin and blonde hair and blue eyes."
In 2019, the couple got married, so they both could be listed as parents on their babies' birth certificates.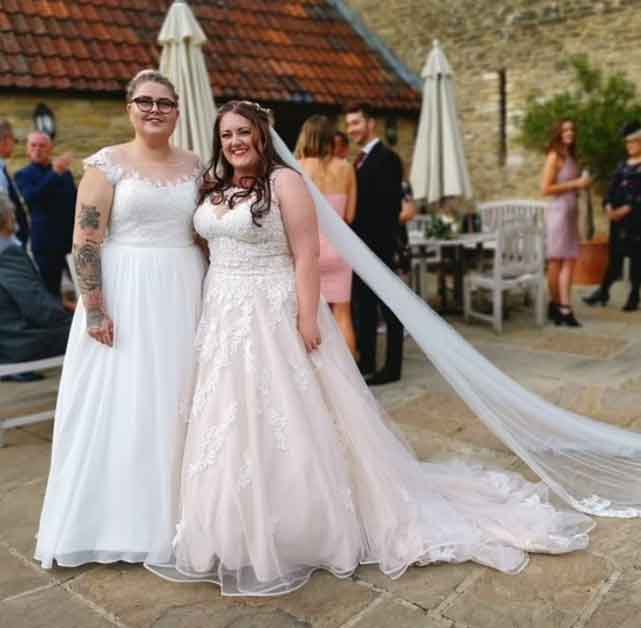 Unfortunately, when Becky tried to get pregnant with their first donor, she had no success. Georgia then attempted to get pregnant by the same donor, but her efforts were also unsuccessful.
Thankfully, after changing donors, both partners became pregnant in the same month. Georgia reveals:
"Becky found out she was pregnant first. She was five days late and the test came back pregnant on the Wednesday. We were so wrapped up in her being pregnant that we hadn't actually realised I felt different too.

I did a test first thing on the Sunday morning before I went to work and I remember leaving it on the kitchen side and thinking 'I'm pretty sure that looks like two lines.' It was that utter shock where you almost don't say anything, you just carry on as normal."
Becky adds:
"I was really happy but also really scared. Everything about it freaked me out to be honest but when we got it into our heads that it was actually happening we were quite excited. We'd get maternity together, they'd always have a close sibling, they will start school together. It was actually quite nice. It was kind of like having twins, just from different bodies."
Although the couple was allowed to their 12-week scans together, they had to go alone after due to the COVID-19 restrictions. 
Baby Willow was born on her due date – April 11. Woody was expected to be born on April 16, only five days after his sister. However, he came into this world a little over a week after his due date – on April 24.
According to Georgia, their life as new moms is like "two single parents living together."
She adds:
"My bond with Willow is brilliant and it's the same with Becky and Woody. We swap a little bit but they do settle better with their biological mum."
Both partners are incredibly grateful to the man who helped them start a family.
"It's amazing that men do this out of the kindness of their hearts. It is lovely."
The Associate Director of Policy and Research at Stonewall, Eloise Stonborough, stated:
"At Stonewall, we want to see a world where all lesbian, gay, bi, trans, and queer people are free to be themselves, and that includes the freedom to start a family."