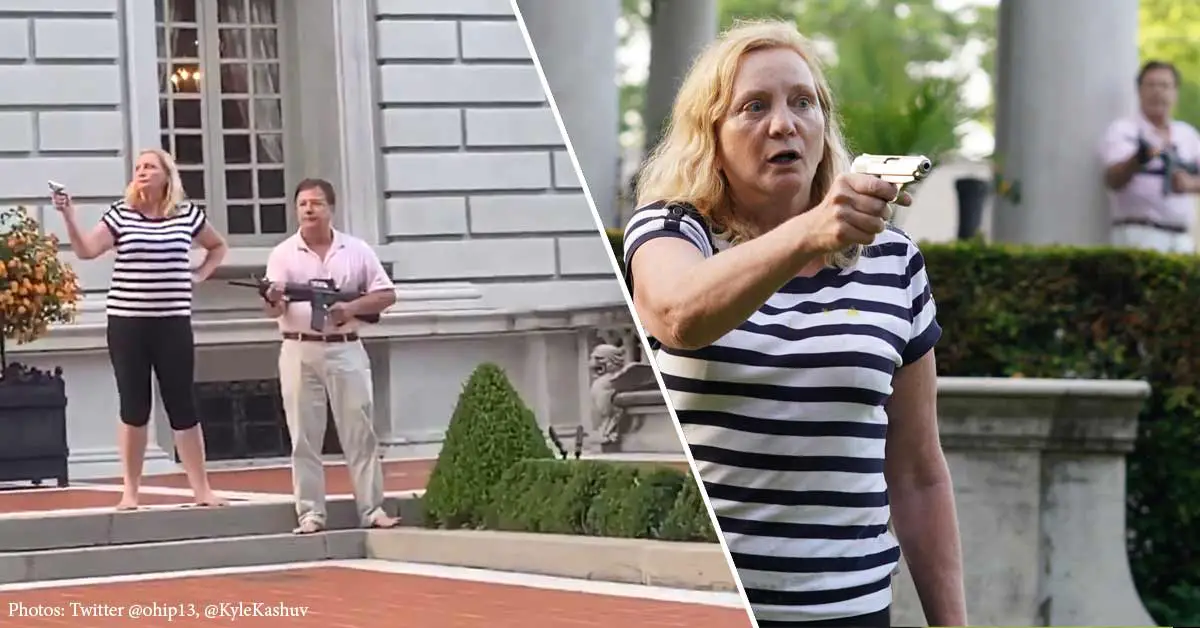 Lawyer Defends Pulling Weapon On BLM Protesters After Video Of Him And Wife Goes Viral
The web has exploded following a Black Lives Matter march in Missouri last Sunday where a couple was recorded waving their weapons in order to try to caution protesters to get away from their property after they allegedly broke down a gate to enter. 
The action unfolded on Portland Place in St Louis, home to the city's richest inhabitants.
The middle-aged couple can be seen walking in front of their home, pointing what looks to be a semi-automatic rifle and a pistol as protesters pass on their way to confront mayor, Lyda Krewson.
According to the press, the march was prompted after the mayor revealed the identities and addresses of protesters who called on the city to defund the police.
A petition calling for Krewson to step down as mayor has so far gathered more than 50,000 signatures.
She has since issued a public apology for her comments, which were live-streamed on Facebook a few days ago.
I'd like to apologize for identifying individuals who presented letters to me at City Hall today. This was during one of my Facebook updates as I was answering routine questions. Never did I intend to harm anyone or cause distress. The update is removed and again, I apologize.

— Mayor Lyda Krewson (@LydaKrewson) June 27, 2020
Mark McCloskey – the man who carries the semi-automatic weapon in the video, an attorney by profession – claims protesters smashed down the gate to his estate and threatened him and his wife while making their way to Krewson's house.
"We were threatened with our lives, threatened with a house being burned down, my office building being burned down, even our dog's life being threatened," he told KDSK.

"It was, it was about as bad as it can get. I mean, those you know, I really thought it was Storming the Bastille and that we would be dead and the house would be burned and there was nothing we could do about it."
The couple were not breaking any Missouri laws with their actions. 
The state's open carry and concealed are legal for people of 19 years of age who can possess weapons legally.
According to the United States Concealed Carry Association, the state of Missouri operates under Castle Doctrine laws.
The laws in question defend a "stand your ground" position, permitting firearm owners to defend themselves outside their properties.
Furthermore, they are not required to retreat, wherever they may lawfully be, prior to using lethal force. 
BLM protests and riots have continued to sweep the country following the death of George Floyd at the hands of police officers in Minneapolis a month ago.
See the video in question by clicking below.
What are your thoughts on the madness currently unfolding in the United States? Let us know by joining the conversation in the comments and please share this article if you've found it informative.