Fred The Labrador Becomes Foster Dad To Six Orphaned Ducklings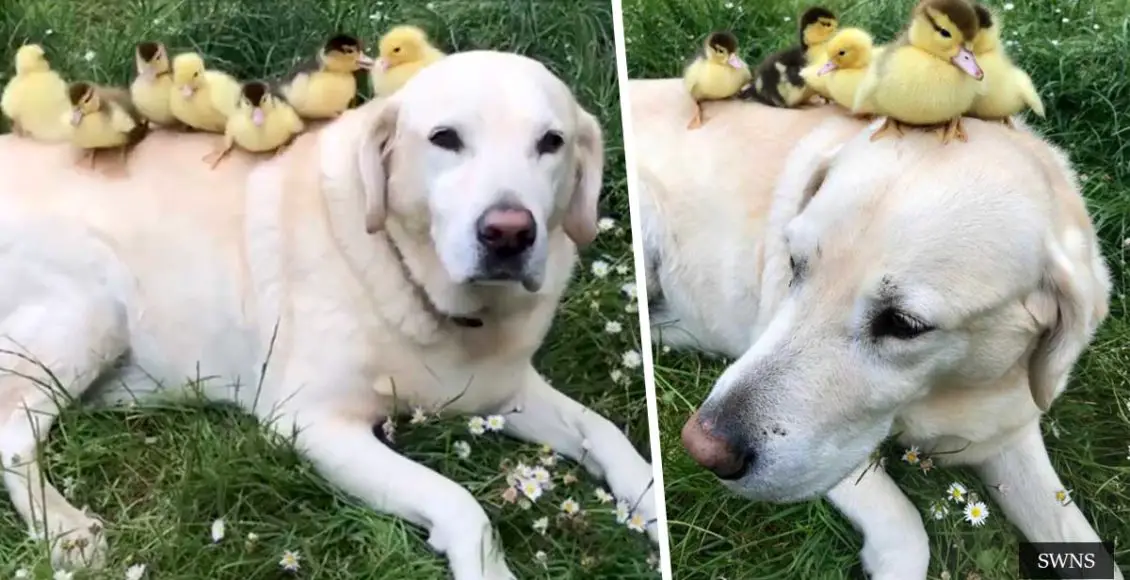 A loving dog who became a worldwide sensation after adopting nine ducklings last year is now back touching our hearts with six new baby ducks to look after.
11-year old Fred is the resident pet at Mountfitchet Castle (a historic site which was used as a Roman signals fort and later as a Saxon and Viking settlement before being attacked in 1066 by William the Conqueror) near Stansted, Essex, where staff wallow in seeing him in action as a strange father figure to the birds.
The new duckling group had been left by their Muscovy duck mother after she wandered off with six of their siblings.
Fred instantly laid down around the orphans the moment they were shown to him in order to keep them warm, and before he knew it, the babies climbed onto his back and playfully sat on his head.
The incredible footage of Fred being a duck-dad was shared by Mountfitchet Castle on Instagram: "Fred, the famous Labrador dog is not ducking out of his duties as he again steps in to foster seven-day-old ducklings."
"The mother, a Muscovy duck, had fourteen babies but for some reason left half of them behind in the nest when she wandered off to the nearest pond with the other half of the ducklings dutifully following along behind her."
"Within minutes the ducklings accepted their odd-looking new mum and were climbing all over him.", they added.