Mom of the year! Korean actress shares her "Mom's Personal Life" hilarious photo series with her son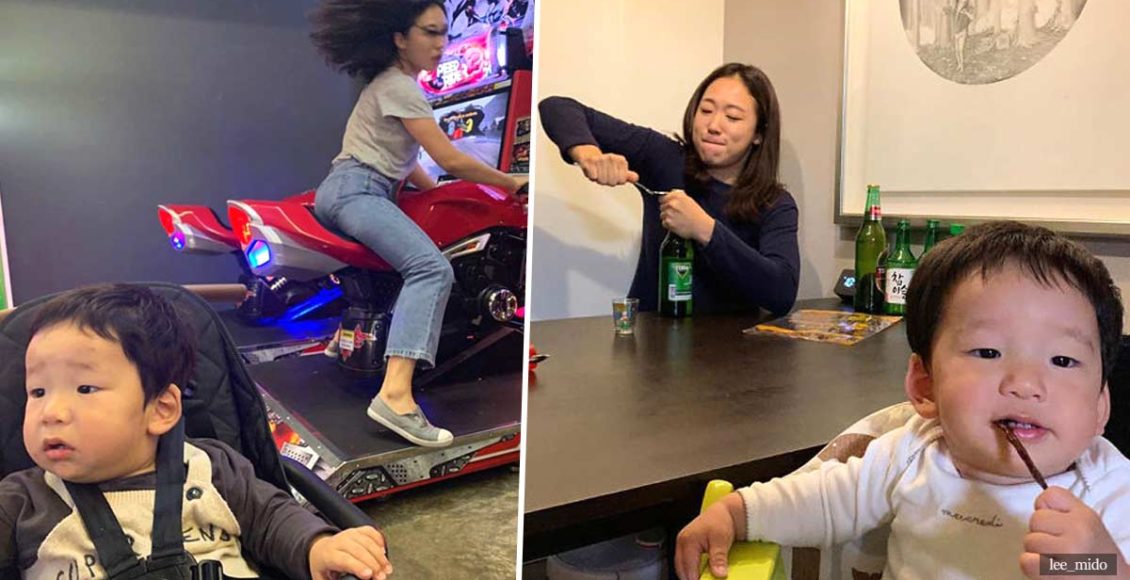 Who said motherhood isn't fun?
If you look at it from the right angle, being a parent can be quite entertaining.
Sure, all the diaper changing and sleepless nights aren't so amusing, but that's just one part of the bizarre adventure of raising a child.
Some parents just know how to turn any situation into a fun experience.
That's exactly what this South Korean mother is doing.
Lee Mi-do, actress and most importantly mother, posted a series of hilarious photos of her and her baby son, under the label "Mom's Personal Life".
The Korean actress gave birth to her adorable son Nicolas just a bit over a year ago.
She's been capturing those priceless funny moments ever since.
Perhaps her artistic creativity comes from her acting career.
Lee Mi-do is a South Korean actress starring in numerous movies and series for about 15 years now.
Her most popular roles are in the movies Familyhood, Queen of the Night, Spellbound, and Mother.
The idea of the "Mom's Personal Life" series came to her during a family vacation in Bangkok.
She shared with Boredpanda:
"We were on vacation in Bangkok. I was swimming in the pool and baby Nicolas was just floating around in his pool float. My husband was taking photos and asked me to strike some sexy poses. He thought it would be funny to have pictures of Nicolas and me in the background, doing my own thing."
That's how her "Mom's Personal Life" started. She posted the playful photos on Instagram and received many great responses. Ever since then, Lee Mi-do has been sharing these sweet, joyful moments of her parenthood. Little Nicolas seems pretty comfortable being the star of his mom's series.
Some of the most interesting shots show her working out, dressing up for Halloween, or playing around, while her son is in the foreground.
Mi-do is dedicating her motherhood series to all the moms out there.
"The photos are dedicated to all of the moms. Moms have to sacrifice so many things when they have a baby. Don't get me wrong, I love my son and I'd do anything for him. However, there are so many things to do for kids, especially in South Korea, that many moms tend to miss their personal lives."
"The pictures are comedic, but, at the same time, they give a certain kind of satisfaction to moms who want to have their own private time. I have received countless thanks from moms for making them feel good about it just by looking at these photos."
For the future, Lee Mi-do and her husband are going to continue the "Mom's Personal Life" series.
They have a list of things planned, but they are keeping it a secret for now. Maybe baby Nicolas will start "Son's Personal Life" when he grows up, who knows!