A Kim Kardashian wannabe has been locked up for 3 years for over £5million($7M) worth of money-laundering offenses. 
Tara Hanlon, 30, was jailed for 3 years for participating in a money-laundering network. 
Last year, Hanlon took several trips to Dubai as a money currier, transferring more than £5million($7M) in cash. 
The Kim K lookalike was detained at Heathrow Airport last October with nearly £2million($3M) in her luggage. 
Tara Hanlon, a 30-year-old recruitment consultant from Leeds, Yorkshire, will spend the next three years behind bars. As Daily Mail reports, she was detained at Heathrow Airport on her way to Dubai with five suitcases full of nearly £2million($3M) in cash last October.
Hanlon, who underwent a special cosmetic surgery to look like her idol, Kim Kardashian, was caught with the vacuumed cash packed in five suitcases and covered in ground coffee, which was supposed to hide the smell from sniffer dogs. It was the largest individual cash seizure at the border in 2020.
The Kim K lookalike pleaded not guilty to conspiracy to remove criminal property from England and Wales between July 13 and October 4 last year. However, she admitted three counts of removing criminal property, relating to cash amounts of £1.4million($1.93M) on July 14, £1.1million($1.52M) on August 10, and £1million($1.38M) on August 31 last year.
Moreover, on the day she was arrested, Hanlon also pleaded guilty to attempting to remove £1.9million($2.62) in criminal cash from the country.
Following a court hearing at Isleworth Crown Court, the money-launderer was jailed for two years and 10 months.
At the testimony, prosecutor Nathan Rasiah told the court Hanlon's charges are linked to three trips to Dubai last summer, as well as the one that got her arrested in October.
The 30-year-old tried to convince investigators that the first trip was completely legal, as she was not being paid before arriving in the metropolis. She claimed she was providing a hair service for a contact, who eventually turned out to be her recruiter. She got the money bags from a driver in London. In exchange, Tara was offered free flights and accommodation.
Despite her claims, inquiries discovered that she had been paid around £3,000($4k) for each trip. What is more, messages from her phone revealed she had a deeper role in the operation. In one of them, she texted her recruiter: "With this wage and the next my debts go bye. Time for TT to live her best life."
According to Hanlon's defending attorney, she was vulnerable as her trips to Dubai happened shortly after her mother's passing. 
Stephen Grattage, the lawyer defending the Kim K wannabe at court, noted that her mother's death, and the fact that she had been recently fired from her job, took a toll on her. He claimed that his client was convinced the business could be legitimate, as the money was being declared in Dubai and the recruiter had mentioned an accountant being involved in the payments.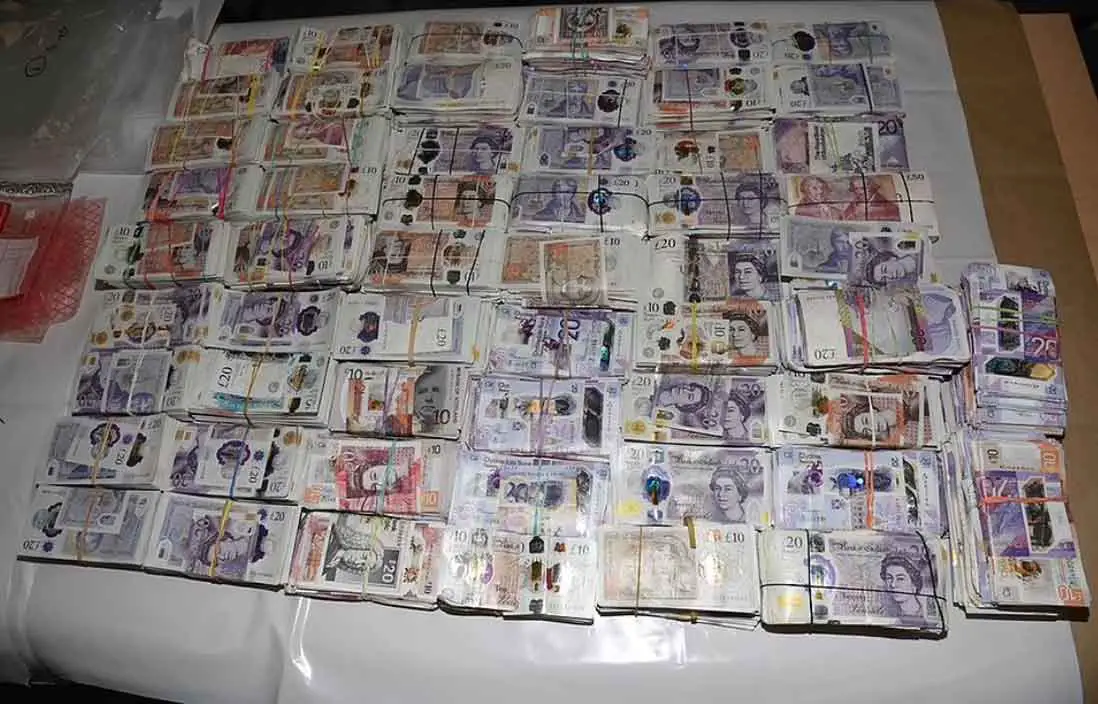 But Judge Karen Holt didn't take Grattage's argument into consideration. Instead, she told Tara:
"Although you were vulnerable at the time, I don't find that you have been exploited and find that you knew what you were doing."
Additionally, Ian Truby, NCA senior investigating officer, said:
"Tara Hanlon thought that she was going to be living a jet-set lifestyle, instead she is now serving a prison sentence. I hope her story is a cautionary one for others who would consider doing the same. Stopping the flow of illicit cash is a priority for the NCA and our partners."
After Hanlon's arrest, NCA targeted a number of other cash couriers possibly involved in the same scheme. 
Zdenek Kamaryt, 38, from the Czech Republic, was held about a month after Tara's arrest, as he tried to board a flight from Heathrow to Dubai with £1.3million($1.8M). He received a 2-year sentence behind bars in March after pleading guilty to money laundering offenses.
Furthermore, eight other people were arrested in a series of raids in May. However, they were released under investigation while inquiries continue.
In an interview with Daily Mail, Hanlon's devastated grandmother, Maureen Downs, 80, shared:
"I know my granddaughter and she would never do anything like what she is accused of. She has a heart of gold. She is a lovely girl and she had never, ever been in trouble.
…
My daughter[Tara's mother] died and we lost another relative to cancer. Tara was heartbroken. It has been a terrible year. I can't sleep and I hope I am going to wake up from this nightmare."