Kids' TV show about "body positivity" received backlash for featuring adult nudity in front of children
Danish TV series sparked massive outrage after it showed adults stripping down in front of children.
Children's TV show heavily criticized for featuring adult nudity.
The Danish series claims they aim to 'promote body positivity and combat body-shaming'

.

Outraged social media users slammed the show for its inappropriate content. 
A television show named Ultra Strips Down includes naked adults exposing themselves to minors aged 11 to 13. As per the New York Times, the series' aim is to 'promote body positivity and combat body-shaming'.
The controversial show is been aired on the Danish channel DR Ultra, Mirror reports. It questions the common ideas and stereotypes related to conventional body types and processes.
A recent episode displays five undressed adults showing their bodies to the kids. While the children are looking at their naked bodies, they ask various questions about skin and hair on the body. For instance, one of the minors in the audience asked: "At what age did you grow hair on the lower part of your body?"
Another kid was curious about a person's tattoos and questioned: "Do you consider removing your tattoos?"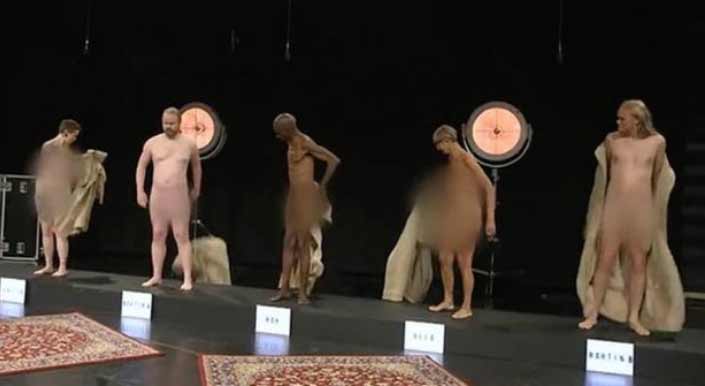 What is more, the show won the Best Children's Programme at the Danish TV Festival.
Although the people of Denmark have much fewer taboos regarding nudity compared to other western countries, the series faced severe backlash about its unacceptable content.
Outraged social media users were quick to express their anger with the show's concept.
One Twitter user wrote: "Destroying a child's mind is one goal of the agenda. UltraStripsDown is disgusting."
Another said: "This show is just straight up pedophilia and the fact that people aren't talking about this and how disgusting it is it's shocking."
Activist Obianuju Ekeocha tweeted:
"This is a CHILDREN's show on Danish TV entitled "Ultra Strips Down",produced by Danish branch of Warner Bros. The show claims to teach kids about different body types by exposing them to naked adults! Why? Why are there now so many pushing to destroy children?"
DR Ultra responded to the massive criticism by stating:
"It's educational TV for kids and families who can have a healthy talk about what bodies look like."
Moreover, a second season of the award-winning series is on the way. The show's host, Jannik Schow, 29, said:
"Perhaps some people are like, 'Oh, my God, they are combining nakedness and kids', but this has nothing to do with sex, it's about seeing the body as natural, the way kids do."