Keanu Reeves goes public with first 'girlfriend' in decades as he holds hands and shares loving smiles with Alexandra Grant at film event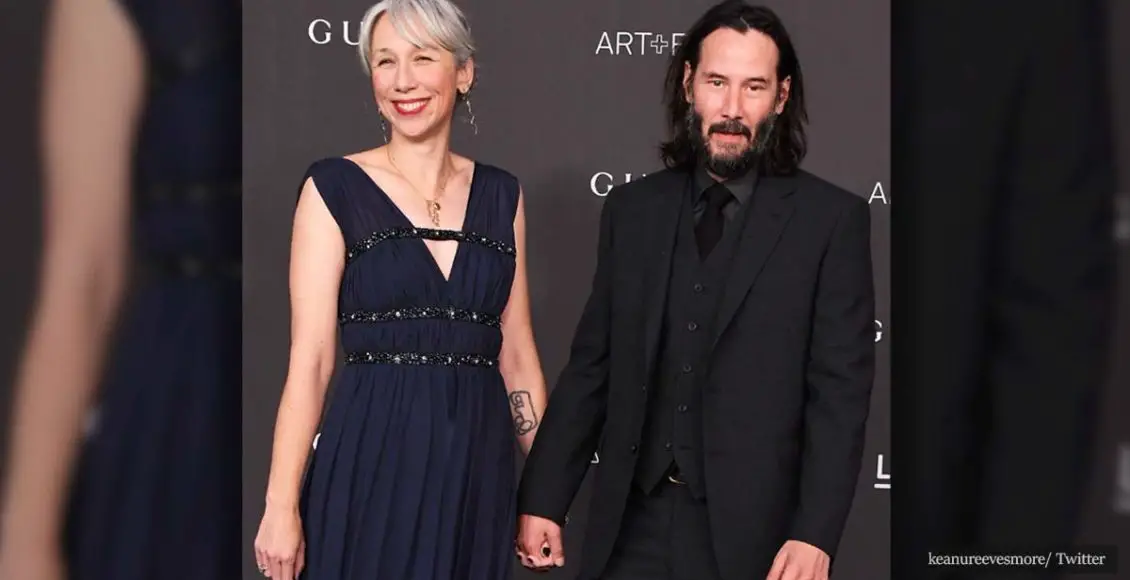 For years, actor Keanu Reeves has held his romantic cards close to his chest.
But the 55-year-old John Wick star has made a very open statement concerning the seriousness of his relationship with Alexandra Grant, 46.
The Matrix actor, who has been avoiding public displays of romance during his 35-year-long career, held hands with the artist at the LACMA Art+ film event presented by Gucci in Los Angeles last weekend.
Keanu Reeves has a girlfriend.

First step towards World Peace.#KeanuReeves #AlexandraGrant pic.twitter.com/KleE60mcbm

— Gourav Mohanty (@MohantyGourav7) November 5, 2019
The sweet couple posed for the cameras, confirming their relationship.
Keanu was elegantly dressed in black and kept it edgy with workman boots and a beard.
Alexandra – who he wrote the books Shadows and Ode To Happiness with – looked stylish in a long blue sleeveless gown.
#KeanuReeves & #AlexandraGrant attend the 2019 #LACMA 2019 Art & Film Gala Presented By #Gucci at @LACMA, #LosAngeles – Nov 02 2019
03:03 video on YouTube👇
2019 LACMA Art + Film Gala Arrivals – Keanu Reeves, Jared Leto, Brie Larson, Billie Eilish – WMTV https://t.co/IzH1zNRkg7 pic.twitter.com/zGGLyPFbNh

— Keanu Planet (@keanuplanet) November 3, 2019
The Swathmore College graduate smiled lovingly at the Bill and Ted star as they entered the gallery, which exhibits some of her work in public collections.
The couple has confirmed the rumors of their relationship after being seen walking hand in hand as they leave a West Hollywood sushi bar. 
Alexandra Grant and Keanu Reeves
❤´・ᴗ・`❤ pic.twitter.com/H3XmzdoPoA

— Keanu Reeves หนูรักเค้า ❤ (@keanureevesmore) November 3, 2019
Keanu was previously in relationships with Sandra Bullock, Claire, Forlani and Amanda De Cadenet but never made his status public.
Of course Keanu Reeves and his girlfriend Alexandra Grant look like a dope cyberpunk couple. It just makes sense. pic.twitter.com/qq1uFwPOEl

— Jonah #SaveDaredevil (@jonahdrake47) November 5, 2019
For much of the 90s, his partner was actress Jennifer Syme.
Keanu and Jenniffer tragically lost their baby girl Ava after she was born prematurely (one month early).
Back in 2001, Jennifer had driven her 1999 Grand Cherokee into a row of parked cars in LA; she died on the spot. She was just 28-years-old.
Keanu has enjoyed a resurrection of his professional career since John Wick and has his schedule filled with new projects, including the new Matrix film.
What are your thoughts on Keanu and Alexandra as a couple?
Let us know by joining the conversation in the comments and please share this article if you enjoyed it.